In 2019, Florida House Bill 7071, or Workforce Education, mandated career planning to be included in certain middle school courses. St. Johns County will include this component in students' 8th Grade US History courses. Please see the resources below for information covered by school counselors. US History teachers will also infuse additional career information into their regular curriculum throughout the school year.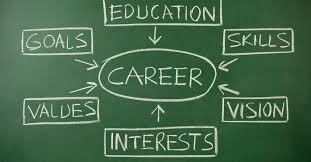 Career Overview Presentation – This is the presentation shown to all 8th grade students in US History and covers high school and postsecondary readiness information. The presentation is beneficial for both students and parents to watch and discuss. To play the PowerPoint, open it and go to the tab "SlideShow" and click on "From Beginning". The PowerPoint will start playing immediately and should progress by itself. You will need sound to hear the narration. Notes are at the bottom of each slide for those unable to access the audio in the slideshow.
Download the Career Overview Presentation as a PowerPoint file or watch the presentation below.
High School Graduation Requirements This flyer from the Florida Department of Education describes current graduation requirements and other helpful high school information. These requirements can change from year to year depending on the Florida Legislature.
High School Resources This packet contains several documents mentioned in the Career Overview PowerPoint and is a supplemental resource for those wanting to know more.
MyCareerShines This is the website where students take their career assessments and can store other information about their accomplishments and career plans. Parents can have "view" access when the student provides them with an access code. Click "Login" in the upper right, and select "Login with Clever". Students should enter their student "s" number and typical password.
FloridaShines This is the website funded by the Florida Department of Education for K-12 college and career exploration.
4 Year Plan This document will be completed by students with their school counselor in US History and can be used as a tool for high school course selection during spring registration.
High School Academies Information See these pages for information on applying to high school academies, middle school blitz, and high school showcase.