Professional Development & Employee Evaluations
Ready to renew your certificate?
---
Professional Development Vision
Within each school and department, SJCSD will develop leadership and build capacity to design, deliver and support high quality professional development which enhances the knowledge, skills, dispositions and practices of employees to ensure that all students perform and achieve at the highest levels.
---
VISIT SUNGARD TO REGISTER FOR TRAINING



Register here
For Teachers
For Substitute Teachers
For Administrators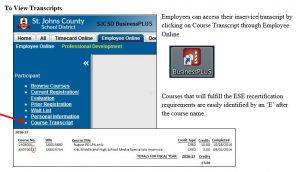 For Non-Instructional Personnel
♦Click the link for your Area to Learn About Online Learning Opportunities!♦
Empowering Excellence in Educators
Professional Development on Inside SJCSD

---
SWD Certificate Renewal Point Opportunities
Which Courses Count towards the SWD Certification Renewal?
---
Other PD Opportunities
Professional Development Calendar Instructions
Capella University- FREE! Online Courses
---
Endorsement Courses
Instructions for Requesting Endorsement Course Credit for College Courses
Endorsement Course Offerings WinterSpring 20192020
♦NEW♦SJCSD Gifted Endorsement Course Offerings Winter_Spring 2020
GIFTED Endorsement Course Offerings- NEFEC
---
Alternative Sources for Endorsement Courses 
*Please note that coursework is accepted from these organizations; however, the costs associated are the responsibility of the participant.*
FDLRS – Florida Diagnostic Learning & Resources System
NEFEC – North East Florida Educational Consortium
Beacon Educator Online Endorsement Courses
The Schultz Center for Teaching & Leadership