Provisional Transportation Waiver Program
2019-2020 School Year (Revised 10/10/19)
The St. Johns County School District Provisional Transportation Waiver Program (PTWP) extends transportation services, i.e. Provisional Transportation Services, to students assigned to district schools based on operational capacity, space availability, and established criteria.
This program is secondary to the Transportation Department's primary mission of providing transportation services for school arrival and dismissal operations.
---
*Please note that in order to obtain transportation services on a St. Johns County School District bus, the student must first be registered at their assigned school and have a student number.
---
Applying for a Waiver:
Only the Transportation Department may approve provisional waivers.
Parents/guardians may apply for provisional waivers.
Principals may apply for waivers on behalf of students and parents/guardians on an as needed basis.
For emergency waivers, please see the emergency waiver paragraph below.
Criteria:
Buses must have space availability for the provisional waiver student.
Student riders must utilize existing buses, routes, stops, and schedules only.
Student riders may not transfer from bus to bus.
Waivers are approved for the period requested not to exceed the current school year.
Provisional waivers are applicable only for the approved student, buses, routes, schedules, and stops.
"Bus passes" are not authorized for use on district school buses at any time.
Types of Waivers: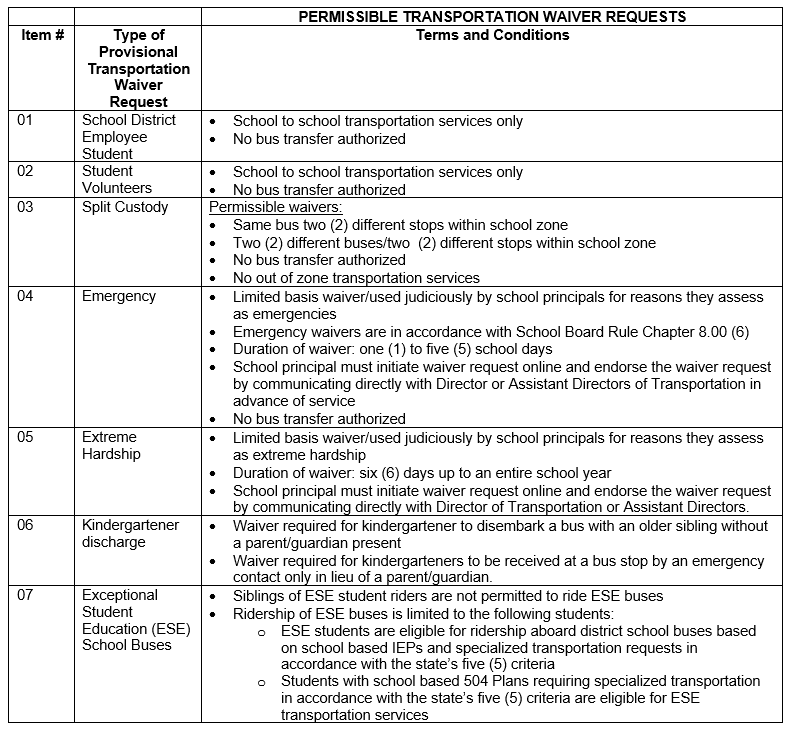 Communications:
Applicants will receive email confirmations when applications are electronically received by the Transportation Department.
The Transportation Department will inform applicants by email regarding waiver decisions. *Note: Only the Transportation Department will provide notifications.
The Transportation Department will inform applicable school principals regarding approved or suspended waivers.
Approval Process:
Waiver applications shall be reviewed by the Transportation Department and approved/disapproved based on space availability, operational capacity, and the criteria outlined above.
Waivers are only approved following the reconciliation of eligible student riders aboard buses (normally after the second (2nd) full week of school).
Contingencies:
Parents/guardians are encouraged to make alternative transportation arrangements until when/if waiver applications are approved.
Parents/guardians are encouraged to develop contingency plans for transportation services in the event waiver applications are not approved.
PTWP Waiver Suspensions:
The Transportation Department may suspend waivers with two (2) weeks' notice to parents/guardians due to space availability reasons.
The Transportation Department may suspend waivers for reasons outlined in the Student Code of Conduct at any time.
Parents/guardians may suspend waivers by contacting Transportation.
Student Accountability:
The Transportation Department will register students with approved PTWP provisional waivers as eligible riders for buses in the SJCSD bus routing system to ensure accountability of students and effective communications with parents/guardians.
Parents/guardians are encouraged to opt in to School Messenger alerts by text in order to receive timely updates regarding transportation matters.

From a mobile device, Text "Yes" to 67587. 

You will receive a response text message stating, "You're registered 4 SchoolMessenger notifications".