Battle of the Books (BotB) is a reading incentive program for students in the third through twelfth grades.
The Battle questions are selected from the Sunshine State Young Readers Award (SSYRA) books for elementary and middle schools each year. Battle questions for high school students are selected from the Florida Teens Read state list.
At the elementary level, the schools are divided geographically for the competition. This is due to the popularity of the event and the large number of schools participating.
Southern Elementary Battle of the Books Schools: Wards Creek Elementary, Mill Creek Academy, Picolata Crossing Elementary, Palencia Elementary, Crookshank Elementary, Osceola Elementary, Ketterlinus Elementary, Mason Elementary, South Woods Elementary, Hartley Elementary, R.B Hunt Elementary, and the Webster School.
Northern Elementary Battle of the Books Schools: PV/PV Rawlings, Ocean Palms, Valley Ridge Academy, Durbin Creek Elementary, Julington Creek Elementary, Liberty Pines Academy, Patriot Oaks Academy, Timberlin Creek Elementary, Cunningham Creek, Hickory Creek, Freedom Crossing, Palm Valley Academy, and Pine Island Academy.
Winners For 2022-2023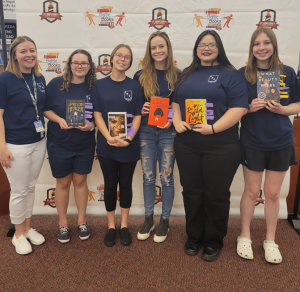 Past Winners
| | | | | |
| --- | --- | --- | --- | --- |
| Year | Elementary Winner (North County) | Elementary Winner (South County) | Middle School Winner | High School Winner |
| 2022/2023 | Julington Creek | Mill Creek Academy | Switzerland Point | Pedro Menendez High School |
| 2021/2022 | Durbin Creek and Timberlin Creek | Otis Mason | Switzerland Point | Creekside |
| 2020/2021 | Timberlin Creek | John A Crookshank | Patriot Oaks Academy | Creekside |
| 2019/2020 | Timberlin Creek | Mason | Palm Valley Academy and Landrum | Nease |
| 2018/2019 | PV/PV/Rawlings tied Durbin Creek | Palencia | Pacetti Bay | Bartram Trail |
| 2017/2018 | PV/PV/Rawlings | Palencia | Switzerland Point | Creekside |
| 2016/2017 | PV/PV/Rawlings | Palencia | Switzerland Point | Creekside |
| 2015/2016 | Durbin Creek | South Woods | Patriot Oaks | Creekside |
| 2014/2015 | Durbin Creek | Mason | Switzerland Point | Ponte Vedra |
| 2013/2014 | Timberlin Creek and Durbin Creek | Palencia and South Woods | Switzerland Point | Nease |
| 2012/2013 | PVPV | Palencia | Switzerland Point | Creekside |
| 2011/2012 | Hickory Creek | Mason | Switzerland Point | Creekside |
| 2010/2011 | Hickory Creek | The Webster School | Switzerland Point | Nease |
| 2009/2010 | Hickory Creek | The Webster School | Pacetti Bay | Ponte Vedra |
| 2008/2009 | Hickory Creek | The Webster School | Switzerland Point | Creekside |
| 2007/2008 | Julington Creek | The Webster School | Switzerland Point | Bartram Trail |
| 2006/2007 | PVPV/Rawlings | R.B. Hunt | Gamble Rogers | Bartram Trail |