Visually Impaired Program
Avery Greene
Program Specialist
(904) 547-7557
---
The best and most beautiful things in the world cannot be seen or even touched. They must be felt within the heart.
Helen Keller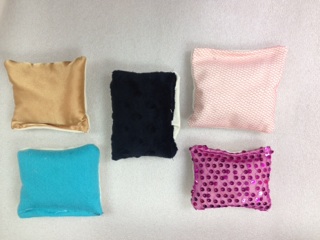 THANK YOU!! THANK YOU!! THANK YOU!! to Mrs. Spradley's Bartram Trails High School Fashion4 students. The Fashion4's hand-made these wonderful sensory bean bags to be used by our blind and visually impaired students. Through their hard work and attention to detail, 12 sets of bean bags were created for use in both play and regular classroom work to tactually explore textures of soft, smooth, silky, rough and bumpy.

Great job Fashion4's – you are an asset to your community.
RECENT NEWS: SAT, PSAT, AP, and ACT exams – Braille
Beginning in August 2017, College Board tests will switch to Unified English Braille (UEB). This applies to the SAT, SAT subject Tests, PSAT-related assessments, and Advanced Placement Exams. These tests will continue to use Nemeth Code for all math items. If you have any questions, please contact the College Board's Service for Students with Disabilities at 844-255-7728.
ACT will continue to offer both UEB and EBAE practice and testing materials. ACT does eventually plan to transition to offering UEB. ACT will continue to offer EBAE through at least June 2018.
Visual Impairments

According to State of Florida Administrative Code Rule 6A-6.03014(1)(a-c), the definition of students who are visually impaired include students who are blind, have no vision, or have little potential for using vision and students who have low vision. The term visual impairment does not include students who have learning problems that are primarily the result of visual perceptual and/or visual motor difficulties.
Visually Impaired Program

The Visually Impaired Program provides specialized instruction in all areas of the Expanded Core Curriculumto eligible students age birth through their twenty-second birthday. Special education services are provided by fully certified itinerant Teachers of the Visually Impaired (TVIs) in a variety of educational settings including consultative support or direct services in both self-contained and general education classes in accordance with individual education plans (IEPs). The determination of the type of VI-related services provided by a TVI or Orientation & Mobility Specialist, as well as the schedule of services, is decided by the IEP team. Students who receive consultative services will generally be seen on a monthly basis by the appropriate VI professional(s). Orientation and mobility instruction is provided both on campus and in the community and is provided by a certified Orientation and Mobility Specialist.
Eligibility Criteria

A student is eligible for special education and related services if the following medical and educational criteria are met:
1. A licensed opthalmologist or optometrist has documented an eye condition that causes an impairment as manifested by at least one of the following:
A visual acuity of 20/70 or less in the better eye after best possible correction;
A peripheral field so constricted that it affects the student's ability to function in an educational setting;
A progressive loss of vision which may affect the student's ability to function in an educational setting, not including students who have learning problems that are primarily the result of visual perceptual and/or visual motor difficulties, or,
For children birth to five (5) years of age or students who are otherwise unable to be assessed, bilateral lack of central, steady, or maintained fixation of vision with an estimated visual acuity of 20/70 or less after best possible correction; bilateral central scotoma involving the perimacula area (20/80-20/200); bilateral grade III, IV, or V Retinopathy of Prematurity (ROP); or documented eye impairment as stated in paragraph (3)(a) of Rule 6A-6.03014.
2. The student demonstrates a need for special education.
Student Evaluation

The minimum procedures necessary for determining eligibility in the Visually Impaired Program shall include:
A medical eye examination describing: etiology, diagnosis, treatment regimen, prognosis, near/distance, corrected/uncorrected acuity measures for left eye, right eye and both eyes, measure of field of vision, and recommendations for lighting levels, physical activity, aids, or use of glasses, as appropriate.
For children birth to five (5) years of age or students who are otherwise unable to be assessed, a medical assessment describing visual functioning shall be documented when standard visual acuities and measure of field of vision are unattainable.
If a medical criterion listed in paragraph (4)(A) of Rule 6A-6.03014, F.A.C, is met, then in addition to the provisions of Rule 6A-6.0331, F.A.C., a comprehensive assessment of skills known to be impacted by visual impairment, shall include, but is not limited to: functional vision evaluation, learning media assessment, and, if appropriate, orientation and mobility assessment.
Reevaluation

1. Reevaluation shall occur at least every three (3) years and shall include a minimum of a medical eye examination within the last calendar year, functional vision assessment, learning media assessment and, if appropriate, any other formal evaluations addressed in the initial evaluation in accordance with Rule 6A-6.0331, F.A.C.
2. The medical aspect of a reevaluation for students with bilateral anopthalmia may be waived by a written recommendation of a physician.
A request to determine eligibility may be requested through Avery Greene, Program Specialist at (904) 547-7557 or [email protected].
Expanded Core Curriculum
The ECC includes nine major areas as identified by the National Agenda for the Education of Children and Youths with Visual Impairments, Including Those with Multiple Disabilities.
Visual Efficiency: Efficient and accurate use of vision for daily activities
Independent Living: Independence in activities of daily living
Compensatory: Access and success in the general education curriculum
Recreation and Leisure: Fitness for physical and social health
Orientation and Mobility: Safe and independent travel
Technology: Accurate, efficient, and timely task completion
Social Interaction: Satisfying and fulfilling relationships
Self-Determination: Accomplishment of self-determined goals
Career Education: Gainful employment for independent living
Resources
20 Home Modifications for People with Vision Loss
American Foundation for the Blind (AFB)
Founded in 1921, the American Foundation for Blind has spent nearly a century ensuring that individuals who are blind or visually impaired have access to the information, technology, education, and legal resources they need to live independent and productive lives.
American Printing House for the Blind (APH)
The American Printing House for the Blind (APH) is the world's largest nonprofit organization creating educational, workplace, and independent living products and services for people who are visually impaired.
Association for the Education and Rehabilitation of the Blind and Visually Impaired (AERBVI)
AER supports professionals who provide education and rehabilitation services to people with visual impairments, offering professional development opportunities, publications, and public advocacy
Braille Authority of North America (BANA)
BANA promotes and facilitates the uses, teaching, and production of braille. Pursuant to this purpose, BANA will promulgate rules, make interpretations, and render opinions pertaining to braille codes and guidelines for the provisions of literary and technical materials and related forms and formats of embossed materials now in existence or to be developed in the future for the use of blind persons in North America. Through BANA online access is available to guidebooks, updates to code and rules, and especially provides information to the newest code updates – the Unified English Braille code.
Bureau of Braille and Talking Books Library
http://dbs.myflorida.com/library/index.php
The Bureau of Braille and Talking Books Library is a free service for individuals who cannot use standard print reading materials as the result of a visual, physical, or reading disability. It is the largest library of its kind in the U.S., with a collection of more than 2.4 million items in braille and audio format, including cassette and digital recordings. In addition, the library also provides adaptive equipment, accessories, and other types of players on loan. Overall annual loans exceed 1.99 million items.
Creating Accessible Kitchens for the Visually Impaired
Guide to Room by Room Repairs for Easy Accessibility for Disabled Loved Ones
Lighting In and Around the Home: A Guide to Better Lighting for People with Sight Loss
Expanded Core Curriculum (ECC)

The Expanded Core Curriculum (ECC) is the body of knowledge and skills that are needed by students with visual impairments due to their unique disability-specific needs. Students with visual impairments need the expanded core curriculum in addition to the core academic curriculum of general education. The ECC should be used as a framework for assessing students, planning individual goals and providing instruction.
Florida Department of Education
Florida Department of Education – Florida's Educational Opportunities for Students with Sensory Impairments
This pamphlet describes eligibility requirements for students with sensory impairments, services, and resources available to parents.
Florida Division of Blind Services (DBS)
325 West Gaines Street
Turlington Building, Suite 1114
Tallahassee, FL 32399-0400
Main Number: (850) 245-0300
Toll Free: (800) 342-1828
Fax Main DBS Number: (850) 245-0363
DBS provides services to individuals of all ages whose primary disability is visual impairment to help them maximize their physical, vocational, social, and economic well-being. Services include vocational rehabilitation, counseling, guidance, parent training, and assistance in locating school and other community-based programs.
Florida Instructional Materials Center (FIMC)
FIMC is a statewide resource center designed to assist public and private schools in obtaining specialized materials for students with visual impairments. Established in 1972 by the Florida Legislature, FIMC-VI operates under the Florida Department of Education, Bureau of Exceptional Education and Student Services through a grant agreement with the School District of Hillsborough County.
Florida School for the Deaf and the Blind (FSDB)
The Florida School for the Deaf and the Blind in St. Augustine is the state's public school for eligible deaf/hard-of-hearing, blind/low vision, and deaf-blind preschool through 12th grade students. FSDB also offers a continuing education program. There is no tuition cost to families for eligible Florida residents.
Interested parents may contact the School's Parent Services Office for information regarding admission Voice/TDD at (800) 344-3732.
An online catalog of products for independent living. The catalog includes products for needs such as vision, hearing, mobility, medical, household, and computers.
National Association of Parents of Children with Visual Impairments (NAPVI)
NAPVI is a national organization that enables parents to find information and resources for their children who are blind or visually impaired, including those with additional disabilities.
NAPVI provides leadership, support, and training to assist parents in helping children reach their potential.
National Eye Institute
Provides eye health information, research, and resources for individuals and families wanting to learn more about today's research for tomorrow's vision.
Rehabilitation Center for the Blind and Visually Impaired
408 White Street
Daytona Beach, FL 32114
Main Number: (386) 258-4444
Toll Free: (800) 741-3826
Fax: (386) 239-6108
Bureau Chief: Edward Hudson
The Rehabilitation Center for the Blind and Visually Impaired is a place where people who are blind can reside temporarily while they learn to lead productive, self-sufficient lives. The Rehabilitation Center program incorporates instruction in a variety of independence skills, as well as case management, including home management, cooking, cleaning, personal care, labeling, orientation and mobility, Braille, access computer technology, adaptive equipment and devices, college prep, job readiness, home repairs, adaptation to blindness and many other skills that contribute to independence and the confidence to seek the highest level of employment possible.
Like all rehabilitation training provided to clients, the curriculum is intended to provide the skills to enable clients to remain independent in their homes, as well as to provide the confidence to seek their highest level of employment, regardless of the nature of the employment. Their ultimate employment goals are matched, as much as possible, to the clients own aspirations. Where possible, our curriculum and resources support the client's progression to independence and full participation in the community, including employment. There is no cost to the individual for training or room and board. However center students are responsible for personal expenses.
Visual Aid Volunteers of Florida (VAVF)
VAVF members include volunteer consultants with expertise in specialized areas of braille and tape production. These consultants will do group training or assist individual groups with problem-solving in various areas of production. The group can provide information to persons interested in becoming certified in braille production.
Forms