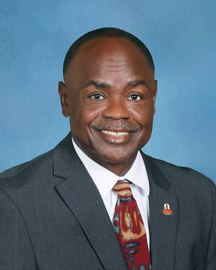 Board Vice Chair
[email protected]
(904) 547-7510
Anthony "Tony" Coleman was born in Palatka, Florida, and grew up in Hastings. While living there, Tony attended Hastings Elementary School. Later, he entered Hastings High school where he played football and competed in track and field. Tony excelled in sports and became a high school star athlete. In fact, he went on to represent St. Johns County as its first-ever state champion in Florida for the 100-yard dash. After graduating in 1983, Tony earned a scholarship for track and field at Edward Waters College in Jacksonville, Florida. Sometime later, Tony earned state certification in Law Enforcement and Corrections from First Coast Technical College. Anthony has an associate degree from Vincennes University.
In 1986, Anthony started his career in law enforcement with the Putnam County Sheriff's Office before joining the St. Johns County Sheriff's Office (SJSO) in April of 1988 as a patrol officer. During his time with the SJSO, Anthony worked in both Patrol and Community-Oriented Policing (COP) before moving to the Youth Resource Deputy (YRD) section. Anthony worked as a YRD for the Gaines Alternative Center, R.J. Murray Middle School and Pedro Menendez High School as well as several of the district elementary schools. He also spent one year teaching history at BKA (Brother Keeper Academy Charter School) which was founded by his brother, Pastor Coleman.
Tony was instrumental in starting the SJSO's first local Dolphins football and cheer programs which have served hundreds of students in the Hastings, Flagler Estates, Armstrong and West St Augustine areas.
Throughout Tony's 30 years of public service, he has received a number of awards. Among these recognitions are the highest award given by St. Johns County, the Guy White Award, in addition to the Learning Legacy Award, which is the highest award given by the Superintendent of Schools. Other awards include Officer of the Year, Department of Juvenile Justice (DJJ) and the Meritorious Service to list a few.
Tony serves in a number of civic duties. He is currently an adviser to Hastings Youth Academy, and previously was the past co-chair of the 7th Circuit Department of Juvenile Justice (DJJ). He served as the past Board President for the Hope Pavilion Group Home in Hastings. He is a Minister at the Lord Temple City of Refuge Ministries and currently serves as a member of the Chaplain Corps for the SJSO.
Tony is married to Cherl, and they are proud of their six children, who have graduated from Putnam and St Johns County Districts. Tony and Cherl have 14 grandchildren. Tony enjoys mentoring kids, coaching girls Rec basketball, and high school football.