EMMA Means Music Scholarship Award 2020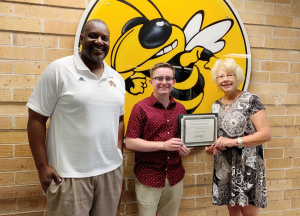 Mark Stevens was the 2020 recipient of the annual EMMA Means Music Scholarship Award. EMMA Board President, Joanne Everett, and SAHS Principal, Dr. DeArmas Graham, presented Mark with a certificate of recognition. Mark will be attending Florida State University this fall to pursue a bachelor's degree in Instrumental Music Education . In Mark's scholarship essay to EMMA, he wrote, "Music has always given me a purpose in life. It has shown me how to grow, how to care, how to learn, and how to love. I also feel that music has helped shape me into the young man that I am today. My goal in life is to become a successful music educator. However, teaching music is not the only responsibility that would go along with that. I want to become a well-rounded music educator that can serve as a model for others to follow and to leave a legacy behind in the State of Florida where students can thrive and enjoy making music with each other and can serve their communities well as mature young adults."
---
EMMA gives to Murray Middle School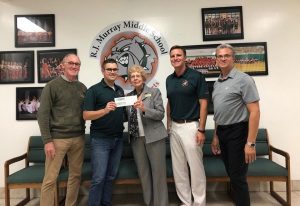 Another day, another chance to bring more music education to our schools. EMMA Concert Association was proud to provide funding to band director at Murray Middle School Joshua Bond. The funds were used to buy a new bass guitar amplifier and guitar amplifier.
---
St Augustine High School Concert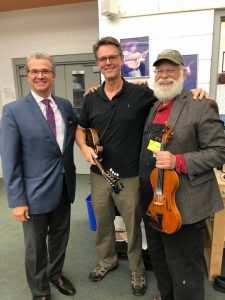 It was a special day for St. Augustine High School American Music students in Trey Brewer's classes. Dr. Ron Penn brought his vast knowledge and down home manner as he took us to the Cumberland plateau for a journey through music history and culture. He drew connections with the students' community and culture and had them playing along on bass, guitar, banjo, mandolin and fiddle. Thanks to EMMA Concert Association Jack Page Projects for their continued support of music education.