The State of the Arts in St. Johns County, Florida School District
For Information on the Arts Programs contact:
Joanne Crowder
Fine Arts Program Specialist
40 Orange Street
St. Augustine, FL 32084
904-547-7565, fax 904-547-7544
www.stjohns.k12.fl.us/arts/
[email protected]
The St. Johns County School District and the St. Johns County School Board support arts instruction in all schools and at all levels, K-12. Every elementary school has both a full time art and music teacher. Secondary school arts programs vary according to student interest and enrollment. The St. Johns County Centers for the Arts (SJCCA) are located at R. J. Murray Middle School and St. Augustine High School. At SJCCA, sequential courses are offered in visual and performing arts: chorus, instrumental music/band, drama, and dance. Students must apply to attend the SJCCA schools. Students will audition into appropriate class levels.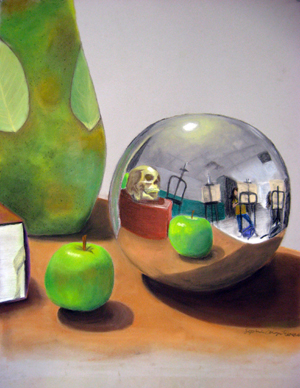 Color Drawing Study by Sophia C-D, St. Augustine High School Center for the Arts
David Olson, Teacher