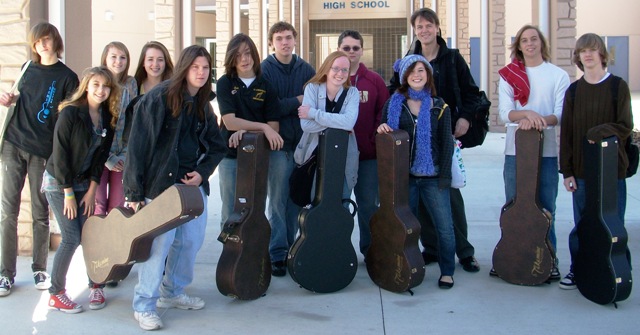 Access to the Arts at the High School Level 9-12
There are two distinct learning paths available for high school students to pursue their interest in the performing and visual arts. *
Visual and performing arts elective courses are available at all St. Johns County School District high schools, except St Johns Technical High School.
Courses offerings may include band, chorus, dance, theatre and visual art.
Not all courses are offered at all schools.
Students who are interested in pursuing an Arts Program of Study are encouraged to apply to the St. Johns County Center for the Arts (SJCCA) at St. Augustine High School.
SJCCA offers four strands of arts focus: Dance, music (band, jazz, vocal/chorus, guitar, orchestra and piano), theatre (acting, musical theatre, and theatre tech) and visual art (2D, 3D, and digital design).
Students who are not zoned for St. Augustine High School must apply to attend SJCCA at SAHS.
Applications for SJCCA are available to rising 9th and 10th grade students. Applications and additional information for SJCCA are generally made available on the St. Augustine High School website at the beginning of the second semester. For more information, call 904-547-8530 or see www-sahs.stjohns.k12.fl.us. The SJCCA website is www.sjcca.org.
*IB, AICE and AP Art History are offered at select schools.
Students in the performing and visual arts programs participate in many community events including local and regional fairs, parades and festivals, competitions, and showcase performances. Our district has a long-standing history of student musicians being selected to perform in various All-State ensembles each year. SJCSD has proudly partnered for 15 years with the St. Augustine Art Association which hosts an annual juried All-County High School Art Show each March, with various awards in multiple mediums. Additionally, large numbers of our students each year are awarded for their participation in annual events such as the North Florida Scholastic Art Awards, Art Works, FAEA Virtual Exhibit and others. Student artists also compete for awards in the Congressional Art Competition, the 7th Judicial District's Crime Stoppers Poster contest, the Martin Luther King Jr. Essay and Poster Contest, and the Betty Griffin House "Day Without Violence" art contest.
For general inquiries about SJC School District Arts programs, contact:
Antonio C. Scott
Arts Program Specialist
40 Orange Street
St. Augustine, FL 32084
904-547-7565, fax 904-547-7544
www.stjohns.k12.fl.us/arts/high/
[email protected]