Elementary School Support & Resources | Middle School Support & Resources | High School Support & Resources
Professional Organizations
Florida School Music Association
Florida Bandmasters Association
Florida Orchestra Association
Florida Vocal Association
International Association of Jazz Educators
Florida Elementary Music Educators Association
Florida Alliance for Arts Education
Florida Art Education Association
National Art Education Association
National Council on Education of the Ceramic Arts
Educational Theater Association
International Thespian Society
Florida State Thespians Society
Florida Dance Association
American Orff-Schulwerk Association
WHY ART and MUSIC? A LETTER FROM A PARENT
It's All About the Passion – Keep Arts in Our Schools
I sat in a church pew Saturday night, and I had a bit of a spiritual experience. But this little spiritual experience had nothing to do with religion. It had everything to do with the combined voices of about three hundred high school students from various schools across the state who attended the two-day Stetson University Honors Clinic Chorale.
My sixteen-year-old daughter Caitlin was one of those three hundred high school kids in front of us. Like every other kid up there, she was filled with passion, captivated by the music, singing her heart out, so very much part of something beautiful.
Ms. Mattingly, our high school's choral arts teacher, drove Caitlin and two other girls down to Deland, Florida (about forty-five minutes from Orlando.) They left at seven-thirty Friday morning, worked with a professional conductor all day Friday and Saturday, and then performed five songs they had never seen before. We drove down to see the performance. And they blew us away.
Imagine the kind of music you hear in movie soundtracks – Close Encounters, Glory, and The Godfather come to mind for some reason. Big choral sound, mixed rhythms, incredible harmonies, perfect precision.
The crowd of students in front of us was a magnificent melting pot of cultural diversity, a shining example of the way arts programs transcend race and culture. There were white kids, black kids, Asian kids, Hispanic kids, purple kids (well, purple-haired) kids, kids with nose and lip piercings, kids with dreadlocks, dorky kids with big glasses and crazy hair, Christian kids, Jewish kids, Islamic kids, Martian kids… each and every one of those kids was captured, captivated by the conductor's every movement, practically up on their toes with every note, desperately trying to do their best to contribute to the common goal. And it was a common goal of doing something incredible together, not winning a game, or pushing each other down to climb up another rung on the popularity ladder. Just kids of all kinds standing together and producing incredible music. They could have cared less about their cultural or ethnic differences. They didn't have time. They were too damn busy. They were consumed with passion, working together to help each other meet their goal. And that's what it's all about. It's all about the passion.
I almost broke down in tears. Their harmonies, the way the low baritone voices hit me in the chest, the high-pitched sopranos making our hearts race, the brilliant mix of every voice, harmonic rhythms lingering in the air.
At the end of each piece, the conductor held his baton in his right hand and cocked his arm back slowly as he used his left hand to build the crescendo. Then he whipped his right hand in a tight circle in the air, like Indiana Jones cracking his whip. And each and every one of those three hundred kids stopped singing at exactly the same time, their combined voices ringing off the church pipes, leaving us breathless.
The conductor looked to me like he was the kind of kid who probably got beat up a lot in middle school. He was the dorky kid who spent his life in the band room but now he holds a PhD in choral arts instruction, and he stood in front of those kids and commanded excellence, exuded strength and confidence, and set expectations that these kids never even knew were achievable.
I closed my eyes during one of the songs, but I had to open them up again right away for fear of spontaneously floating up and being carried away by the sound. Seriously, it was that good.
So in this little spiritual moment of mine, I'd like to spread the word and ask people to work together to keep the arts in schools. Go to high school musicals, visit visual arts showcases, stand up and cheer for the marching band, linger after a musical theater production and applaud for the kids in the orchestra pit, pay for some stale chocolate-chip cookies with a twenty and tell them to keep the change, show up for set-build days, arrange for thirty boxes of pizza for a dress rehearsal, dig through Goodwill for costumes, hang rolls of crepe paper for ballet performances, hand the kid who pulled the curtain a bouquet of roses and tell him what an incredible job he did, encourage a business to sponsor an after-school creative writing program, talk to your school board members and congressmen and remind them about the vital importance of arts in our schools. It's the passion. Support kids working together to create something beautiful. It's all about the passion.
Paul R. May
St. Johns County
St. Augustine, Florida
October 4, 2009
[email protected]
---
Elementary School Support & Resources
Picturing America Collection in St. Johns County Schools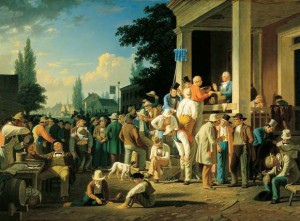 Three St. Johns County School District schools have received a collection of forty high-quality reproductions of great American art through the National Endowment for the Humanities (NEH) "Picturing America" program. R. B. Hunt Elementary School, Pacetti Bay Middle School, and R. J. Murray Middle School were county schools receiving the grant. One local private school, St. Joe's Academy, also received the collection. The laminated, 24" X 36" prints are provided by a grant from the NEH to help teach American history and culture in classrooms and libraries. In addition to the prints, each awardee received a comprehensive teacher resource guide R. B. Hunt art teacher Melissa Watson wasted no time in putting her artwork on display as she designed a democracy-themed bulletin board display for the month of October using a painting by George Caleb Bingham entitled "The County Election, 1852" (Oil on canvas, 38 x 52 in. /96.5 x 132.1 cm., Saint Louis Art Museum, St. Louis, Mo., Gift of Bank of America.). Mr. Bingham, a Missouri artist who was running for office at the time, even included himself in the painting, along with his purportedly less-than-scrupulous opponent. Ms. Watson presented the painting as a snapshot of American history and also as a way to point out subsequent changes in the democratic process. Conspicuously absent from the painting are women, who did not receive the vote until the passage of the 19th Amendment in 1920 and African-Americans, who were not fully enfranchised in the voting system until the Voting Rights Act of 1965. "This is a great learning tool because it makes connections across the curriculum, using art as a springboard," Ms. Watson said. Media resource specialists Lorraine Stinson of Murray Middle School and Lynn Johnson of Pacetti Bay Middle School also received the collections. Ms. Johnson is excited to have received the grant, "They are incredible," she said. "We are using them in the U.S. History classes as an introduction to the time periods. I am also putting them on an easel in the media center and will rotate them so each one will be on display for a week." Ms. Stinson is planning to display the entire collection later in the year. The teacher resource guide includes artist biographical information on the artists and a descriptive narrative as well as grade level teaching activities for each poster. Because the collection includes artwork from Anasasi peoples (pre-Columbian period) to contemporary artists, social studies teachers will find the collection useful to stimulate discussion and to gain perspective on historical periods and events. Language arts teachers are using the teacher resource information to create writing prompts for their students. The National Endowment for the Humanities (NEH) is an independent grant-making agency of the United States government. It supports research, education, preservation and public programs in the humanities. Under the guiding principle that "democracy demands wisdom," the NEH gave away over 26,000 of the collections to schools and public libraries in the fifty states, the District of Columbia, and five U. S. Territories.