Elementary School Best Practices | Middle School Best Practices | High School Best Practices
Elementary School Best Practices
Julington Creek- Many Cultures, One Community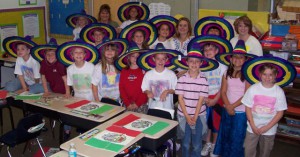 Hello, World! Aloha! O-si-yo! Olá! Bonjour! ¡Hola! Hallo! Hei! Jej! Ciao! Guten Tag! Zdracvstvuite! Shalom! Sawubona! Jambo! Namasté! Konnichiwa!
Julington Creek Elementary Schooll hosted its third annual Multicultural Celebration. Music teacher Kathe Isabelle, art teacher Linda McAnarney and Spanish teacher Janet Robles teamed with Julington Creek Elementary School administration, staff and parents to continue the success of this annual event. The festival was an opportunity for students, parents and community members to join with friends and become better acquainted with the culturally diverse Julington Creek "family."
Multicultural demonstrations were highlighted school-wide throughout the school day with cultural dress, traditions, food, dance, singing, and acting by students and volunteers. The public was invited to attend the evening program of international singing, dancing, and presentations in the multipurpose cafeteria. The hallways of Julington Creek Elementary School came alive with colorful student posters representing the students' diverse ethnic backgrounds. Following the cultural presentations, Julington Creek families and friends enjoyed food samples from around the world. There was also a wide variety of arts and crafts on display. All grades K-5 participated in the event.
An Inspiring Musical Event
PMHS Band visits South Woods Elementary School
Pedro Menendez High School's band director Scott Forsythe and the PMHS Concert and Jazz Bands recently took a ride down CR 206 towards Hastings and spent the afternoon entertaining the younger generation at South Woods Elementary School. The concerts put the high school musicians in roles as musical ambassadors, spreading the word about the instrumental music program at their school. The PMHS concert band delivered a phenomenal performance of classical music that had the elementary school students mesmerized with the sounds of classical band instruments, which many were hearing for the first time. The Jazz Band finished the show with engaging, lively numbers, such as the theme from the Flintstones, which had all 620 students grooving.The PMHS Band further impressed students by visiting each classroom after the show and talking about their instruments and their own musical journeys.
"We have so many talented students here at South Woods that can play guitar, recorder, xylophone, and piano. Now they are really looking forward to playing the brass and woodwinds as they progress into middle and high school. Our students were thoroughly inspired. The high school students were not only very talented musicians but they were also excellent presenters and role models for our kids," said SWES music teacher Neil Burton. Mr. Burton orchestrated the performance by applying for and getting a Harmony Grant from the Jacksonville Symphony Guild, aimed at promoting music in schools. "With all the evidence to suggest that exposure to, and playing of, classical music improves brain and memory function, we are trying our best to expose our students to as much as possible," said Mr. Burton.
South Woods Elementary School principal Brian McElhone thanked Pedro Menendez High School band members for sharing their time and talents and the Jacksonville Symphony Guild for their support.
National Recognition for R.B.Hunt Artists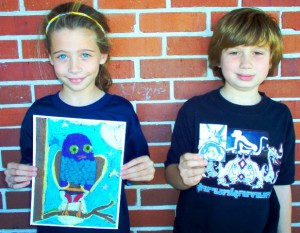 R. B. Hunt Elementary School art teacher, Melissa Watson's students are gaining notice in national art competitions. Kobe Rosenberg, a fourth grader in Mrs. Stone's class, won an honorable mention in the SchoolArts Magazine Annual Artist Trading Card Contest. His artist card, "Accelerator," was chosen from hundreds of entries. It will be published in the April issue of SchoolArts magazine and be on display at the National Art Education Association conference in Minneapolis, Minn. He follows in the footsteps of two schoolmates, Kenzie Tustin and Katie Lynn, who won honors last year.
Gabriella Bellavista, a third grader in Mrs. Oja-Dunaway's class, has placed as a finalist in the 2009 Cray-Pas Wonderful Colorful World Art Contest sponsored by Sakura of America, a global manufacturers of artist supplies. Her oil pastel, "The Wise Owl," was chosen as one of 150 finalists out of 4,000 entries from all over the U.S. Her artwork will be on exhibit at the Museum of Children's Art in Oakland, CA. A video of the exhibit can be seen on Sakura's website www.sakuraofamerica.com.
Art Makes the Day at Crookshank Elementary
Students at Crookshank Elementary School enjoyed a truly artistic day. Instead of following their regular schedules, they assembled by grade level for a variety of art and musical projects and performances. Art teacher Yvonne Delamar, along with Media Resource teacher Mary Linehan, principal Jay Willetts, and assistant principal, Bethany Groves, designed the celebration of the arts to encourage artistic expression and to keep students excited about the learning environment.
Artist-educators from throughout the community shared their skills and knowledge as they led the students in songs, storytelling, puppetry, and the creation of art projects. In addition to reinforcing instruction in art and music, the projects were also tied to other curriculum areas, including history, reading, math, and science.
Community artists participating in the Art Day activities were drummer/singer/storyteller Howard Jones, aka Xhabbo; painter Rachel Thompson, who led first graders in creating six large nature paintings; artist and illustrator Wendy Tatter, who shared "The Cat Book," written by her mother and illustrated by Tatter; Dean Richardson of Kidz Art, Inc., who taught the students to create a lighthouse bookmark; photographer Joan Pinkham, who showed and discussed her photographs; singer/storyteller Tommy Bledsoe, who told the story of "Abiyoyo," from a book that had been the subject of art class projects earlier in the year; puppeteer and ESE teacher, Rick Greenough, who taught students to make puppets; and City Gate Productions, who performed "St. Augustine in a Trunk," an interactive history play.
The six paintings created by first grade classes during Rachel Thompson's sessions are prominently displayed in the school. Art Day is an annual event at Crookshank Elementary School.
---
Middle School Best Practices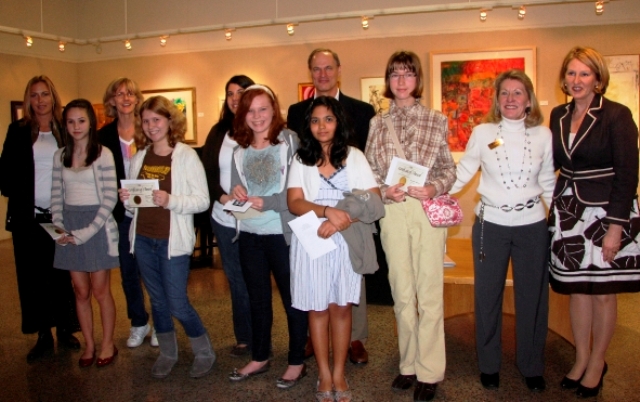 Murray Middle School Student Wins Logo Contest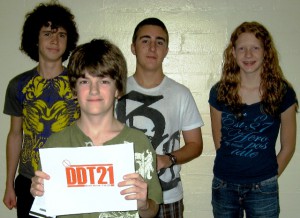 Dustin Cook, an 8th grade student at R. J. Murray Middle School, was selected as the winner of a logo contest for a "Don't Drink 'til 21" campaign sponsored by PACT Prevention Coalition of St.. Johns County. The PACT prevention coalition advocates the prevention and education of students to prevent underage drinking and substance abuse.
Dustin learned about the contest from his Digital Art instructor, Chris Paone. Mr. Paone encouraged his students to participate as a way to add practical experience to their classroom work. "I like to get the students engaged in projects like this so they can put the skills they learn in the classroom into practice," Mr. Paone said.
The contest was judged by a student panel who evaluated the entries using both artistic and marketing criteria. The student panel consisted of Kat Loveday, Larry Travis, Jay McWilliams and Rachel Hackney. According to Jay McWilliams, "The whole appeal was how concise and to the point Dustin's entry was. We all agreed that it would grab attention, as well as being easily recognizable when advertised."
PACT held a Teen Night social at the Ketterlinus gym on November 15, during which Dustin was announced as the winner of the contest and was awarded his prize, an iPod Shuffle MP3 player.~The students played games and participated in a presentation about the dangers of underage drinking. As part of the Governor's Office of Drug Control Alcohol Initiative, PACT coordinates an Underage Drinking Task Force to support the ongoing efforts of local law enforcement in their efforts to reduce underage drinking.~ Along with education and enforcement details performed by local law enforcement throughout the year, the Underage Drinking Task Force contributes to the development of initiatives by experts from St. Johns County Sheriff's Office, St. Augustine Police Department, St. Augustine Beach Police Department, EPIC Community Services, Inc., the Florida Department of Juvenile Justice and the St. Johns County School District.~
Murray Players Get Aids Outreach Grant
Joanne Kirby Nance, Theatre Arts teacher at St. Johns County Center for the Arts at Murray Middle School, has received a grant from the Florida Association of Theatre Educators (FATE) to assist with production of "I Want to Know," a play by K. T. Curran. The one-act play, which was produced for a junior thespian competition, addresses the issues of AIDS and HIV and the dangers of ignorance and misinformation. The play was performed during An Evening of One Acts on November 21, 2008 in the Murray Middle School Performing Arts Center, 150 Holmes Blvd.
FATE provides mini-grants for Florida theatre teachers to help them implement AIDS awareness projects with their students. The goal is to raise the awareness of AIDS with students and the community. The idea and the funding were developed during the annual FATE conference in October. Money was raised by a silent auction of signed Broadway posters provided by Broadway Cares/Equity Fights AIDS.
As a Center for the Arts, Murray Middle School offers sequential courses for grades 6-8 in visual arts, music, dance and theatre. Students must audition for entry into the school and are able to explore different arts discipline, depending on their schedule. Information on the MMS Center for the Arts is posted on www-mms.stjohns.k12.fl.us.
---
High School Best Practices
HEAL! Projects Reach Special Students with Music and Art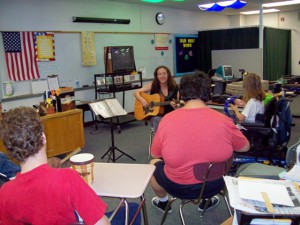 Liz Roth plays for Andria Tichy's class web.jpgAndria Tichy, Special Education teacher at St. Augustine High School, is always looking for ways to expand her students' horizons. This includes providing opportunities for them to learn through music and art, even though participating in regular classes would be a challenge for them. Undaunted, Ms. Tichy, with the assistance of a grant from the Ponte Vedra-based HEAL! Foundation, brought two musicians into the classroom to work with the students. For fourteen weeks, musicians Liz Roth or David Dowling visited the students and shared their talents while developing the abilities of the students, who are experiencing Autistic Spectrum Disorder or physical and/or mental disabilities.
"This year was another successful year for local musicians to come in to play music and work with my students," said Ms. Tichy. "I loved how David and Liz included the kids by using voice output devices, hands-on instruments, bells and dancing. The students benefit from music therapy in many ways, such as in their cognitive, behavioral, physical, emotional and social skills. It can also facilitate development in communication and sensorimotor skills." Besides funding the visiting artists, HEAL! also helped purchase musical instruments that allowed the students to actively participate in creating music. Ms. Tichy remarked, "David and Liz were always so impressed with the jam sessions. The students truly enjoy their time with them."
HEAL! also sponsored a project at Ponte Vedra High School that allowed Dorothy Bush to visit a self-contained ESE classroom with autistic and handicapped students who would not otherwise enroll in regular music classes. She purchased Latin rhythm instruments and taught the students songs and rhythms, teaching them to play along with the music.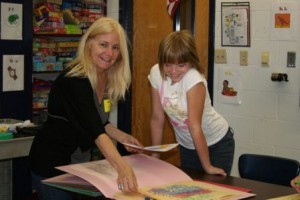 In addition to music, special needs students were also learning visual art through "Art With A Heart," a HEAL! sponsored project at Gamble Rogers Middle School. Jan Master, a visual artist who works in 2 and 3-D art forms, visited students in Nancy Tuttle-King and Nancy McLaughlin's classroom. She explored a variety of art forms with the students, including beading, painting, drawing, and printing. Student artwork from the project was featured at the Art Advocate, the gallery office of the St. Johns Cultural Council, at 76B San Marco Avenue in St. Augustine in the "Visiting the Past, Facing the Future" student art show.
The HEAL! Foundation serves the greater Jacksonville area. It is developing a community that is dedicated to medical research, treatment and education of individuals, community awareness, and, ultimately, prevention of autism spectrum disorders. They support arts, recreation, education and research projects in Duval, Nassau and St. Johns counties through their grant programs.