During the summer five day work week, the office hours for all schools and district departments for public access are 7:30 AM to 3:30 PM.  These hours support the district's energy cost savings effort.
Head Start VPK Flyer 2022 -2023
During the Covid 19 shutdown, we are still accepting Head Start applications by phone appointments. Call Christine Croyle @ 904-547-8957. Please leave a message if no answer. We will return your call within 24 hours.
Thank you,
Early Childhood Services

Head Start Program
Office Located at:
Lincolnville Museum and Cultural Center
102 Martin Luther King Avenue
St. Augustine, FL  32084
Office: (904) 547-8965
Fax: (904) 547-8955
---
We are a FREE federally funded, school-based, child development program offering comprehensive services for eligible three-to-five-year-old children and their families, living in St. Johns County.
---
Head Start Student Outcomes
Physical Development & Health
Social and Emotional Development
Approaches to Learning
Language Development
Literacy Knowledge and Skills
Mathematics Knowledge and Skills
Science Knowledge and Skills
Creative Arts Expressions
Logic and Reasoning
Social Studies Knowledge and Skills
---
Applications are available on this web page and at the following locations:
Crookshank Elementary School
The Webster Elementary School
Osceola Elementary School
Otis Mason Elementary School
South Woods Elementary School
The WIC Office (Located in the Health Department)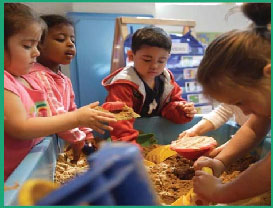 Click HERE to apply online
Download a PDF application to turn in with required documents:
2022-2023 Head Start Application
2021-2022 Head Start Application
2020-2021 Head Start Application
Head Start Application (Spanish)
2020-2021 Head Start VPK Flyer
Head Start Early Childhood Learning and Knowledge Center
---
Head Start Highlights
---
Any questions, please call the Head Start Office at 904-547-8965.