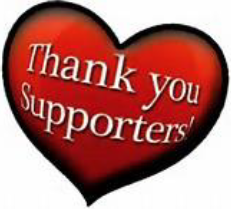 The work we do would not be possible without the generous support of our donors. We would like to thank all of the individuals, corporations, clubs, organizations, and foundations that have supported us this school year.
2018-19 A.S.S.I.S.T. Supporters
Anastasia Baptist Church
Ancient City Baptist Church
BTHS PTO
BTHS United Way
Century 21 Saltwater Realty Group
Charlie Judice Family Foundation
Colonial Church
Creekside High School PTO
Davis Family
Democratic Club NW United for Progress
Department of Children and Families
Dyne Hospitality Group (Tropical Smoothie Café)
Faith Based Partnership
Family Integrity Program
Fruit Cove Baptist Church
Happy Hookers (Council on Aging)
Holy Greek Orthodox Church
Homeport Christian Church
HUGS Across the County
James and Susan Groah Family
Jenkins-Pearson Chapter Order of the Eastern Star
Leveto Family
Living Waters Ministry
Longleaf Church
Mandarin United Methodist Church
Mark New Foundation
Memorial Presbyterian Church (Sew & Sow Ministry)
Miss Carrie Foundation
Mission to End Student Homelessness (M.E.S.H.)
Morabito Family
Mt. Horeb Masonic Lodge #20
Nease High School PTO
New St. James Missionary Baptist Church
Noreen & Bill Rains Family
Ocean Palms Elementary School
Old Town Trolley
Our Lady of Good Counsel RC Church
Palencia Community Club
Pastors United
Patriot Oaks Academy PTO
Reverb Church
RSVP
San Anastasia Catholic Church
San Sebastian Catholic Church
Serenata Beach Club
SJCSD Team A.S.S.I.S
Somebody Cares St. Augustine
South Woods Elementary School
St. Augustine Shores Ladies Golf Association
St. Augustine Swashbucklers
St. Johns Cares
St. Paul A.M.E. Church
Sunshine Rotary Club
The Bailey Group
The Hardy Group
The Webster School
TRYP by Wyndham
United Way of St. Johns County
Valley Ridge Academy PTO
Veterans of Foreign Wars
Vilano Bikes
Winn-Dixie

    and many individuals and families who care.