SR 4-25-17 Volume 6, Issue 15
Three individuals were honored as St. Johns County's 2016-2017 Outstanding Volunteers of the Year at the 10th annual Volunteer Recognition Reception held recently at First Coast Technical College. Cheryl Freeman, volunteer coordinator for the St. Johns County School District, served as emcee and Superintendent Tim Forson announced the outstanding volunteers.
Outstanding Senior Volunteer Thelma Ford, from Otis Mason Elementary School (OMES), has a desire for each student she works with to develop a love learning.  She helps approximately 200 students each year to improve testing performance. Most of the students she works with see their scores increase by one or two levels. The students also become more independent in their ability to complete tasks, and their confidence is boosted at the same time. In addition, Ms. Ford organized a lending level library at OMES, increasing efficiency and saving time for both students and teachers. Offering her excellent seamstress skills, she made superhero capes for the safety patrol students. Other activities include taking groups to the media center, being a test proctor, laminating, and decorating bulletin boards that align with themes and standards. Utilizing her amazing talents of teaching, organization and creativity, students are impacted because of her time and servant's heart.
Aaron Jett, an eighth grader at Sebastian Middle School (SMS), is this year's Outstanding Youth Volunteer and was nominated by both Ketterlinus Elementary School (KES) and SMS. He works with over 50 students at KES, tutoring math and spelling, and working on timed reading. The after school coordinator applauds him for displaying an eagerness to help others and responding to students who have behavior challenges in a calm and patient manner. Aaron also provides leadership in the WEB program at SMS. As a talented guitarist, he helps new students at school acquire the skills needed to be successful musicians. Aaron has been volunteering for the last three years and, at just 14 years of age, has given 446 hours of volunteer service over the last 18 months to district students.
Michelle Clark, from Creekside High School (CHS), is the district's Outstanding Adult Volunteer as well as the Florida Department of Education Region II Outstanding Adult Volunteer.  This makes Michelle one of the top five adult school volunteers in the state. She has been extremely successful in raising funds for school needs.  Her most notable and favorite activity is the CHS Running of the Knights 5K which has raised $90,000 over the last five years for athletics, band activities and performing arts. Michelle was instrumental in implementing the Ambassador Program at CHS. Through her efforts, high school tours were provided to new families, or those considering relocating to St. Johns County. She led a year-round tour schedule with ambassadors. A few of her additional accomplishments include planning teacher appreciation events; active participation in yearly orientation, Freshman Day, Economics Reality Fair, Barnes and Noble Book Fairs; ticket sales and concessions for numerous athletic events; banquets for cross-country and track and field; and assisting with graduation set-up.
The Outstanding Volunteers of the Year will be recognized by the School Board at their May 2 meeting.
Awards were also presented to runners-up in each category. In the Youth Category, Rylie Baker of Gamble Rogers Middle School and Alexandra Bass of The Webster School were recognized for their volunteer efforts. Bonnie Ruckh of Durbin Creek Elementary, Carol Jasper of Palencia Elementary, and Kaajal Rijsinghani of Ocean Palms Elementary were honored in the Adult Category and the Senior Category honored Bill Yancey of Ketterlinus Elementary and Jim Wheelwright of Creekside High School.
In addition to the announcement of these outstanding volunteers, the school volunteer coordinators were also recognized. The 125 individuals honored at this event were just a few of the 25,042 volunteers who contributed 252,442 hours of service to district schools during the past year. National Volunteer Week is observed April 23-29.
Schools Update
W.D. Hartley
The students and staff had a busy night at Hartley Elementary School (HES) at their annual "Night of the Arts" family fun night held April 18 from 6-7:30 p.m. Student art from the entire year was on display throughout the school with 3-D creations featured in the cafeteria. A talented harpist, Murray Center for the Arts, and Hartley's own Music Makers performed as a backdrop for an amazing silent auction. Tommy Bledsoe and his bluegrass band provided additional music to accompany square dance lessons, local vendors provided food for purchase and there was free face painting available for children. Hartley families and friends were invited to join this fun, free event.
Hickory Creek
Earlier this month, students at Hickory Creek Elementary School (HCES) participated in the third nine-week Brag Tag Assemblies in correlation to the CHARACTER COUNTS! initiative for good character as well as celebrated those students who met their reading AR goal. Throughout the ceremonies, HCES Hawks were treated with guest animal visitors from the Jacksonville Zoo. First and second-grade students had the privilege to take part in a presentation from the Chinese Cultural Center. Throughout their time together, students learned about Chinese New Year traditions and the Cann Sisters who performed on dueling pianos entertained the audience. The EMMA Concert Association of St. Augustine made this presentation possible.
Kindergarten and first-grade students participated in Field Day April 13. The music department from HCES will host its annual spring concert on May 4. The annual "Arts and Ice cream" event will be held on May 11, followed up with the band and choir performing at Universal Studios on May 19.
Julington Creek
In the month of April, Julington Creek Elementary School (JCES) faculty, staff and students participated in the "Bag It Up "event supporting Good Will with gently used clothing, household items and toys. This event served as a great service-learning project for JCES families to be involved in and really helped to display the pillar of citizenship to their community. The school is also gearing up for their annual book fair and "Evening of the Fine Arts" to display student artwork for their family and friends on May 9.
Liberty Pines Academy
Liberty Pines Academy (LPA) will be holding its final School Advisory Council (SAC) meetings on April 11 and May 9. LPA student council is encouraging the faculty, staff and students to participate in the "Bag it Up" clothing drive on April 27-28. GoodWill will be receiving the donations for the local community. The drama club will be presenting their "Beauty and the Beast Jr." production April 27-29 at 6 p.m. and family, friends and community members are invited to join. On May 2 at 6 p.m. there will be a community-wide event featuring the movie "Screenagers." The Spring Music and Band Concert will be on May 11 at 6 p.m. for families to enjoy.
Osceola
Osceola Elementary School (OES) will host its annual Field Day during the month of April. Earlier in the month, students from OES participated in the Read and Feed. The goal of this program is to give children an appetite for reading by strengthening literacy skills and providing encouragement for them through the process. The Tropicana Speech Contest for grades 4 and 5 was held on April 7. OES will be honoring their volunteers with a breakfast on April 26 as a "thank you" for all of their hard work and time.  OES will be hosting its Character Kids Awards ceremony on May 8 at 2 p.m.
Upcoming Events
May 22- Third-grade Awards Ceremony at 9:15 a.m.
May 22- Fourth-grade Awards Ceremony at 1:30 p.m.
May 23- Fifth-grade Awards Ceremony at 6 p.m.
Otis Mason
Otis Mason Elementary School (OMES) Spring Scholastic Book Fair is well underway. Reading with Grandparents was celebrated Wednesday, April 5. OMES PTO will host a Spring Carnival on Saturday, April 28 from 1-4 p.m. Admission is free to the event and there will be games, food, face painting, silent auctions, a cake walk and the book fair for families to enjoy.
Patriot Oaks Academy
Patriot Oaks Academy (POA) would like to congratulate their middle grades Botball team for placing third in competition March 18 at the University of North Florida. Third and fourth-grade students performed with recorders and sang to delight families on April 4.  On April 8 four POA Odyssey of the Mind teams competed at the state competition at the University of Central Florida. On April 6 the Middle Grades Sports Recognition breakfast was held. In honor of April being Month of the Military Child, POA hosted a ceremony and breakfast on April 7 to celebrate those students. On Saturday, April 22, POA will be having a Spring Carnival from 4-7 p.m. and welcomes students and families to attend.
South Woods
The St. Johns County School District is proud to announce that the Community Partnership School initiative is under way at South Woods Elementary School (SWES).  This process has been in the works for more than a year. SWES and the surrounding communities are fortunate to have core partners (St. Johns County School District, Flagler Hospital, St. Johns River State College & Children's Home Society) that will provide services to students and families at SWES. The long-term vision for South Woods Community Partnership School is to offer essential services to students, families and community members such as medical, dental and mental health among others.  The facilities will be located on the SWES campus in order to help remove any barriers that may prevent access to these important services. The Community Partnership School initiative is also underway at The Webster School.
Valley Ridge Academy
In an effort to implement the Positive Behavior Intervention and Support (PBIS) program, Dean of Students Brian Gifford hosted a parent communication night at the beginning of April to inform the community of the goals and process for recognizing and rewarding all VRA students who consistently model CHARACTER COUNTS!. To help support the PBIS initiative, VRA will be hosting a family bingo night on April 27 from 6-7:30 p.m.  Tickets at the door are $5 and all proceeds will go toward rewards for students.  More information can be found on the VRA website.
A perfect example of students who model the "VRA Way" are members of the Middle School National Junior Honor Society (pictured below) who led a pet food and supply drive April 4-5 to support local animal shelters.  VRA is proud to see such a sense of community involvement in their students.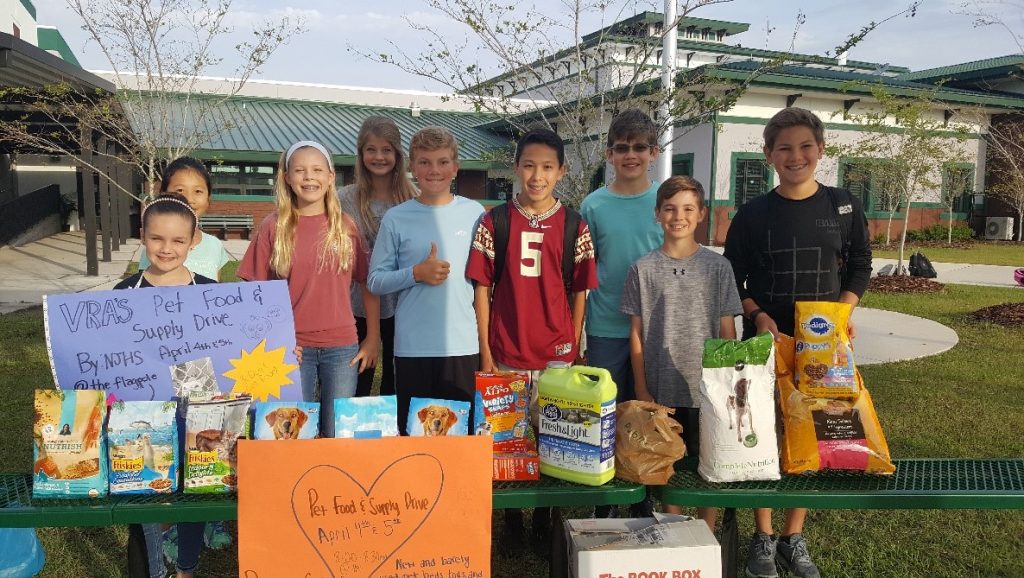 VRA would like to also thank the families and community for coming together on April 8 to work on the Lowe's Toolbox for Education Grant: Playground Beautification Project.  Thanks to the generous grant from Lowe's, VRA is able to install a learning garden with citrus trees and picnic tables as well as several interactive pieces. Special thanks to Ms. Amy Zobel for her leadership on this project that will have a tremendous benefit for all of the students at VRA.
The month of May will be full of "The Arts".  The students of the VRA Middle School Band have been preparing all semester for their Spring Concert to be held on the evening of Thursday, May 4 led by instructor Trevor Spaulding, this promises to be an incredible evening of music.  The musical trend will continue with a move to the lyrical when the Valley Ridge Chorus, under the direction of Ms. Megan Watkins, performs a concert on Tuesday, May 9. The VRA Drama Club, sponsored by Ms. Kathleen Zielinski, will perform "Alice in Wonderland" for both students and parents.  Times and locations can be found on the VRA website.
Wards Creek
On March 31, Wards Creek Elementary School (WCES) involved the entire community to celebrate fitness and raise funds for school enhancement projects with the Ready, Set, Glow 5K Run. On April 5, the WCES Warrior Team highlighted their track and field skills by competing in the district track meet at Creekside High School. On April 7, the PTO hosted the annual Spring Fling that consisted of fun games, bouncy houses, obstacle course, great food and famous class baskets drive! On April 21, students and faculty are encouraged to wear blue and green as well as work in grade level gardens to celebrate Earth Day. Cowboy Roundup Day will be April 28 and students are encouraged to wear western gear as they celebrate the traditions of the early American West. The fourth-grade presentation of "The Wizard of Oz" will be on May 11-12. Fifth-grade students are invited to participate in the recognition ceremony on May 16 and the Talent Show on May 22. Kindergarten "Aussie Day" will be on May 24 for the students to spend the day "down under".
On April 21, students and faculty are encouraged to wear blue and green as well as work in grade level gardens to celebrate Earth Day. Cowboy Roundup Day will be April 28 and students are encouraged to wear western gear as they celebrate the traditions of the early American West. The fourth-grade presentation of "The Wizard of Oz" will be on May 11-12. Fifth-grade students are invited to participate in the recognition ceremony on May 16 and the Talent Show on May 22. Kindergarten "Aussie Day" will be on May 24 for the students to spend the day "down under".
Middle and High Schools
Gamble Rogers
Gamble Rogers Middle School (GRMS) has been named for their professional collaboration as a "Solution Tree Professional Learning Community Model School "for a third time. There are fewer than 200 model schools in the country and the faculty and staff could not be more proud of all the hard work that has earned them this distinction.
GRMS is proud to present their spring musical, "Getting to Know the Sound of Music" which took place at the beginning of April.  The theater department worked tirelessly to bring the community this wonderful musical experience.
Pacetti Bay
The Pacetti Bay Middle School (PBMS) Wind Ensemble performed at the Florida Bandmasters Association's District Music Performance Assessment on March 9.  At the event, area bands are rated against a pre-set standard of musical excellence on their ability to perform three prepared selections and two selections they have never seen/heard before. The PBMS Wind Ensemble was awarded the rating of "Superior" from all judges.  The rating of superior can be compared to the grade of "A."  Congratulations!
The PBMS Wildcats are looking forward to the grand opening of the 300-student cafeteria expansion at the end of April.  The new room will include an additional service line to allow the cafeteria staff to serve students more efficiently.  PBMS also expanded the bus loop area, which allows all of the buses to be staged at once to expedite the afternoon pickup line.
Eighth-grade students are actively participating in service learning through the "Be the Change" project.  Students select a local cause or identify an area of need, and then research and share their learning with peers. Students, with the help of their parents, then raise awareness and/or funds in their community to support their cause.
The WEB Leader program is wrapping up its second year.  The eighth-grade mentors meet bi-weekly with their mentees during PAWS time. The eighth and sixth graders have participated in many events this year including creating posters for the CHARACTER COUNTS! Six Pillars 6K/3K Run/ Walk and providing school tours for new students to the school.
PBMS musical theater classes presented "Legally Blonde Jr." at the end of March.  The 49 cast members and six crew members outdid themselves on stage and behind the scenes in this student-run musical.  They performed in three sold out shows!  The arts program at PBMS encourages students to unleash their creativity and discover new understandings.
Creekside
Creekside High School (CHS) was recently a featured site for the Thelonious Monk Jazz Institute! The Jazz Institute teaches American History through a Jazz construct. This presentation is a gift for our eleventh-grade students and was shared with local district high schools.
CHS Battle of the Books team, led by media specialist Laura Strickland, won the 2017 High School Battle of the Books Competition. At least one team represented every high school in the county. CHS is very proud of these students for their participation in this literacy event. The students were well prepared, well behaved, and "well read."
CHS Ms. Creekside Pageant was held April 13 at 6:30 p.m.
On the Horizon
American Youth Character Awards Banquet
The annual American Youth Character Awards Banquet will be held Thursday, April 27 at 6 p.m. at Anastasia Baptist Church. This event recognizes high school juniors and seniors throughout the county who have been nominated by their schools for displaying the Six Pillars of Character — Trustworthiness, Respect, Responsibility, Fairness, Caring, Citizenship — in their daily lives. In addition, two students will be awarded special scholarships, the David Macaulay Mathis Memorial Pursuing Victory with Honor Award for displaying character on the athletic field and the Tucker McCarty Memorial Scholarship for exuding good character in an effort to make the world a better place.
The St. Johns County Elementary Science Technology Engineering and Mathematics Fair
The St. Johns County Elementary Science Technology Engineering and Mathematics (STEM) Fair will be held at Palencia Elementary School Saturday, May 13.  The purpose of this event is to encourage and celebrate student interest in STEM, with the primary goal to promote student use of these subjects to solve real-world problems.  Student representation will be decided at the school level.  Teachers, parents, administrators, and community members are welcome to attend.
Did You Know…?
Flagler College is now accepting applications for students to start in August in the Public Administrative Degree program.  If you have a friend or co-worker who is interested, please encourage them to apply now.  The deadline for all application materials to be received for a student to start in August is Friday, July 14. Due to the Florida Resident Access Grant, which you will qualify for by being a Florida resident, total out-of-pocket tuition is only $600 for the entire 2017-2018 academic year. Flagler College offers this opportunity as a community service. Students can complete their bachelor's degrees in just five semesters. The College accepts working professionals from the public, private, and non-profit sectors who have their A.A. or A.S. degrees or who have 60 transferable college credit hours from a regionally accredited college or university.The Public Administration Program teaches the subjects and skills needed for success.  For information on our curriculum and faculty, please refer to the Program's web page:  www.flagler.edu/PAD.  The Public Administration Degree program is widely recognized for its value to the region by elected officials and agency administrators.To apply, please:
Complete the online application at https://my.flagler.edu/ICS/Admissions/Home.jnz?portlet=Pubic_Administration_Online_Application
Pay your $30 application fee online by following the instructions that will be emailed to you when your application is submitted.
Order official transcripts from ALL colleges where you have completed coursework and request that they are sent to the address below.
Office of the Chancellor
Flagler College
74 King Street
St. Augustine, FL 32084

4th Annual "Sprint For Students"- Feed the Need-Race us to the finish line of hunger. Join us for a great cause to feed hungry kids in Putnam County. The course is through the beautiful and historic downtown Palatka! The course starts and finishes at the Riverfront Park right beside the scenic St. Johns River. Also, join us for the Kids Fun Run.
All proceeds go to our "Weekend Snack Pack" program that sends food home with students of Putnam County Schools.
Professionally chip timed by Ultimate Racing Inc. utilizing RFID technology.  T-shirts guaranteed to the first 200 participants. Awards to top male and female overall. Age-group awards will be presented to the top 3 finishers in each of the following male and female age groups: 10 and under, 11-14, 15-19, 20-29, 30-39, 40-49, 50-59, 60 & over.
Event details and schedule
Early Packet Pickup
Friday, May 12, 3 p.m. – 6 p.m., District Office 200 Reid Street
Day of Registration
May 13, 6:45 a.m. – 7:40 a.m.
Race times
5k at 8 a.m.
Fun Run at 9 a.m
Register at www.active.com/palatka-fl/running/distance-running-races/feed-the-need-5k-2017-29349146.
"Be true to your work, your word, and your friend."
~Henry David Thoreau
Save