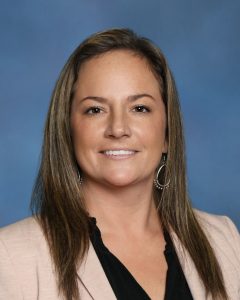 Tracy Clauson, a Spanish language teacher at Sebastian Middle School was named the 2022-2023 St. Johns County District Teacher of the Year at a special recognition banquet on February 2. Melinda Gillespie, an elementary school teacher at Patriot Oaks Academy was named as the 2022-2023 St. Johns County Rookie Teacher of the Year.
Clauson is a seventh and eighth grade Spanish teacher at Sebastian Middle School with more than 12 years of teaching students in English, Spanish, English for Speakers of Other Languages (ESOL), and reading. As the New Teacher Lead for her school, Clauson facilitates monthly sessions to support teachers transitioning into their roles in the classroom. She created and hosts professional development training for fellow educators focused on student engagement and classroom management through her work with the Professional Development Certification Program (PDCP) and Clinical Education Training (CET). Clauson is also the district leader for middle school Spanish and a participant in the 2022-2023 Instructional Literacy Coach Academy.
Clauson's teaching philosophy is based on the belief that a strong positive relationship with a student promotes learning and is fundamental to student success. Clauson educates her students through their thinking, pairing, and sharing, and uses collective skills and expertise for students to accomplish tasks.
"On behalf of all teachers, I am honored to be recognized among every person in education. Our students must be in classrooms that are joyful, interesting, and pertinent to their lives and development," said Clauson. "I especially thank my husband and family for supporting me with my challenging work schedule, and my involvement and dedication to each and every student in the classroom," she said.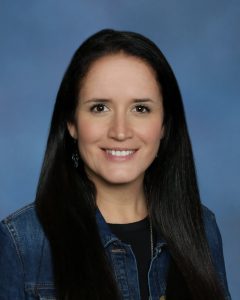 Gillespie, Rookie Teacher of the Year for 2022-2023, is a first-grade teacher at Patriot Oaks Academy. Inspired by the book Teach Like a Pirate, Gillespie implements new and creative lesson plans in the classroom to empower students and encourage an excitement for learning. In her social studies classes, she teaches students about the state of Florida by creating an edible map using a soft tortilla shell, icing, candies, and an edible pen to provide a "learning by immersion" method for students to be in charge of their own learning.
Gillespie recently received the honor of having her own classroom for the first time, with previous experience as an associate teacher and paraprofessional in the classroom. Her philosophy of teaching is that every child who enters her classroom will have a fair and equal chance to learn in a safe environment, and the tools to be the best human being they can be to better the world.
"I encourage my young students to know they are never alone in their education, and are safe to share their thoughts in school. Our classrooms are places for all teachers to acknowledge and carry out their duties as trustworthy professionals who help their students explore and learn," said Gillespie. "I thank my husband and family for supporting my decision to become a teacher as my second career and I am grateful for the opportunity and honor."
As Teacher of the Year, Clauson will represent St. Johns County at the State of Florida Teacher of the Year event in July 2023. She will participate in a yearlong professional development and leadership program with fellow Teachers of the Year from around the state. Clauson was also awarded an opportunity to lease or purchase a new car from Beaver Toyota St. Augustine and a $350 gift certificate from Staples. She will be inducted into INK!'s Teacher Lead Network to engage and collaborate with previous St. Johns County Teachers of the Year. As Rookie Teacher of the Year, Gillespie will receive $500 from Equitable and an opportunity to engage with INK!'s Teacher Lead Network.
Ninety-nine educators from each public school in the St. Johns School District and the Florida School for the Deaf and Blind were honored during the event hosted by Investing in Kids (INK!). Tim Forson, St. Johns County Superintendent of Schools, congratulated all honored educators for their professionalism and profound dedication to their students. More than 950 guests attended the program themed "We're Wild About Teachers," including educators from throughout the District, families, friends, students, local school district officials, and dignitaries.
According to Donna Lueders, INK!'s Executive Director, the annual Teacher of the Year program seeks to honor excellence in teaching within the St. Johns County School District and highlight the important role teachers play in the lives of students and the community. "We are honored to acknowledge and recognize our hard-working teachers for their professional accomplishments and unwavering commitment to our students," said Lueders. "It is our goal to elevate the profession of teaching and demonstrate our support and appreciation for educators."
Finalists for 2022-2023 Teacher of the Year include Amanda Devany, a teacher at Osceola Elementary School; Teresa McCormick, a seventh and eighth grade social science teacher at Valley Ridge Academy; Brianne Seplocha, a fifth-grade teacher at Picolata Crossing Elementary School, and Gomati Sutaria, a fifth-grade teacher at Liberty Pines Academy.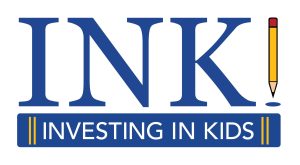 The St. Johns County Education Foundation, Inc., is a 501(c)3 education foundation, which operates as Investing in Kids (INK!). INK! promotes academic success for all St. Johns County public school students by providing innovative programs, teacher support, and classroom resources to benefit more than 50,000 students and approximately 3,200 teachers.