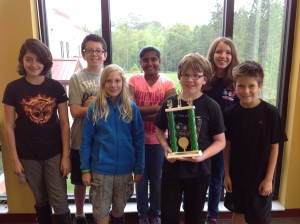 On May 20th through May 23rd, the Patriot Oaks Academy 5th Grade Odyssey of the Mind Team attended the Odyssey of the Mind World Finals in Michigan. It was the first time a Manatee Region Division 1 (grades 3-5) Team has ever made it to World Finals.
Odyssey of the Mind is an international educational program that provides creative problem-solving opportunities for students from kindergarten through college. Team members apply their creativity to solve problems that range from building mechanical devices to presenting their own interpretation of literary classics. They then bring their solutions to competition on the local, state, and world level. Thousands of teams from throughout the U.S. and from about 25 other countries participate in the program.
Since Patriot Oaks Academy first opened for the 2014-2015 school year, this was the first year the school ran the Odyssey of the Mind program. They formed three teams, two at the 4th grade level and one at the 5th grade level. Two of the teams qualified for the state competition which was held at the University of Central Florida in Orlando. There, the 5th Grade Team, which calls itself the "Odyssey Avengers," qualified for the World Finals.
Participants in the Odyssey of the Mind include teams from Argentina, Australia, Belarus, Canada, China, Czech Republic, DoDDS Europe, Germany, Greece, Hong Kong, Hungary, Japan, Kazakhstan, Lithuania, Mexico, Moldova, Poland, Russia, Singapore, Slovakia, South Korea, United Kingdom, Uzbekistan, and practically every state in the U.S. The annual Odyssey of the Mind World Finals is an event to behold. It embodies the international spirit of creativity.