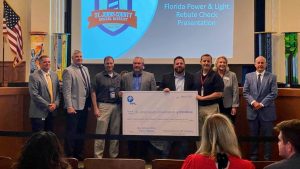 On March 13th, Florida Power & Light (FPL) presented St. Johns County School District with a rebate check totaling $872,328 resulting from energy efficient equipment installations at two schools.
Florida Power & Light (FPL) offers rebates for installation of more energy efficient equipment which is used to operate and maintain our school facilities. The installation of new energy efficient ice storage systems were recently completed at Pine Island Academy and Tocoi Creek High School. These systems enable our facilities to make ice at night, when utility power demand is less, thus reducing the monthly electric bills through more favorable off-peak energy rates. The School District commends the Facilities & Operations Department for their efforts in researching, planning, and executing these projects to significantly reduce the energy costs to the District. We also thank FPL for this incentive and the collaborative efforts in achieving these savings.
To learn more about St. Johns County School District's efforts to conserve energy reduce costs, please visit our Energy Management website.