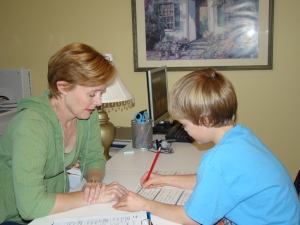 Do you need a certified teacher to administer a norm referenced test to your child? Standardized testing is an option for meeting compliance with Florida requirements for Home Education. It can also measure your child's academic knowledge to help determine his/her strongest and weakest subject areas. Test results can be used to measure a child's growth over time or help you develop the next grade level's curriculum.
In addition to the Florida Comprehensive Test (FCAT), which is offered for home education students through the public school system, assessments can be taken through private outlets. Testing options are available that can be flexible with your family's schedule and provided in a personal environment to help reduce test anxiety.
Here are a few certified evaluators who provide a great opportunity for your child to show how much they have learned.
Please email Millie Sierra if you would like to be added to our list of evaluators.
Northwest Area
Leslie Jones
(904) 673-9816
[email protected]
I use the Iowa Test of Basic Skills (ITBS) throughout the year. I give a discount for parents who are members of H.E.R.I.
Northeast Area
Brooke Winn
(904) 239-2307
[email protected]
I am able to administer the Brigance for grades K-12. I offer discounts to siblings and groups.
Sylvan Learning Center
880 A1A North Suite 7
(904) 280-8410
Sylvan is able to administer the CAT (California Achievement Test), a nationally normed test.
H.E.R.I. Group Standardized Testing (April annually)
For registration information please visit:
www.herijax.com
We offer the ITBS and host the testing at 2 locations.
LearningRx-St Johns
113 Nature Walk Parkway
Building A, Suite 103
St Augustine Fl 32092
904-719-8416
https://www.facebook.com/LearningRxStJohns/
At LearningRx, our brain training programs target and train memory, attention, reading, and comprehension skills using a series of intense (but fun!) mental exercises that work on the way the brain learns, thinks, remembers, and performs.
The Tutoring Club of St John's
(904-230-2855 & 904-405-1900)
2 locations: Julington Creek and CR210 by St John's Parkway
We administer the nationally accepted CAT test for assessing students in Reading, Writing and Math to determine student skill levels and identify skill gaps. https://www.tutoringclub.com/stjohnsfl/