2019-2020

---

"The Facts. Your Future." is a new multi-faceted campaign to heighten youth understanding of the dangerous effects of substance abuse. Through assemblies, evidence-based strategies, and FAQs, "The Facts. Your Future." campaign provides Florida's youth with the facts surrounding substance abuse and how it negatively impacts their lives. The goal is to provide students with factual information so that they can make well-informed, educated decisions about their future.
Students in middle and high school in middle and high school can participate in "The Facts. Your Future." video competition with more than $30,000 in cash prizes awarded to the winners and their schools.
Video Competition (PDF)
For more information click here.
Who: Middle and High School Students Throughout Florida
What: "The Facts. Your Future." Video Competition
When: Deadline: April 27, 2020
Deadline Extended: Click here for more information
Message to Teachers and Parents: Students should approach their video submissions as their chance to find a message that would resonate with their peers.
Suggested Strategy: If you and your friends – and teens throughout Florida and across the nation – could watch ONE video that would make you think twice about making life-changing decisions, what would that video be? Grab your camera, recruit your friends, and create a 60-90 second original video aimed to change lives!
---
Annual Crime Stoppers Poster Contest
New Theme: See It, Say It, Stop It
Deadline to enter: Thursday April 12, 2019
Cash awards will be presented to the 1st, 2nd and 3rd place winners in each division (Elementary, Middle and High) totaling in nine winners. The nine winners from Volusia, Flagler, Putnam and St. Johns Counties will then be judged on an overall circuit level. Each school division will have one overall winner. $ 100- First Place,  $50 – Second Place,  $25 – Third Place
Three overall winners will receive an additional $300. Their posters will be reprinted and placed in every school in the four-county circuit, at the appropriate grade levels.
RULES Form Crime Stoppers Student Poster Competition st johns 2020 (002)
---
Betty Griffin Center "A Day Without Violence" 2020 Art and Poetry Contest
Deadline to drop off for entry April 15, 2020
Awards" 1st Place –$100.00, 2nd Place– $50.00 and 11 honorable mentions will be presented with 25.00 each!
Betty Griffin Application 2020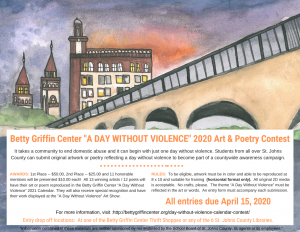 ---
Florida Missing Children's Day-September 14, 2020
Statewide 5th Grade Essay Contest
PURPOSE: To promote safety awareness among Florida's children and encourage them to proactively think of ways to keep themselves safe from abduction.
Each year Florida's students are asked to focus on critical abduction safety issues. We provide a topic for them to research and write an essay about what they would do to keep themselves safe. The research can be by way of the internet, interviews, class discussions, family conversations, and any other resources available to them.
The topic for this year's contest is "This is How I Stay Safe All Day"
What would you do if you were approached by someone who made you feel uncomfortable?
If someone tried to take you somewhere or get you to go somewhere with them, what would you do?
If you were chatting online and the person asked you to meet them somewhere or asked you for personal information, what would you do?
All Florida elementary schools are asked to hold an essay contest among their 5th grade students. Each school must choose one "School Winner" to submit to the Essay Contest Coordinator. Participants should develop their thoughts into an essay no longer than one (1) typewritten or two (2) handwritten pages. If it is typewritten, the font and font size must be Times New Roman, size 12 or 14. If hand written, it must be legible.
2019 essays are due by March 6, 2020
**GRAND PRIZE: A Trophy, a check for $100.00, and a trip to Universal Studios will be presented during the formal ceremony in Tallahassee on September 9th, 2019.
FOR MORE INFORMATION: The contest flyer is here.
Essay Contest Teacher's Guide
---

Florida Missing Children's Day-September 14, 2020
Poster Contest
Poster Contest in Honor of National Missing Children's Day
Florida's fifth grade students are invited to take part in a poster contest in honor of National Missing Children's Day. The winner from the State of Florida will win a free trip to Tallahassee for Florida Missing Children's Day in September and will be eligible to win the national prize: a trip to Washington D.C.
The poster must be 8 ½ by 14 inches and include the words "Bring Our Missing Children Home". Only hand drawn posters will be considered. Florida will select one winner to be forwarded to the national competition. For the full rules visit the Department of Justice website.
2019 posters are due by February 17, 2020
Students should check with their school to determine whether their area has a school or district competition prior to submitting their entry to the Florida Department of Law Enforcement.
For questions, contact the Missing Endangered Persons Information Clearinghouse at 1-888-FL MISSING (1-888-356-4774) or [email protected]
FOR MORE INFORMATION: Poster Contest Flyer
For homeschooled students or students from schools not participating in the contest, mail your poster to:
Florida Department of Law Enforcement
Missing Endangered Persons Information Clearinghouse
2331 Phillips Road
Tallahassee, FL 32302
---
---
Youth & Young Adult Essay Contest
(Ongoing Contest)
This contest is designed to educate the public on measures to reduce access to tobacco and nicotine, and the harmful effects of tobacco and nicotine.
The contest is year-round and anyone under the age of 21 is eligible to participate. The prize is a $100.00 gift certificate.
For more information visit: Essay Contest
---
---
---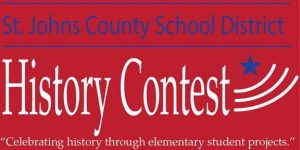 THEME:     TBA
WHO:         All 3rd, 4th & 5th grade SJCSD students
WHAT:       A celebration of history through student/school projects
WHEN:      2021 Information Coming Soon!

WHERE:    Schools may submit the top three student entries from each category through interoffice mail
| | |
| --- | --- |
| Deliver to: Elem. History Contest | Department: Instructional Services |
HOW:        All entries will be judged based on criteria described by the District
RECOGNITION:    Student projects will be recognized at a SJCSD school board meeting.  Prizes awarded in each category.
---
---
---
National History Day Competition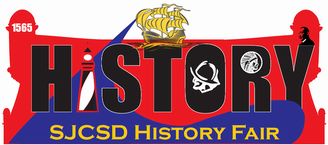 History Fair / Project Judging
2021 Information Coming Soon!
First Coast Technical College, Building C
9 a.m. – 12:30 p.m.
Public Viewing of Projects
First Coast Technical College, Building C
6 p.m. – 6:30 p.m.
Awards Ceremony
First Coast Technical College, Building C
6:30 p.m.
Additional information:
Florida History Fair Website
National History Website
Project categories include: performance, paper, exhibit, website, and documentary.  Category placements (1st, 2nd, 3rd and Honorable Mention) may be presented for each category, when appropriate. Category placements are not automatically awarded.  The county fair's judging panel retains the option of determining if a project meets the requirements for competition at the state level. Special awards are also available—each of these has its own unique criteria.
---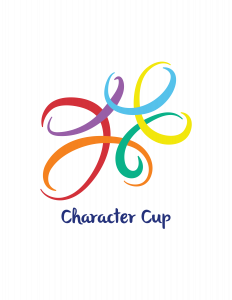 ---
---