2021-2022

---
COMING SOON!
Bill of Rights 2021 High School Essay Contest
As students return to school this fall, it is anticipated that the United States Supreme Court will have issued a decision directly addressing public-school students' First Amendment rights to free speech. It is the hope of the judges and lawyers of the United States District Court for the Middle District of Florida, that the 2021 High School Essay Contest, together with the anticipated Supreme Court decision, will make the Bill of Rights come to students.
Contest is open to High School Students in Grades 10-12 in the following counties:
Baker, Bradford, Clay, Columbia, Duval, Flagler, Hamilton, Nassau, Putnam, St. Johns, Suwanee and Union
Key Dates:
August 13, 2021 Essay prompt and rules available at www.flmd.uscourts.gov
September 17, 2021 Essay submission deadline
November 19, 2021 Recognition ceremony for all winners at the Bryan Simpson United States Courthouse
Click here for more information: Bill of Rights 2021 High School Essay Contest Information
2022 Black History Month Theme and Student Contests
Coming soon!
---
FEMA Region IV Seeks Young Leaders for Youth Preparedness Council
2022 info coming soon!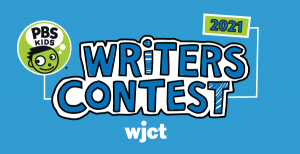 WJCT Public Media PBS Kids Writers Contest 2022 info coming soon.
The annual contest is an initiative designed to promote the advancement of children's literacy skills through hands-on, active learning and is open to any child in grades K-3 who writes and illustrates their own story.
All writers and illustrators, who enter and meet the requirements of the contest, will have their work published online on the
WJCT website
and receive a certificate. First-, second- and third-place awards will be presented for stories from each grade level; winners will also receive a WJCT PBS Kids prize pack, the opportunity to create a video reading of their story and an invitation to share their story live at Be My Neighbor Day on Saturday, May 9. Winning stories will be eligible for the People's Choice grand prize, a $100 savings bond.
"WJCT Public Media is proud to provide a platform for our youngest neighbors to share their unique stories through the WJCT PBS Kids Writers Contest," said David McGowan, President and CEO of WJCT. "Through this contest, we hope to inspire students and their communities to experience the joy of creativity."
For more information, including official rules and tools to help students create their stories, visit wjct.org/writerscontest.
---
Middle School Art in the Capitol Contest
The Art in the Capitol Competition, authorized by section 1003.49965, Florida Statutes, is a statewide visual arts competition that requires each school district to annually hold an art competition for all students in grades 6 through 8 attending public schools, private schools and home schools in Florida. The artwork should be judged by a selection committee consisting of art teachers whose students have not submitted work for the competition..
---
National Missing Children's Day Poster Contest for 5th Grade Students
As part of the National Missing Children's Day annual commemoration on date to be determined, the Department of Justice will once again sponsor a national poster contest and will announce the winner at the annual National Missing Children's Day ceremony in Washington, D.C. The winner of this national contest, along with his or her teacher and parents, are flown to Washington to attend this special ceremony. Schools are invited to join in the efforts to educate children across the country about safety issues by giving your fifth-grade students an opportunity to participate in this poster contest.
---
Annual Crime Stoppers Poster Contest
2021-2022 Information Coming Soon!
---
Youth & Young Adult Essay Contest
(Ongoing Contest)
This contest is designed to educate the public on measures to reduce access to tobacco and nicotine, and the harmful effects of tobacco and nicotine.
The contest is year-round and anyone under the age of 21 is eligible to participate. The prize is a $100.00 gift certificate.
For more information visit: Essay Contest
---
---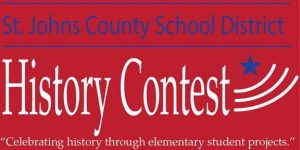 THEME:
TBA
WHO:
All 3
rd
, 4
th
& 5
th
grade SJCSD students
WHAT:
A celebration of history through student/school projects
WHEN: 2021 Information Coming Soon!
WHERE:
Schools may submit the top three student entries from each category through interoffice mail
| | |
| --- | --- |
| Deliver to: Elem. History Contest | Department: Instructional Services |
HOW:
All entries will be judged based on criteria described by the District
RECOGNITION:
Student projects will be recognized at a SJCSD school board meeting. Prizes awarded in each category.
---
National History Day Competition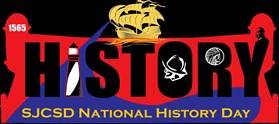 NHD 2022 Theme
Debate and Diplomacy in History: Successes, Failures, Consequences
St. Johns County School District 2022 NHD Competition
Details will be posted when available.
Additional information: Florida History Day Website National History Website
Project categories include: performance, paper, exhibit, website, and documentary. Category placements (1st, 2nd, 3rd and Honorable Mention) may be presented for each category, when appropriate. Category placements are not automatically awarded. The county fair's judging panel retains the option of determining if a project meets the requirements for competition at the state level. Special awards are also available—each of these has its own unique criteria.
---
---