Welcome to the St. Johns County School District

Head Start Program
Office Located at:
Excelsior Museum and Cultural Center
102 Martin Luther King Avenue
St. Augustine, FL  32084
Office: (904) 547-8965
Fax: (904) 547-8955
---
We are a FREE federally funded, school-based, child development program offering comprehensive services for eligible three-to-five-year-old children and their families, living in St. Johns County.
---
Head Start Student Outcomes
Physical Development & Health
Social and Emotional Development
Approaches to Learning
Language Development
Literacy Knowledge and Skills
Mathematics Knowledge and Skills
Science Knowledge and Skills
Creative Arts Expressions
Logic and Reasoning
Social Studies Knowledge and Skills
---
Applications are available on this web page and at the following locations:
Crookshank Elementary School
The Webster Elementary School
Osceola Elementary School
South Woods Elementary School
The WIC Office (Located in the Health Department)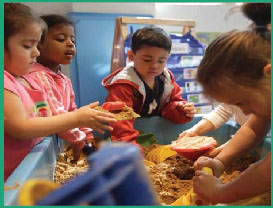 2017-2018 Head Start Application
Head Start Early Childhood Learning and Knowledge Center
---
Head Start Highlights
---
The PLAYERS Championship
Donates $20,000 to Head Start
---
Florida Early Learning and Developmental Standards for Four-Year-Olds
---
The Webster School
Crookshank Elementary
Osceola Elementary
South Wood Elementary
---
Calendar of Events
Saturday, April 29th –  St Augustine Family Fun Fest at Francis Event Field. Adults $5, kids 12 and under are free. All day festival with activities for the kids, Live Entertainment, Field Day Competition, Scavenger Hunt, Hands-on Activities, various venders and food trucks. www.aomh.org , 10:00 am—8:00 pm.
Saturday, May 6th – End of the Year PK event at the Fountain of Youth
Monday, May 15th – Head Start Policy Council Meeting at the Excelsior Bldg., 102 MLK Avenue, St. Augustine
Wednesday, May 24th – Last day for students
Thursday, August 10th – First day of the 2017-2018 School Year
Any questions, please call the Head Start Office at 904-547-8965.