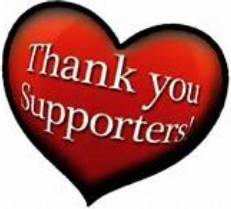 The work we do would not be possible without the generous support of our donors. We would like to thank all of the individuals, corporations, clubs, organizations, and foundations that have supported us this school year.
2017-18 A.S.S.I.S.T. Supporters
AAA Travel South
Adventure Landing
Aqua East Surf Shop
Autobahn Indoor Speedway
The Bailey Group
BTHS National Honor Society
BTHS PTO
BTHS United Way
Blue Water Jewelers
Blessings in a Backpack
Busch Gardens, Tampa
Cartersville, Georgia School District
Century 21 Saltwater Realty Group
Church of Jesus Christ of Latter-day Saints
Colonial Church
The Comedy Zone
Cooper's Hawk Winery and Restaurant
Creekside High School PTO
Cummer Museum
Doubletree Jacksonville Riverfront
Faith Based Partnership
FCTC
Five Guys
Flower Works
Fountain of Youth
Fruit Cove Baptist Church
The Golf Club at South Hampton
Go Madd 4 Massage
Happy Hookers
The Hardy Group
Hilton St. Augustine Historic Bayfront
Homeport Church
Hugs Across the County
The Hyppo
Jacksonville Ice and Sportsplex
Jacksonville Sharks
Jacksonville Symphony
Jacksonville Zoo
J.R. Benet Jewelry
Ketterlinus K-Kids
Limelight Theatre
Living Waters Ministry
Mandarin United Methodist Church
Marineland of Florida
Medieval Times, Orlando
Miss Carrie Foundation
Mission to End Student Homelessness (M.E.S.H.)
Monroe Audio & Alarm
Mount Horeb Masonic Lodge #20
New St. James Missionary Baptist Church
Ocean Palms Elementary
Old Town Trolley
Order of Eastern Star, Jenkins-Pearson Chapter
Pastors United
Patriot Oaks Academy PTO
Ponte Vedra Plastic Surgery
Ponte Vedra Women's Club
Purple Olive
Raging Water Sports
Raintree Restaurant
Ripley's Believe It or Not
RSVP
St. Augustine Alligator Farm
SAHS Center for the Arts
St. Augustine Lighthouse & Museum
St. Johns Cares
St. Johns Golf Club
SJCSD Team ASSIST
St. Johns Veterinary Clinic
St. Paul A.M.E. Curch
San Sebastian Catholic Church
San Sebastian Winery
Scenic Cruise of St. Augustine
Schooner's Seafood House
Sertoma Club
Sew and Sow/Memorial Presbyterian
Smoothie King
Somebody Cares St. Augustine
Stein Mart
Sunshine Rotary Club
Tag! The Children's Museum
The Tasting Tours
Tesori Family Foundation
Tim Tebow Foundation
TRYP by Wyndham
United Way of St. Johns County
Valley Ridge Academy PTO
Veterans of Foreign Wars
Vilano Bikes
Village Inn
Walt Disney World
Webster Elementary
Winn Dixie
World Golf Hall of Fame 

    and many individuals and families who care.