Contact:
Leslie Shugart
Tel: 904-547-7574
Email: [email protected]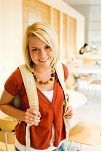 St. Johns County School District is committed to providing developmentally appropriate education and prevention programs that address the legal, social, and health consequences of alcohol, tobacco, and drug abuse per School Board Rule 4.02(13). Bullying prevention and teen dating violence prevention education is also addressed through curriculum integration.
Strategies being used in our district for prevention education include comprehensive programs, character development, school-wide climate programs, marketing campaigns, staff training, and parent awareness.
"What we do in the name of health, safety, and well-being is linked with teaching and learning. Teaching and learning can't take place if students aren't healthy, aren't physically and mentally fit, aren't safe or aren't present during school hours." (William Modzeleski, Acting Assistant Deputy Secretary, Office of Safe and Drug-Free Schools, U.S. Dept. of Education)