Currently browsing category
Transporation Department News

The Transportation Department implemented a new routing software known as Bus Planner for the 2017-18 School Year. The system significantly enhances safety parameters to ensure district school buses are routed in a manner which prioritizes student safety above all else.
Also new this school year, the department added a supplemental student light system to 10 buses as a state approved pilot of the technology. The pilot adds high intensity red LED lights just above the front and rear bumpers of the bus at a level approximate to a motorist's eyes. Initial results indicate that motorists detect the buses sooner and accordingly decelerate vehicles quicker when approaching a bus loading or unloading students.

Furthering technology advancements and in synchronization with Bus Planner, the department is in the final stages of implementing a school bus GPS system on all district school buses following an 18-month pilot of technologies. Most importantly, the school bus GPS system will pin point school bus locations with three feet (latitude/longitude) and ten seconds. Given this capability, the department will significantly improve response times to buses with emergencies on route while precisely projecting school bus arrival times at stops and schools.
Save
Save
Save
In preparation for the 2017-18 School Year, the Transportation Department conducted four days of intensive bus training at the FCTC Public Safety Academy Test Track from July 31, 2017, to August 3, 2017, culminating in a countywide transportation operations rehearsal on August 4, 2017.
The department also added 21 new buses from Integrated Coach to the roadways of St Johns County in August 2017.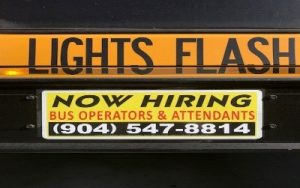 Transportation recruited, trained, and tested 44 new operators within the past 90 days. With the extraordinary growth countywide, the department is continuously recruiting high quality people to operate school buses in the service of children. Please contact Bob Aponte at 904-547-8814 if interested in joining the team.