Transportation Department Update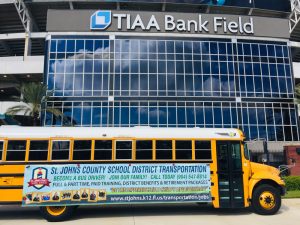 The men and women who safely transport 21,000 children to and from school each day are the core of the St Johns County School District Transportation Department. In one of the fastest growing counties in Florida, the Transportation Department has an insatiable appetite for qualified school bus operators to serve the children of St Johns County. To that end, the Transportation Department recently announced a $1,000 sign on bonus to candidates for school bus operator. Additionally, the Department's recruiters recently attended the Jacksonville Veterans Job Fair at the TIAA (Jacksonville Jaguars) Stadium to identify candidates for school bus operator.
The Transportation Department began a new program called Virtual Safe Ride in November 2018 as part of a comprehensive risk management program for school bus operation. Virtual Safe Ride affords school bus operators the opportunity to review and reconcile their daily service using advanced technologies to include the routing software, geospatial positioning system (GPS), satellite imagery, and the like. The 2-3 hour virtual ride results in comprehensive reviews, discussions, and decisions regarding the safest and most effective transportation services for children.