Principal Appointment for K-8 School "LL"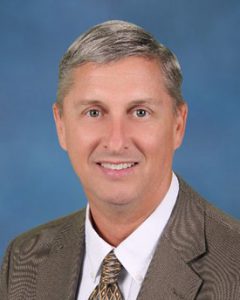 Allen Anderson, principal at Palencia Elementary School (PES), has been selected by Superintendent Tim Forson to be the principal of K-8 school "LL" currently being constructed at 1365 Shetland Drive, St. Johns, 32259. His nomination will be presented to the School Board at their December 12 meeting.
"Allen is an innovative and collaborative leader," said Forson. "I know that his familiarity with the community and ability to build rapport with students and parents will serve him well."
Anderson has been the principal of PES since the 2013-2014 school year and has more than 20 years of experience within the SJCSD. Prior to PES he served as principal at Cunningham Creek Elementary (CCES), assistant principal at Mill Creek Elementary and Durbin Creek Elementary schools, a curriculum coordinator at Switzerland Point Middle School and a teacher at CCES.
PES has expanded its digital instruction and student use under Anderson's leadership. He has made maintaining a positive school culture a high priority and ensures that state and district mandates are communicated in a way that supports the school's mission and vision. He is extremely supportive of his staff and always lauds their successes, even when they won't.
"I am very thankful for the trust and confidence from Superintendent Forson," said Anderson. "While changing schools is always a bittersweet experience, I look forward to once again serving those in the Northwest part of our wonderful county."
Anderson was recently chosen as the 2017-2018 Principal of the Year for St. Johns County. He holds a bachelor's and master's degree from the University of North Florida and a master's degree from Jacksonville University.
Forson will gather input from staff and the community for the new principal of PES on Thursday, Dec. 7 at 3:30 p.m. at PES.