SJCSD School-Related Employees of the Year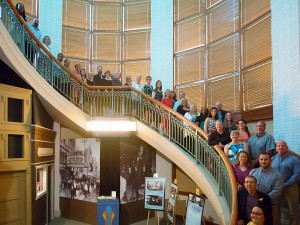 The 2015-2016 School-Related Employees of the Year have been selected from each of the district's 36 schools, one charter school and four district departments and were recognized at Tuesday's monthly School Board meeting. School-related employees enhance the educational experience for the children whose lives they touch, and they are essential to the successful operation of a school or school district office.
These nominees were chosen for the significant contributions they have made in their schools and community, and to the school district as a whole. Criteria for the award includes exemplary job performance, dedication on the job, interpersonal skills, leadership ability, in-service/training to upgrade skills and contributions to the school and school district environment.
A district-wide screening committee has reviewed all of the nominations and the winner of the St. Johns County School-Related Employee of the Year will be announced at a reception on Thursday, March 17 at 6 p.m. at the World Golf Hall of Fame Museum. The St. Johns County nominee will be submitted for consideration at the regional level.
A list of the 2015-2016 School-Related Employees of the Year is below.
2015-2016 SCHOOL-RELATED EMPLOYEES OF THE YEAR
| | |
| --- | --- |
| Jennifer Hicks | Academic Services Department |
| Jane Young | Bartram Trail High School |
| Patricia Hardy | Creekside High School |
| Cynthia Marie Laga | John A. Crookshank Elementary School |
| Karen Bowyer | Cunningham Creek Elementary School |
| Yasmin Taylor | Durbin Creek Elementary School |
| Von Raburn | First Coast Technical College |
| Joann Williams | Fruit Cove Middle School |
| Christina Fallica | Gaines Alternative and The Transition Schools |
| Michelle Betrone | W. D. Hartley Elementary School |
| Cecelia Theos | Hickory Creek Elementary School |
| Eunice Lopez | Human Resources Department |
| Wendy Thurston | R. B. Hunt Elementary School |
| Todd Stone | Information Technology Department |
| Kathryn "KD" Bender | Julington Creek Elementary School |
| Brian Taylor | Ketterlinus Elementary School |
| Gerri D. Garcia | Alice B. Landrum Middle School |
| Brenda Herrera | Liberty Pines Academy |
| Steven Sampson | Otis A. Mason Elementary School |
| Pat Giuliani | Pedro Menendez High School |
| Arthur "Art" Thomas | Mill Creek Elementary School |
| La'Kevia Rollins | R. J. Murray Middle School |
| Donald E. Colburn | Allen D. Nease High School |
| Tyson Shank | Ocean Palms Elementary School |
| Susan Lynch | Osceola Elementary School |
| Michelle Leitao | Pacetti Bay Middle School |
| Randy Villalobos | Palencia Elementary School |
| Jenny Ware Dupree | Patriot Oaks Academy |
| Nicholas Athanaseas | Ponte Vedra High School |
| Maria Novoa | PVPV/Rawlings Elementary School |
| Martha Fulford | Gamble Rogers Middle School |
| Michael Oxborough | St. Augustine High School |
| Rick Testasecca | St. Johns Technical High School |
| Michael P. Marimpietri | Sebastian Middle School |
| Emily Hoover | South Woods Elementary School |
| Ann McCaskill | Switzerland Point Middle School |
| Jennifer Schwall | Timberlin Creek Elementary School |
| Rebecca Brewer | Transportation Department |
| Joan Balerna | Valley Ridge Academy |
| Tammy L. Stewart | Wards Creek Elementary School |
| Kenneth P. Kehoe | The Webster School |
# # #