2014-2015 School-Related Employees of the Year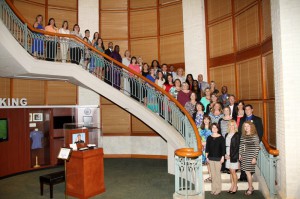 The 2014-2015 School-Related Employees of the Year were recognized at this morning's regular School Board Meeting. Employees were selected from each of the district's 36 schools, along with five district representatives and one charter school. School-related employees enhance the educational experience for the children whose lives they touch, and they are essential to the successful operation of a school or school district office.
These nominees were chosen for the significant contributions they have made in their schools and community, and to the school district as a whole. Criteria for the award includes exemplary job performance, dedication on the job, interpersonal skills, leadership ability, in-service/training to upgrade skills and contributions to the school and school district environment.
A district-wide screening committee has reviewed all of the candidates and the winner of the St. Johns County School-Related Employee of the Year will be announced at a reception to honor all of the nominees on Thursday, March 26 at 6 p.m. at the World Golf Hall of Fame Museum. The St. Johns County nominee's name will then be submitted to the state to compete at the regional level.
A list of the 2014-2015 School-Related Employees of the Year is below.
| | |
| --- | --- |
| Carolyn Johnson | Academic Services Department |
| Shawna Hastings | Bartram Trail High School |
| Victoria Davenport | Business and Fiscal Services |
| Tracey Pitts | Creekside High School |
| Joey Strickland |  John A. Crookshank Elementary School |
| Jody Hunter | Cunningham Creek Elementary School |
| Lauri Frost | Durbin Creek Elementary School |
| JoJean Ponce | First Coast Technical College |
| Julie Doolittle | Fruit Cove Middle School |
| Jasmin Wheeler | Gaines and Transition School |
| Terry Polaskey | W.D. Hartley Elementary School |
| Lillian Watts | Hickory Creek Elementary School |
| Christina Preston | Human Resources |
| Petrina Finch | R.B. Hunt Elementary School |
| Jennifer Smith | Information Technology |
| Debra Higbea | Julington Creek Elementary School |
| John Harpst | Ketterlinus Elementary School |
| Charron Umlauf | Alice B. Landrum Middle School |
| Amy Lynch | Liberty Pines Academy |
| Johna Baxa | Otis A. Mason Elementary School |
| Charles McCutcheon | Pedro Menendez High School |
| Ann Marie Sindt | Mill Creek Elementary School |
| Michele Torboli | R.J. Murray Middle School |
| Angela Stricklin | Allen D. Nease High School |
| Kerry Fodor | Ocean Palms Elementary School |
| Tisha Humphrey | Osceola Elementary School |
| Joshua Stewart | Pacetti Bay Middle School |
| Susan Solms | Palencia Elementary School |
| Jennifer Secure | Patriot Oaks Academy |
| Kim Barry | Ponte Vedra High School |
| Oona Sidoroff | PV/PV-Rawlings Elementary School |
| Lisa Kilbride | Gamble Rogers Middle School |
| Diana Elswick | St. Augustine High School |
| Terrance McClain | St. Johns Technical High School |
| Jarrod Branco | Sebastian Middle School |
| Mary Tatum | South Woods Elementary School |
| Christine Southworth | Switzerland Point Middle School |
| Alison Cooper | Timberlin Creek Elementary |
| Lisa King | Transportation |
| Wynton Hardy | Valley Ridge Academy |
| Kelly Brown | Wards Creek Elementary |
| Michelle Garren-Hendricks | The Webster School |