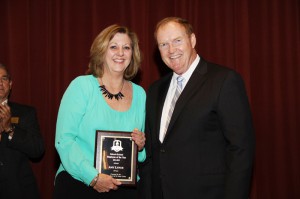 Amy Lynch, school nurse at Liberty Pines Academy (LPA), has been named St. Johns County School District's 2014-2015 School-Related Employee of the Year. Her selection was announced by Superintendent Dr. Joseph Joyner at last week's School-Related Employee of the Year reception held Thursday, March 26 at the World Golf Hall of Fame Museum.
Lynch was selected from 42 nominees for her exemplary job performance, dedication, interpersonal skills, leadership ability and training to upgrade skills as well as her contributions to individual schools and the district office.
She has been employed as the school nurse at LPA for four years and possesses a sincere willingness to help students and staff. Attention to detail and maintaining proper information is paramount to Lynch so that she is able to provide the students she serves with the appropriate care. She recently researched and developed stock epinephrine guidelines for the treatment of life threatening allergies which is now under consideration by the SJCSD School Board. She is an advocate for healthy living and helped to develop new initiatives at LPA as well as educate parents, students and staff on these.
"Mrs. Lynch exemplifies trustworthiness and devotion to her calling as a nurse," says Melissa Petty, BSN, RN; coordinator of Health Services for the SJCSD. "She always maintains a high level of professionalism and genuine compassion and I am very proud to work with her."
Lynch is a team player who volunteers her time to help with afterschool and weekend activities to ensure the safety of students. She is seen as a valuable resource for other nurses who are seeking guidance in responsible organization as well as skill mastery. Lynch is a self-starter who participates in professional development regularly and shares the knowledge she gains with her fellow employees no matter their level or skill.
"Mrs. Lynch is a positive person who is devoted to serving others in a healthy, safe and loving environment," said LPA Principal Judith Thayer. "Her caring nature shines through in everything she does and she has my highest admiration and praise."
Lynch's name and information packet has been forwarded to the Florida Department of Education as SJCSD's representative.
# # #