What will the new K-8 school look like?
K-8 School MM will include high quality learning areas which feature movable walls between two classroom teams as well as extended learning areas for collaboration opportunities. Each facility includes state of the art technology and excellent core facilities that include a media center, cafetorium, playgrounds and physical education fields.
The design being used for MM School is a duplication of Freedom Crossing Academy and Palm Valley Academy. The planned capacity for this schools is approximately 1,490.
By using existing prototype designs for this new school, the School District will save both time and money.
                                                                               K-8 School MM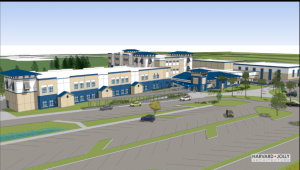 Pine Island Road
---
Who will attend the new school?
The decision on opening grades and the creation of the Attendance Zone for K-8 School MM will be developed during the 2020-2021 School Year.  This process will begin with a Town Hall Meeting and will solicit input from the community.  Waiting until 2020-2021 will allow the District to continue to monitor the extensive growth in Nocatee to make the best decision possible.
---
As a result of the School Choice legislation, will this school have capacity/controlled open enrollment?
In accordance with the District's controlled open enrollment procedures, new schools will not be eligible until the completion of the third year of operation.
---
Will the Nocatee Duval County students be able to attend the new K-8 school to be located on Pine Island Road?
At this time students residing in the Duval County portion of Nocatee can only attend St. Johns County schools through the controlled open enrollment process.  K-8 School MM will not be eligible for controlled open enrollment for the 2021-2022 SY.
---
What grades will K-8 School MM serve in its opening year?
The decision on which grades K-8 School MM will serve in its opening year will be determined in the 2020-2021 SY.  The District will continue to monitor the growth of the area as this is a critical consideration to the decision.
---
Who will be the principal? Teachers?
The principal for K-8 MM School will likely begin work in that role in the spring of 2021.  One of the first responsibilities of the new principal is to build a school staff. The Human Resources Department will develop a process for transfer of teacher and school staff and selection of new employees.
---
Will my child receive transportation?
Transportation bus routes are not developed until the spring of each school year. Generally, students that live within 2 miles of the school are not funded for bus transportation and, therefore, will not be eligible. Once developed, final bus routes will be communicated to parents.
---
What will be the start and end times for the new school?
The start time for the new school will be determined at a future date.
---
What academic programs / Pre-K programs / ESE services/ Extended Day/ Advanced programs will exist at the new school?
Each of our schools provide a high quality academic program and the new school will be no exception. Advanced programs are offered at all schools. With respect to Special Education services, the School District serves all students with disabilities in the lease restrictive environment.  All schools have the following services available based on student need:  Physical Therapy, Occupational Therapy, Sign Language Interpreting.  Hearing Itinerant, Vision Itinerant, Speech/Language Therapy (including Pre-K walk-in services).  These services will be provided through consult/in-class support/resource models.  Gifted services will be provided by either a blended, resource or consult model.  At this time, no decision has been made on whether K-8 School MM will have self-contained classrooms or a Pre-K program.
The new school will also have Art, Music and PE programs.  They will offer Interscholastic Sports and Student Clubs.  The school will form both a Parent-Teacher Organization (PTO) and Student Advisory Committee (SAC).
An Extended Day program will be provided, however, the details regarding its formation and operation is a school-based decision and will be determined in the future by the school principal.
---
When will the PTO for the school form?
After the new principal is selected, he/she will begin working with the school community on forming the PTO.
---
What technology will be available in the classroom?
There will be a presentation system including a document camera to display and magnify and sound enhancement technology in every classroom.  In Grades K-5, there are also approximately four devices for student access to technology.  Grades 6-8 will have access to fixed or mobile computer labs.
---
Where will I go to register my child while the school is under construction?
The school registration process begins online. More information is provided on the School District's website.  Current students will not have to re-register, but will be transitioned based on the approved Attendance Zone.  The District releases pre-registration dates for Kindergarten in the first quarter of each calendar year.
---
Will students be able to bring tablets (laptop computers) from home?
 Yes. Students bringing devices from home will sign a technology waiver form and must use the tablet/computer according to teacher/administrator guidelines.
---
Will we have e-books or textbooks?
Our students will have traditional textbooks in addition to online learning resources.
---
What types of clubs or extracurricular activities will be available?
Clubs/activities will develop through collaboration with students, parents, and staff.
---
Will there be a character education program?
SJCSD uses Character Counts! as the foundation for our character education programs.
---
How will student leadership be developed?
The development of student leadership is a goal at all SJCSD schools.
The principal determines the appropriate strategies and initiatives to implement at their school.
---
What resources will be available in the media center?
The media center will have a collection of both traditional books and eBooks.
---
What can we expect in our new school?
Here are a few common programs found in K-8 schools:
Music, World Language, Art, PE
        PTO, SAC
Interscholastic Sports, Middle School Sports
        Clubs
Extended Day
---
What is the general timeline for opening the new school?
The new Principal will begin communications with the school community in Winter 2020/Spring 2021 regarding:
      The process for recommending a School Name to the School Board
      The process for selecting School Colors and Mascot
     The formation of the PTO
     The decisions on Academic and ESE Programs
     Ways for Parents to get involved
For additional information on the St. Johns County School District, please visit our District Facts web page.