Introduction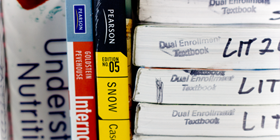 Textbook purchases and adoptions are channeled through the Textbook Department of the Media Services Department. Each school in the district assigns a school level individual to inventory textbooks and to determine purchases. In most cases that individual is the Assistant Principal. Requests for textbooks are done at the school using the Florida School Book Depository website and then printed and sent in paper form to Shelley Hall in the Media Services Department. Some books may also be ordered by specialty publishers or used textbook vendors. Shelley Hall enters the requisitions into the SunGuard Purchasing System and purchase orders are sent to the vendors from the District Office. Request for payments are finalized for processing thru the Media Services Department. Instructional Material Budgets are monitored through our Department as well.
Shelley Hall looks forward to assisting you in the textbook process. (Shelley Hall also assists Dual Enrollment students in getting the books they need.)
---
Florida School Book Depository Online Ordering Instructions
You may view catalogs, generate order forms and search the database from the FSBD homepage. To create an order, please use the following steps:
Click "Create an Order Form".
Enter user name and password.
Choose "School District Requisition Attachment."
Enter 1st item number (do not use dashes or spaces), then click "Add This Item."
Enter quantity ordered -free items must be entered at this time.
Enter next item number, quantity etc. until all items are entered.
Click "Calculate Order" – occasionally check totals.
Click "Save" – the screen will refresh and you will be given a Document # for the order. Make a note of the number in case you lose it prior to printing.
Scroll to bottom of page and click "Finish", then enter or edit the Shipping/Billing Information.
Scroll down and add the budget code info in the Special Shipping/ Billing Instructions box, then choose "Yes" to add a 5% shipping charge. Click "Finish Order." The order is now ready to print.
Before printing, go to Page Setup under "File" on your Menu Bar to set print orientation, then print the order. (If the order will not print, try signing out, then going back into the homepage. Click "View Order", enter the Document #, then try printing again.)
If order is being paid by Instructional Resources and Media Services send order to the attention of Shelley Hall with Instructional Resources and Media Services for approval. If order is being paid by the school, send order to school-based administration for approval.
---
Other Helpful Links
Here are a handful of links to help you along the textbook purchasing journey.
District Textbook Procedures Manual – Coming Soon