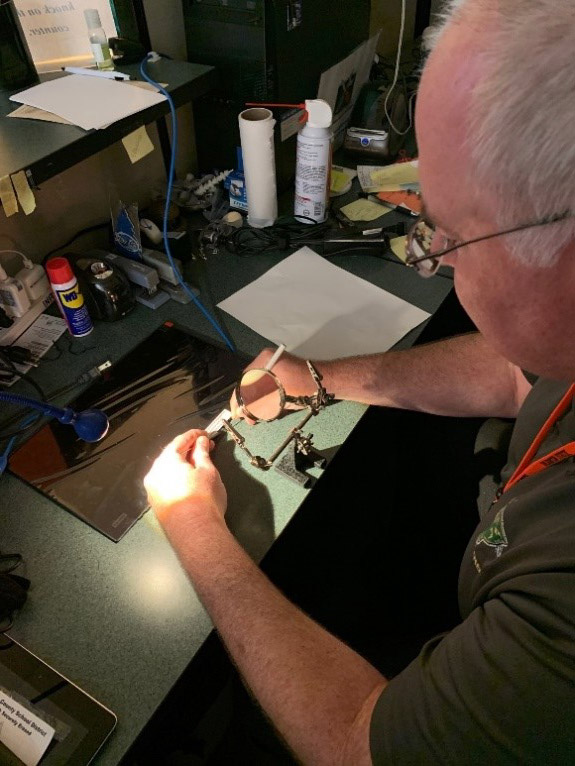 The Technology Support division of the IT Department helps to kick off another great start to the school year.  The Technology Support Department consists of four district level Technology Support Specialists (DTSS) and 41 school-based Technology Support Specialists (TSS).  Each school has a dedicated TSS and two of our large high schools now have two full- time techs.
The school-based TSS are dedicated to getting all student and staff machines ready for the start of the school year, along with keeping up with every day technology needs at their schools.  The current major task for site-based TSS is reviewing and updating technology inventory for their schools.
The DTSS are responsible for supporting all school-based TSS and assisting all district departments to get ready for the school year.  The DTSS take calls and assist users through the District Help Desk.  They are also responsible for managing all iPads in the district, managing all settings and applications on all district machines, assisting all district departments with their technology needs, assisting all school based TSS with any questions or tasks as well as completing repairs to damaged equipment across the district.
As we have recently celebrated and honored our veterans for Veterans Day, it is important to note that we have 15 Veterans out of 45 total TSS.  We are fortunate to have them in our department and we thank them for their service to our country.   The picture below shows Brian Paone, a District technology support specialist, repairing a staff computer.