Please Note
This is not the pre-registration process for private school, home school or virtual school students applying to a Program of Choice for 2019-20. Those students should follow the pre-registration procedures provided by Career Academies of St. Johns. During pre-registration, families will also obtain a paper Program of Choice Application to complete and return to that school by February 14.
The Information Technology Department is excited to announce the implementation of an Online Registration System. Streamlining the enrollment process will save parents and school staff valuable time and improve data accuracy. This system will allow parents to register their children online by completing forms, uploading required documents, and scheduling an appointment with the school to finalize the process. School staff will review all data entry completed by the parents before accepting the student information into eSchoolPLUS.
Initially, the district will pilot the new process at Freedom Crossing Academy, PVPV/Rawlings Elementary, Sebastian Middle, St Augustine High, Hartley Elementary and Palm Valley Academy. A web link added to the school website will allow parents to create an account and begin the online registration process. Once the pilot has been running for some time, the program will be launched at all schools.
Here is a sample of what the initial registration page looks like: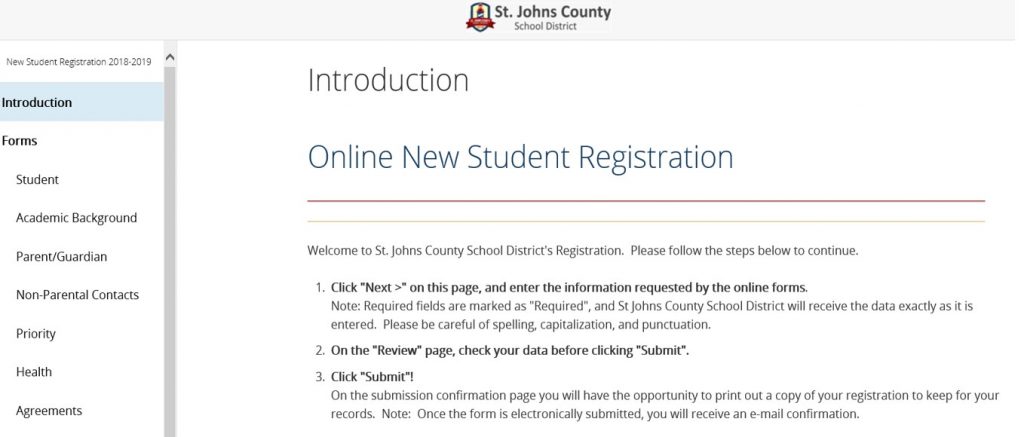 In addition to registering new students, this system will also streamline the returning student paperwork process.  Once per year, parents will receive an email with a web link that will allow them to review and update their child's data.  When completed, the entries will be subject to review by school staff before accepting the changes into eSchoolPLUS.  This will significantly reduce the amount of time required to process these forms.  This process will also begin later this month for all schools.
For more information on this topic, please visit your child's school website.