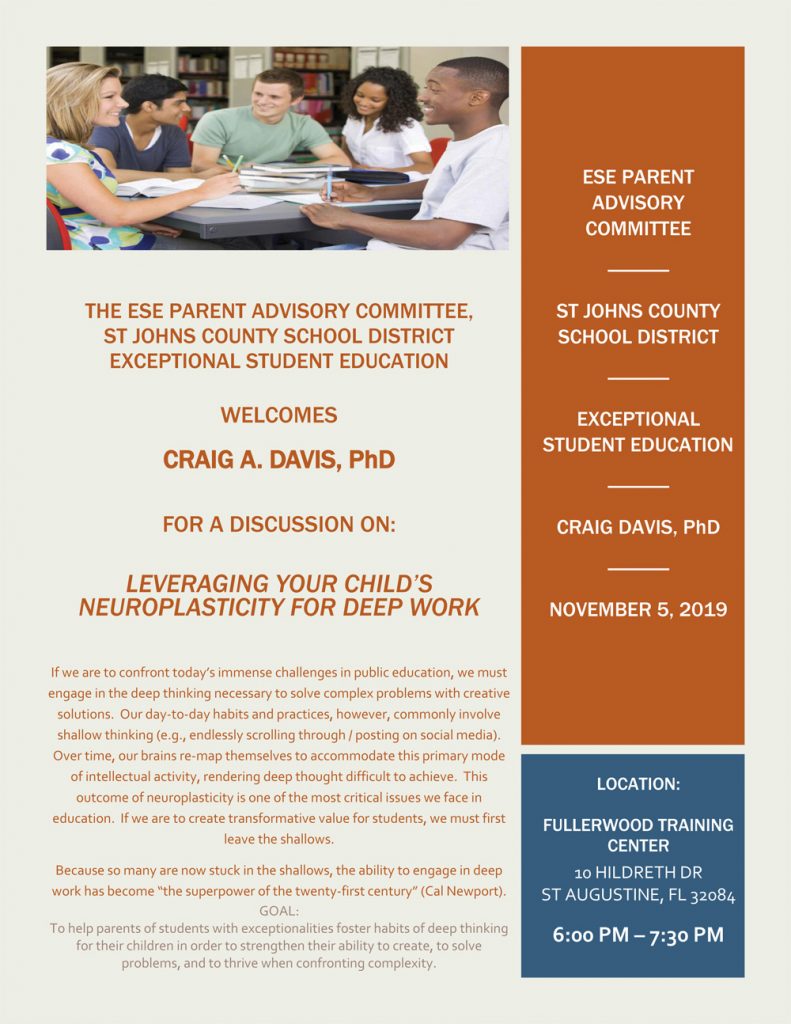 On November 5 from 6:00pm to 7:30pm, the ESE Parent Advisory will welcome Craig A. Davis, Ph.D., for a discussion titled "Leveraging Your Child's Neuroplasticity for Deep Work."
The discussion will be held at the Fullerwood Training Center located at 10 Hildreth Drive, St. Augustine, FL 32084.
The goal of the presentation is to help parents of students with exceptionalities foster habits of deep thinking for their children in order to strengthen their ability to create, to solve problems, and to thrive when confronting complexity.
If we are to confront today's immense challenges in public education, we must engage in the deep thinking necessary to solve complex problems with creative solutions.  Our day-to-day habits and practices, however, commonly involve shallow thinking (e.g., endlessly scrolling through / posting on social media).  Over time, our brains re-map themselves to accommodate this primary mode of intellectual activity, rendering deep thought difficult to achieve.  This outcome of neuroplasticity is one of the most critical issues we face in education.  If we are to create transformative value for students, we must first leave the shallows.
Because so many are now stuck in the shallows, the ability to engage in deep work has become "the superpower of the twenty-first century" (Cal Newport).