Career and Technical Education Update – February 2020
February is Career and Technical Education (CTE) Month! We would like to thank each of the CTE teachers in our elementary, middle, K-8 and high schools for making their programs special for the students in the St. Johns County School District!
The High School Showcase was held in January at the World Golf Village Convention Center. Current 8th and 9th grade students wishing to apply to a Program of Choice and their parents were welcomed to attend and speak with student ambassadors, teachers and the administration for each high school, St. Johns Virtual School, First Coast Technical College and St. Johns River State College.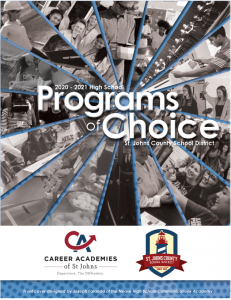 Students apply to Program(s) of Choice through their HAC account. The application window opened January 9th and closes February 3rd at 5:00 pm. Visit the Career & Technical Education website for Program of Choice information and directions on applying. The Career and Technical Education office phone number is 904-547-4870 and we are happy to answer your questions and help you with the process.
Academy Nights were hosted by each high school throughout the month of January. Career Specialists attended each middle school and shared the options available for each high school.
Please check out our 2020-2021 Programs of Choice booklet. The cover was designed by Nease Communications Academy student, Joseph Faranda.
Be sure to see more highlights on our CTE Twitter account, @CTEsjcsd
---
Program Highlights from around the District
Bartram Trail High School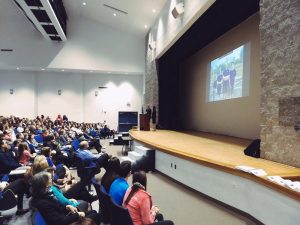 There was a packed house at the annual Academy Night at BTHS. Potential future bears and their parents listened to our AMAZING Academy students share their high school experiences and later toured the campus.
---
Creekside High School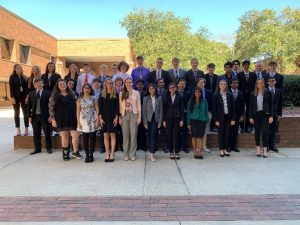 At CHS, 59 FBLA members qualified to compete at the State Leadership Conference in March. These students participated in the District Competition, which took place on January 17. Cyber Patriots: Creekside teams took 1st, 2nd, and 4th place in the State of Florida in the Platinum (top) Division. We also have a freshman team that took 3rd place in the State in the Gold Division.
---
Pedro Menendez High School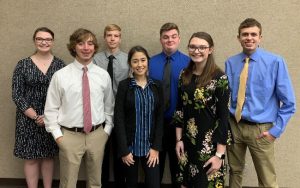 Congratulations to the PMHS FBLA members who competed at the District 27 FBLA Competition. They competed in interviewing skills, sports and entertainment management, public speaking, business ethics, and entrepreneurship. Go Falcons!
Flagler Hospital Academy of Medical and Health Careers currently has over 60 students conducting rounds in various departments at Flagler Health+ hospital. Fifteen students received their EKG certification in December and the HOSA club had 5 members qualify for state competition in Orlando!
The VyStar Academy of Business and Finance has nearly 80 students certified in Microsoft Word, Excel or both and is working hard toward their third certification in PowerPoint. These are excellent business skills directly transferable to real-world applications. Also, the student-run VyStar branch has opened over 40 new accounts this year!
---
Ponte Vedra High School
CONGRATULATIONS to the Academies FBLA Chapter members on their recent placements at the District Competition.

PVHS had 55 members qualify to compete at the District and of those, 40 members won a spot to continue on to the State FBLA Competition. It will be held in Orlando in March.