Career and Technical Education Update – May 2018
The Association for Career and Technical Education (ACTE) recently published an infographic that connects workforce employability skills with CTE coursework.  These are great reminders for families to review together as they discuss both college and career readiness.
Fact Sheet on Career Readiness and Employability Skills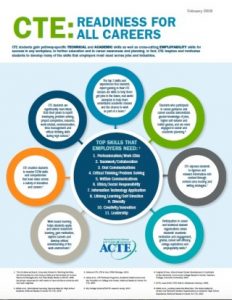 ACTE has produced a new research-based fact sheet connecting the general workforce skills that employers most need—professionalism, teamwork, critical thinking, oral and written communication, leadership and more—with research demonstrating that CTE helps students develop career readiness and employability skills that have value across industries and career fields.
The research used addresses various aspects of CTE programs, including curriculum, work-based learning, career and technical student organizations and career guidance.
You can access this one-page publication and ACTE's other fact sheets.
---
CTE Accomplishments
Pedro Menendez High School Students Win Skills USA Regionals
Academy of Architectural & Building Sciences students competed in the Regional Masonry Competition in Starke where their team earned a first place award. Students advancing to the Skills USA State Competition this April in Pensacola, Florida are:
1st Place          Tyler Waldron
2nd Place          Eric Macy
3rd Place          Kaylee Folckemer
AutoCAD regional winners advancing to State are:
1st Place – Laurence Gosselin, Senior
2nd Place – Hannah Hodge, Junior
3rd Place – Justin Guerra, Junior
Ponte Vedra High School (PVHS) Academy of Biotechnology and Medical Research
Four students from PVHS Academy of Biotechnology and Medical Research were invited to present their research at the 55th Junior Science, Engineering and Humanities Symposium at the University of Florida on January 28-30.
Emma Kee,
Tim Kellett,
Courtney Krider
Louis Otero
Results of HOSA (Future Health Professionals) regional competition
The following students placed and will move to the State Leadership conference:
Courtney Binaco         3rd          Nutrition
Kaitlyn Copland
Windsyr Maughan      3rd        Health Career Display
Lily Fields
Sarah Fraga
Grace Littler                1st        Forensic Medicine
Claudia Frein
Kaitlin Landolfa
Sarah and Lydia Reimer 1st     Public Service Announcement
Nima Goodman
Naela Luna                  1st        Health Education
Zuri Goodman             1st        Medical Math
Kaley Liang                  4th        Medical Terminology
Julia Romano               1st        Medical Spelling
Gabby Savino              1st        Medical Law and Ethics
Ian Sisto                       2nd         Biomed Lab Science
Creekside High School's Academy of Emerging Technology and Academy of Engineering and Environmental Sciences
Pressel's classes have be wrapping up their Blue Schools Grant research funded by the St. Johns River Water Management District. The grant included two trips to both Julington-Durbin Preserve and Alpine Groves to test and compare water samples to determine the effects of the area construction on water quality in our community.
Cyberpatriot teams placed 5th, 7th. And 8th in the state of Florida, and 1st place for the state in the Gold division.
St. Augustine High School
Career and Technical Student Organization Competition Results:
Florida Future Educators of America (Teaching Academy)
Outstanding Chapter Award (5th year in a row)
Florida Public Service Association (FPSA)-Academy of Law and Homeland Security
Mason Davis               5th        Incident Report Writing
Cheyenne Sneyd          4th        Prepared Poster Display
Mason Davis elected Vice President FPSA State Student board
Hannah Beregsasy elected Sargeant at Arms FPSA State Student board
Technology Student Association-Aerospace Academy
Noah Law won $1,500 in scholarships at the event
Did you know?
145 Career Academy students have already applied for summer internships…the Career Academy team is working hard to find placements for all of them!