New School Year Preparations
In preparation for the 2017-18 School Year, the Transportation Department conducted four days of intensive bus training at the FCTC Public Safety Academy Test Track from July 31, 2017, to August 3, 2017, culminating in a countywide transportation operations rehearsal on August 4, 2017.
The department also added 21 new buses from Integrated Coach to the roadways of St Johns County in August 2017.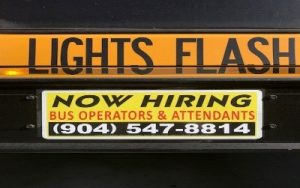 Transportation recruited, trained, and tested 44 new operators within the past 90 days. With the extraordinary growth countywide, the department is continuously recruiting high quality people to operate school buses in the service of children. Please contact Bob Aponte at 904-547-8814 if interested in joining the team.