SR 12-20-16 Volume 6, Issue 9
On behalf of the School Board and staff of the St. Johns County School District, I want to wish you all a Merry Christmas and the happiest of holiday seasons.
This is a wonderful time of year in our schools, happy students, teachers and staff working hard every day while eagerly anticipating a well-deserved break.
For me, the most rewarding aspect of the season is the spirit of giving.  As you can see from the story below, The Hugs Across the County organization involved multiple schools and filled close to 250 food bags for those in need.  Additionally, the support for our ASSIST Program, which helps to support our homeless children and their families, has been at an all-time high with district staff raising over $9,700!  It is gratifying to see such selfless support for those in need, especially at this time of year.
Since this is my last message in this publication as superintendent, I want to once again thank the School Board, parents, teachers, support staff and community members who have allowed me to serve as superintendent.  Our school district is in excellent hands with Tim Forson, and I am certain that his tenure will be as personally rewarding as mine has been.
St. Johns County is a very special place because of all of you, and I will be eternally grateful for the honor of serving as your superintendent the last 14 years.
May the peace of the season cover us all and renew our faith.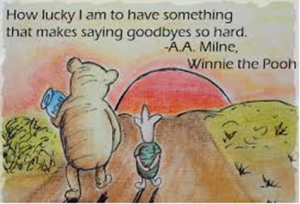 Sincerely,
Joe Joyner
Hugs Across the County
The goal of Hugs Across the County was to make winter break food bags for 160 students identified by guidance counselors and the ASSIST program who are especially vulnerable this time of year. These are all students who are not already receiving assistance from other organizations. Thanks to so many caring people in the school district, that goal was exceeded and close to 250 bags were filled!
The food bags, chock full of kid-friendly breakfast and lunch items, were delivered for students at W.D. Hartley, Hickory Creek, Palencia, Durbin Creek and Otis A. Mason elementary schools, Switzerland Point, Gamble Rogers, and R.J. Murray middle schools, Bartram Trail and Ponte Vedra high schools as well as ASSIST.
In addition, so much extra food was collected, that Hugs Across the County was able to fill a room at Gamble Rogers Middle School so that weekend food bags could be filled for 54 of its students.
Special thanks to everyone who helped collect, bag and distribute food to some of our neediest students during this holiday season.
Cabinet Update
Operations
Planning
The district continues to monitor enrollment numbers for the 2016-2017 school year.  Currently, there are 38,666 students enrolled in the district.  This represents a growth of approximately 5.6 percent.  The district also achieved compliance with the Class Size Amendment for all core classes for the established limit based on grade level (Grades KG-3:  18; Grades 4-8:  22; and Grades 9-12:  25).
Attendance Zone Changes
At their December 13 meeting, the School Board approved changes to the attendance zones.  There was one change for the 2016-2017 school year that is effective immediately.  This action rezones the townhouses known as the Palisades at Durbin Crossing from Patriot Oaks Academy to Durbin Creek Elementary and Fruit Cove Middle School.  These units are not yet occupied.
The School Board also created an attendance zone for Elementary M and adjusted the zones at several area elementary schools to balance enrollment and better address growth for the 2017-2018 school year. The schools affected are Mill Creek Elementary, Wards Creek Elementary, Palencia Elementary, Ketterlinus Elementary and The Webster School.  Detailed information on these changes is outlined on the district website.  Please visit www.stjohns.k12.fl.us/zoning/.
Governmental Relations
Following the November 8 election, more than 60 new representatives and senators were sworn into office in the Florida State Legislature.  In preparation for the 2017 Regular Legislative Session, committee membership has been announced, trainings have been taking place for new members, and the first week of interim committee meeting took place in the Senate the week of December 12.  To view a complete calendar of committee meetings and session dates, as well as find committee membership lists, contact information and additional advocacy resources, including a copy of the district's legislative platform, please visit our website at www.stjohns.k12.fl.us/gr.
As the district prepares for what is sure to be a tight budget year for the state and competing priorities between the House and the Senate, your involvement in the process is more important than ever.  Governmental Relations has also been working to involve more administrators, teachers and parents in advocating for the district.  If you have a group of faculty or a PTO who would like more information on how to effectively communicate with elected officials and advocate for the priorities of the district, please contact Beth Sweeny, Coordinator for Governmental Relations, via email at [email protected] or telephone at 547-7673 to set up a presentation.
On the Horizon
Winter Break
Wednesday, December 21 is a regular early release day, Elementary at 1:50 p.m. and Middle at 1 p.m.
High schools will dismiss at 11:25 a.m. due to the exam schedule.
Winter Break begins Thursday, December 22 and ends Tuesday, January 3, 2017. Wednesday, January 4, 2017 is a district-wide inservice day and student holiday. Classes resume for all students on Thursday, January 5, 2017.
District Spelling Bee
The District Spelling Bee will be held on Wednesday, January 18, 2017, at 9 a.m. at First Coast Technical College, Bldg. C, located at 2980 Collins Ave., St. Augustine.
Teacher of the Year Celebration
The annual Teacher of the Year Celebration is designed to honor outstanding teachers who play a thoughtful, caring, and influential role in the lives of students. This year's theme is "All Star Teachers." The sports-themed celebration will be held on Monday, January 23, 2017, from 6-9 p.m. at the Renaissance® World Golf Village Resort. The cost is $45 per guest and includes dinner and awards. Register or sponsor via the website at www.ink-stjohns.org.
Science Fair
The Regional Science Fair is Wednesday, February 1, 2017, at First Coast Technical College, Bldg. C, located at 2980 Collins Ave., St. Augustine. Exhibit Hall viewing will be February 1, 2017. Parents are welcome to view projects/take pictures between 8:15-8:45 a.m. prior to the start of judging.  Project pick up is February 1, 2:30-4:30 p.m. or after awards on February 2. The awards ceremony is scheduled for Thursday, February 2, 2017, at 6:30 p.m. All events will be held at First Coast Technical College.
CHARACTER COUNTS! Six Pillars 6K/3K Run Walk
The fifth annual CHARACTER COUNTS! Six Pillars 6K/3K Run Walk is on Saturday, February 4, 2017, at 9 a.m. at Palencia Elementary School, 355 Palencia Village Dr. Register online at www.racesmith.com. Register by January 14, 2017, to guarantee a run t-shirt.
Status Report
 Health Clinic Enrichment at R.B. Hunt Elementary
Three fifth-grade students approached School Nurse Jean Drayovitch, RN, BS, about doing an enrichment program with the school's health clinic. The five-week program covers topics on 911 Skills/Dispatch, Food Labels/Nutrition Eat This-Not That, Playground Safety, First Aid Kits, and Basic First Aid review.  In a demonstration of leadership, proactive initiative and dedication, the three students gave up recess time to participate. Nurse Drayovitch and the students wrote to the St. Johns County Sheriff's Office and invited a dispatcher as a guest speaker in their classroom. 911 Disptacher Stephanie Phelps spoke to Ms. Cleary's fifth-grade class to review 911 skills and play a Q&A game to win 911-themed goodie bags and prizes. Students learned the importance of what/where/when for giving information, the skill for identifying the address where you are staying/visiting/living and best practices for what to do if you accidentally dial 911. The students were also introduced to new technology available for texting to 911.
Did You Know…?
The 37th Matanzas 5000 5K and Fun Run is January 21, 2017. Proceeds from this event go to support cross country teams at St. Johns County high schools and middle schools. The Matanzas 5000 has raised over $100,000 for running programs in St. Johns County schools! Early registration for $25 through January 1st. New this year – a long sleeve tech shirt for first 1,200 registered. For race entry, Race Expo and sponsorship information, please visit www.matanzas5k.com or on Facebook at https://www.facebook.com/Matanzas5K.
The city of St. Augustine Beach is currently seeking volunteers to work the New Year's Eve Beach Blast Off on Saturday, December 31. Two shifts are available: 3-7 p.m. or 6-10 p.m. and includes food and drinks, a t-shirt, a drawstring bag, 10 tickets ($10 value) and community service hours. Sign up to volunteer at sabevents.com/help or call (904) 669-5670.
"Your character will be what you yourself choose to make it."
~John Lubbock
Save