SR 11-22-16 Volume 6, Issue 7
Thanksgiving always reinforces the gratitude I feel at being able to serve with so many caring and selfless individuals. It is a blessing to have the opportunity to work for an institution whose sole purpose is to serve children and every day I am reminded of acts of kindness by a teacher or member of our support staff.
I hold a firm belief that gratitude should – and must – be taught to children. The countless examples of programs honoring veterans, the clothing and food drives for those less fortunate, and the donations that poured in following Hurricane Matthew, are a testament to the great work our schools do in teaching gratitude. The recent dedication of our principals and all of our amazing staff who worked so tirelessly at our school shelters during the hurricane is an example of the trust our community places in our school district, and I am very grateful for their work. We are so fortunate to have people rise above during challenging times to meet the needs of our children and families and exhibit great character throughout the county.
We never take for granted the outstanding parents, teachers, staff, school board members and students who make this school system the great place it is to work and learn, so thank you for all you do.
This week ushers in the "holiday season" for schools and it is my favorite time of the year.
May God bless all of you and your families this Thanksgiving, and may you have a safe and restful holiday!
Joe Joyner
Schools Update
Elementary and K-8 Schools
John A. Crookshank
Crookshank School Community for Veterans Day Remembrance and Building Dedication Ceremony
Crookshank Elementary School (CES) hosted 25 veterans of foreign wars joined by 880 preschool through fifth-grade students earlier this month to honor the men and women who serve in our armed forces and protect American freedoms. All veterans in attendance were introduced to the children and several chose to speak about their experiences, including a World War II veteran who was present at the D-Day invasion. Members of the safety patrol respectfully raised a flag that flew over a Iraq and led all students and visitors in reciting the Pledge of Allegiance. The CES chorus sang the national anthem and the patriotic song, "American Tears." The 2016 Veterans Day observance was the school's largest to date.
Following the Veterans Day celebration, Superintendent Dr. Joseph Joyner and School Board Chair Patrick Canan spoke to students about the decision to build a new 22-room building at CES. The building more than doubles the interior space at the school. Students were invited to participate in drawing and essay contests and the winners shared their pictures and essays with the crowd. With two buildings now on campus, a contest to name each of the buildings was held and a vote taken. The historical 1959 building was named the "Cub Den" and the new intermediate building, the "Cougar Den." Everyone enjoyed refreshments and tour after the ceremonies.
St. Augustine Artist Manila Clough Creates "Starstuff" Mosiac for Crookshank Students
St. Augustine Artist Manila Clough has spent a good part of the last two years creating a large porcelain and stained glass mosaic for the Crookshank student body. The mosaic is titled, "We are Made of Starstuff" a Carl Sagan quote meant to inspire wonder about our experience of life. The afternoon of the Veterans Day/Building Dedication ceremonies, Mrs. Clough's mosaic was unveiled and children and adults marveled at the beauty and intricacy of her work. Manila will be volunteering as an artist-in-residence at CES during the second semester. All of us are very grateful for her special interest in our students.
Durbin Creek
The Durbin Creek Elementary School (DCES) chorus will be performing at the Jacksonville airport Tuesday, December 13 at 11:30 a.m. They will also be performing for friends and family at DCES Thursday, December 15 at 6 p.m. The school's annual Wonderland Gift Shop will be open for students to purchase holiday gifts the week of December 5.
W.D. Hartley 
The students and staff will be busy at Hartley Elementary School (HES) the next two months.  On November 14 the HES food drive began.  The winners from the Kids Clothes Closet fundraiser received their reward of Lunch in a Limo on November 17.  December 1 is the first day of the Student Council Wishing Tree, ending on December 16.  Just in time for the holidays, the HES book fair will be ongoing from December 11–16.  At the next PTO meeting Thursday, December 15 at 7 p. m., the kindergarten classes will be performing a holiday program.
R.B. Hunt
R.B. Hunt Elementary School (RBHES) students in Ms. Paolini's fourth-grade class recently worked with Guana Tolomato Matanzas Research Reserve (GTMRR) and Flagler College to conduct research on growing smooth spartina, commonly known as cordgrass, for use in shoreline restoration. Students participated in creating barges for spartina to be grown in the school's pond throughout the year. Students will gain STEM-related skills and actively participate in conservation-based research to increase their knowledge and awareness of plant physiology and anatomy, sustainable growing techniques, fresh water chemistry and environmental engineering skills. The spartina barges were built using a frame of tubing and webbing with spartina blooms placed in biodegradable coconut fiber. These barges were constructed by Ms. Paolini's class under the direction of Kenneth Rainer, education director at GTMRR and professor of Life Science and Science Education at Flagler College along with three Flagler College science students; Britta Messler, Meagan Cooke, Kaley Steinghner.  The RBHES students will monitor the growth of the spartina, discuss the variables that would impede growth and chart the statistics.  The goal is for the root system in the spartina buds to weave around the coconut bedding and create a large bloom that can eventually be planted along the sea shore.  When planted these plants serve as protection from erosion, provide an environment for a several animals as a nursery and acts as a filter for the water.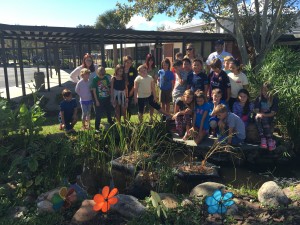 Julington Creek 
Food Drive and Angel Tree
The Julington Creek Elementary School (JCES) community will be conducting a food drive throughout the months of November and December. Students are encouraged to donate food to benefit people affected by Hurricane Matthew in the St. Augustine and Jacksonville areas. JCES students and their families can "adopt" some of our school's families in need from the Angel Tree and donate gifts to make their holidays a little brighter.
Holiday Events
The JCES PTO presents the Winter Wonderland Night of Lights on December 1.  This is a magical evening event for families that features yummy treats, movies, and lots of fun! Volunteers from Creekside High School's American Sign Language (ASL) classes have been teaching JCES students ASL.  These students will present an ASL holiday program, highlighting different songs that they have learned to sign, on the morning of December 8.  JCES kindergarten students will be presenting a holiday program for family and friends on the evening of December 8. The talented JCES chorus will entertain students, families and friends, at multiple holiday concerts on December 13.  Their many hours of hard work and practice have led up to this special concert presentation.
Liberty Pines Academy
Earlier this month Liberty Pines Academy (LPA) hosted its annual Liberty Parade honoring veterans. On December 1 and 2, LPA presents its play, "Yes Virginia, There is a Santa Claus" at 6 p.m., and on December 6, the PTO Holiday Vendor/Night of the Arts will be held at 6 p.m. On December 15 LPA celebrates its Leader of the Pack/Character Counts students at 7:30 a.m.
Otis A. Mason
Otis A. Mason Elementary School (MES) held its annual holiday luncheon for all MES families November 17. MES is well into the holiday food drive and is busy collecting non-perishable food items.  The donated items, along with a turkey, will be provided in Thanksgiving food baskets to MES families in need. In addition, the MES PTO will be hosting a holiday toy drive during the month of December to support MES families in need.
Mill Creek 
Mill Creek Elementary School (MCES) student council kicked off the year with "Mill Creek Gives Back" campaigns. These campaigns promote giving back to families through clothing donations and a food drive. MCES students are growing up in a world full of data. Counting, graphing and interpreting information around them will continue to be a necessity in their lives. Students have incorporated math with giving back to the community in a way that helps them become confident, selfless, and happy mathematicians. We look forward to the positive influence these lessons will provide throughout the building and the community this year.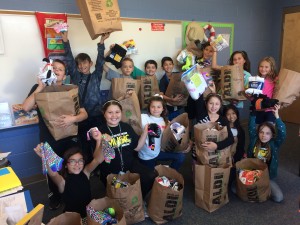 Osceola
Circle K Gas Donation
Osceola Elementary School (OES) Osceola has partnered with Circle K Convenience Stores (formerly Kangaroo) in the "Fueling Our Schools" program during the 2016-2017 school year. For one day in October, Osceola had a designated gas pump at the State Road 312/207 store in St. Augustine. For every gallon of gas that was pumped at any of their pumps during that time frame, 10 cents was donated to OES. There will be four of these special dates this school year and for each date, OES is eligible to earn up to $2,500. In addition, every day during this school year on every gas pump at this location, Osceola will receive 1 cent per gallon pumped. This is an easy way to earn much needed funds, so please share this information with family and friends to support OES school.
Girls on the Run
At Girls on the Run, girls learn about their local community and that one way to show gratitude is by helping others. This season, the OES Girls on the Run want to make a huge impact on the Daniel Organization. Daniel is a multi-service agency that assists more than 3,000 abused, neglected, and emotionally troubled youth and their families. Osceola Girls on the Run is collecting items for children within the foster care program including new pajamas (age 12-18); new undergarments (age 12-18); new socks (age 12-18) ; non-perishable food items; toiletries; coats and sweaters All donations are due by Friday, December 2. OES Girls on the Run will present all donations to representatives from Daniel at their end of season 5K on Saturday December 3. Thank you for all of your help and generosity.
Patriot Oaks Academy 
Chargerthon
On November 22 the Patriot Oaks Academy administration and a couple faculty members will be "slimed" in front of the student body. This was part of the incentive to raise money during our Chargerthon fundraiser which raised over $50,000. A percentage of the money raised was donated to Student Services in an effort to support those impacted by Hurricane Matthew.
Upcoming Events
November 28- School Spelling Bee
December 7 and 8 – First and second grade evening winter concert
December 15 – Band concert
South Woods
South Woods Elementary School (SWES) is one of two schools in St. Johns County School District in the process of developing a community school.  The Community School directors have been identified and will soon begin reaching out to the community to identify priority needs. SWES is also continuing growth as an AVID school. Students and teachers are focusing on developing student organizational skills and preparing then for future college and careers.
Timberlin Creek
Timberlin Creek Elementary School (TCES) happy to spotlight its CHARACTER COUNTS! Breakfast celebration that was started this school year. Trustworthiness, Respect, Responsibility, Fairness, Caring, and Citizenship. Alone, each of these attributes is considered exemplary; together they form the Pillars of Character that are a part of the culture at TCES.  Each month students who show exemplary qualities of the character trait for the month are nominated by their teachers. TCES faculty and administration hosted its second CHARACTER COUNTS! Breakfast on October 27 to recognized students and their parents for showing excellence in Responsibility. TCES is proud to honor these students and to celebrate with their families. 
Valley Ridge Academy
Valley Ridge Academy (VRA) will be hosting its middle school CHARACTER COUNTS! celebration Thursday, December 1 and Friday, December 2 for pre-k through fifth grade.
Wards Creek
Wards Creek Elementary School (WCES) will be hosting second-grade Data and Donuts, student-led parent conferences as well as the kindergarten Poem and Pies that includes a student concert, recitation and desserts on Tuesday, November 22. On Wednesday, December 21 WCES will have its school-wide Winter Wonderland featuring STEM centers related to winter and the holidays.
Middle and High Schools
Middle Schools
Gamble Rogers
The band students at Gamble Rogers will be performing their Winter Band Concert on December 8 at 7 p.m. The concert will take place at the school. On December 17 the Jazz Band will be performing at the Nights of Lights at 6:30 p.m. at the Night of Lights Trolley Station located at the Visitor Information Center.
Murray Middle School
Holiday Greetings from R.J. Murray Middle (MMS) School Center for the Arts! As students begin to work toward a successful semester, many events and activities are taking place at MMS. The National Junior Honor Society is sponsoring the annual Thanksgiving food drive. All donations will stay local and help support MMS families during the holiday season.
Reading Plus and the Jacksonville Jaguars have generously donated 20 tickets to MMS to be used as an incentive for the Reading Plus program.  These tickets are for the December 11 game between the Jaguars and the Minnesota Vikings.  Three teachers will accompany students to the game and transportation will be provided. In order to participate in the contest, students will need to earn as many combos as they can between now and December 8.  Students achieve a combo by scoring 80 percent or higher on two consecutive See Reader lessons.  Each time they earn a combo, students will earn a chance in the drawing. The drawing will be held on December 8 and winners be announced at the end of the day.  There is no limit to how many times a student's name can go into the drawing. This wonderful incentive program is an excellent way to motivate and engage your child to improve their silent reading comprehension, vocabulary, and reading fluency.  All MMS students are eligible to enter the drawing.
MMS dancers performed to standing room only shows at Pedro Menendez High School November 9 and 10. Over 225 students participated in the performances. The advanced chorus and jazz band performed at the Cathedral Basilica on the evening of November 14. It was a beautiful evening with outstanding performances by the students. The MMS chorus will perform on December 5 at St. Augustine High School (SAHS) and the band will perform at SAHS on December 15. Both performances begin at 7 p.m. The drama students traveled to New York City to attend a workshop and performances on November 16. Productions and rehearsals for "James and the Giant Peach" are also underway for a spring performance.
 Pacetti Bay
Pacetti Bay Middle School band hosted a concert for the community and veterans.  Approximately 15 veterans attended in wheelchairs from the Lassen Veteran Nursing Home on SR 16.  They recognized all veterans during the performance and handed out flags to all.
Sebastian
Sebastian Middle School (SMS) will be hosting a "Art's Night" on November 30.  This is a great opportunity to come and see the progress of our students.  On December 2, SMS will be hosting an eighth-grade career fair.  This will provide the eighth-grade students the ability to inquire about careers that they may want to pursue in their future.
On November 15, the Students Working Against Tobacco (SWAT) members hosted The Great American Smoke Out event in the cafeteria for the staff.  This is a chance for the students to reverse their roles and advise the staff what they have learned about living tobacco free.
Switzerland Point 
Community Help
At Switzerland Point Middle School (SPMS), service projects are a huge focus this year. Throughout the second quarter, students at SPMS have been busy demonstrating the Six Pillars of Character by leading a variety of service projects. The SPMS B6 Club spent the month of October collecting treats for troops overseas, designing posters and advertising the collection drive on the daily morning news show, collecting enough candy to send more than 300 bags to soldiers overseas. Meanwhile, students in the Dreams Come True Club got a head start in reaching their goal to help a deserving young child in need by turning leftover Halloween candy into a school-wide fundraiser. The SPMS PTSO helped students organize a highly successful children's book collection drive in October. Over 1,600 books were donated to students at South Woods Elementary School. Finally, in early November, students and staff participated in our annual food drive, donating hundreds of nonperishable items for those in need in our community.
SPMS Noetic Math Team Prepares for National Contest
This November, a team of 30 SPMS seventh-grade students will compete in the Noetic Learning Math Contest (NLMC), a semiannual problem-solving contest for elementary and middle school students. The goal of the competition is to encourage student interest in math, to develop problem-solving skills, and to inspire students to excel academically. During the contest, students are given 45 minutes to solve 20 problems designed to challenge and enrich problem-solving experiences. In the spring of 2016, 30,000 students nationwide competed in this contest. Using past contest questions, the SPMS team, with the help of their sponsor, seventh-grade math teacher Tracey Lyons, have been practicing for several weeks. Accolades team members are striving for include a Team Winner Medal for the top team score, National Honor Roll Medals for the top 10 percent of all participants in each grade nationally, and Team Achievement Plaques for the top 10 percent of teams nationally.
High Schools
Allen D. Nease
It is the most wonderful time of the year when the Nease Band and Chorus come together to perform their winter concert.  The performance will take place on December 6 at 7 p.m.
St. Johns Technical High School
There a lot going on with the students at St. Johns Technical High School (SJTHS).  On November 10 at 8:45 a.m. SJTHS ROTC students participated in raising the flag to honor Veterans Day in the First Coast Technical College courtyard.
Congratulations Chef Sherri Gaynor and the culinary students for doing such a great job in organizing the serving of Thanksgiving Dinner to migrant families in the community of Armstrong on November 14. The United Way Board Members were very complimentary of the students' professionalism and work ethic.
 On December 9, SJTHS will be hosting a Silent Auction and Parent Night from 5:30-7:30 p.m.  Teachers will be informing parents of the upcoming semester exam schedule, studying tips using AVID strategies, introduction to Schoology, and the collaboration between the Culinary and Water Academies' service learning project, "Grease."  Dinner will be served and items will be available for silent auction.
JEA Wastewater Treatment Plant field study for Water Academy students will take place on December 13.  Lunch will be provided.
B6 Club students will be reading to children and wrapping presents at Barnes and Noble on December 16. A percentage of sales will go to SJTHS Media Center for purchasing books.
SJTHS is pleased to offer a second collection day for used cooking oil just for St. Johns County School District (SJCSD) employees.  On Wednesday, December 14 from 8 a.m. to 3:30 p.m., SJCSD employees may drop off their used cooking oil in closed containers at the SJTHS campus.  For more information, please contact Linda Krepp, career specialist.
On Wednesday, January 4, 2017, residents of St. Johns County can drop off their used cooking oil in closed containers, from 7:30 a.m. until 2:30 p.m. at two convenient locations in the County, Francis Field in St. Augustine and the St. Johns County Utilities Wastewater Treatment Plant on Anastasia Island.  Sorry, no motor oil can be accepted.  This event is planned after the holidays so please start collecting your used cooking oil in closed containers now to help with this drive.
On the Horizon
Thanksgiving Holiday
All schools and district offices will be closed Wed. – Fri., November 23-25 for the Thanksgiving holiday. In addition, Wednesday, December 21 will be a regular early release Wednesday: Elementary at 1:50 p.m., Middle at 1 p.m. and High at 2:45 p.m.
Status Report
FCTC High School Showcase
Over 400 students from St. Johns, Clay, and Putnam county high schools, along with other non-public and non-traditional schools, participated in the second annual High School Showcase held at First Coast Technical College (FCTC) at the St. Augustine campus November 15. Students were invited to visit two career and technical education programs of their choice and interact with current students and program instructors. Additionally, each program was set up with stations and activities for the visitors to experience what it is like to be a student in the program. The annual showcase is designed to give prospective students a tour of the campus and programs, as well as for current students to share their experiences with visitors.
The next step for interested students is the Career Connect Night on December 6 from 5-7 p.m. On that night, students are invited back with their parents and family members to visit their program of choice at one of the FCTC campuses in St. Augustine or Palatka. Students interested in attending cosmetology, LPN, or welding programs in Palatka will visit the Putnam County Campus and those interested in programs in St. Augustine will visit the main campus. Students interested in fire fighting, paramedic, or EMT will visit the Public Safety Campus in St. Augustine.  On the Career Connect Night parents and family members have the opportunity to learn about their child's program choice and get other school-related information including financial aid.
Did You Know…?
Congratulations to Blake Dellenback, of Switzerland Point Middle School, who recently received a $100 gift card, a pen with a flash drive and certificate of achievement from InvestWrite. InvestWrite is a contest that accompanies The Stock Market Game, a virtual investment program. Students work in groups investing virtual money in the stock market with fees and rules they must follow. They track their investments over multiple weeks competing with other students nationwide. The Stock Market Game offers many lessons to use prior to beginning the game that gives the students necessary background information about investing, stocks, bonds and how the economy works. InvestWrite is a summative writing opportunity for students to talk about their experience with the stock market with specific items students need to address such as supply and demand, production, marketing, reasons why this stock will improve etc.  One of the stocks Blake's group invested in was Northrop-Grumman. This was the stock that he chose to write about.
Stay Strong St. Augustine magnets are now available for a $10 donation. These beautiful magnets are 6 inches round, laminated and UV resistant for year-round outdoor or indoor use. 100 percent of the profits will be donated to the St. Francis House and Ayla's Acres, a no-kill animal rescue. The magnet was designed and drawn by Ella, an 11-year-old artist and student at R.J. Murray Middle School Center for the Arts. Magnets are available at the following locations:

LYMI Oddities, 305 A1A Beach Blvd, St Augustine, FL 32080
Metalartz Gallery, 58 Hypolita St., St. Augustine, FL 32084
The UPS Store at Cobblestone Village, 135 Jenkins St., Ste. 105-B, St. Augustine, FL 32086
The Red Sable, 72 South Dixie Highway, St. Augustine, FL 32084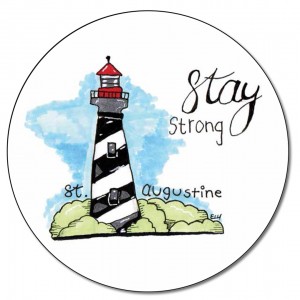 "Let us at all times remember that all American citizens are brothers of a common country, and should dwell together in bonds of fraternal feeling."
~Abraham Lincoln
Save