SR 9-30-16 Volume 6, Issue 4
Superintendent Search Update
The members of the St. Johns County School Board have selected four finalists to be interviewed for the next Superintendent of the St. Johns County School District (SJCSD):
Elizabeth Alves, Ed.D.
Assistant Superintendent / Chief Academic Officer, Knox County Schools, TN
Vickie Cartwright, Ph.D.
Senior Executive Director for Exceptional Student Education, Orlando, FL
Tim Forson
Retired – Former Deputy Superintendent for Operations, St. Johns County School District, FL
Mark T. Porter
Superintendent of Schools, Monroe County School District, FL
To view the interview schedule, visit the SJCSD's homepage at www.stjohns.k12.fl.us and click on the Superintendent Search button. Candidate interviews with the School Board are open to the public and will take place on Thursday, October 6 in the Auditorium of the SJCSD Administrative Building, 40 Orange Street, St. Augustine, 32084. Please refer to the interview schedule for specific times on October 6.
In addition, all employees and community residents are invited to a community reception for the finalists on Thursday, October 6, at 6 p.m. at First Coast Technical College – Building C, 2890 Collins Ave., St. Augustine, 32084.  Attendees will have the opportunity to hear from and meet each of the finalists as well as provide input to the School Board for consideration.
 Proposed School Calendars
The St. Johns County School District is seeking comments on the proposed 2017-2018 and 2018-2019 school calendars at www.stjohns.k12.fl.us/calendar/proposed/. Feedback will be collected through Monday, October 3.
The final proposed calendars must be approved by the School Board.

Cabinet Update
Human Resources
Job Fairs
St. Johns County School District is proud to have offered three different job fairs to assist filling open positions. Last spring, the Teacher Recruitment Fair at St. Augustine High School was held on April 2, 2016. The focus of the fair was to provide interested educators the opportunity to come and learn more about teaching in St. Johns County schools and to talk with teachers, principals, and assistant principals. In addition, candidates had the opportunity to visit several different informational tables where they learned more about the ESE and curriculum departments, professional development, benefits, certification, teacher evaluation, as well as complete their online application. Attendees not only came from throughout Florida, but from Georgia, North Carolina, Maryland, Pennsylvania, Virginia, and Wyoming as well. There were over 15 schools represented with over 175 teaching candidates attending. The department is currently reviewing the numbers to see how many of those who attended were hired in the school district. Based on the fair's feedback form, it was indicated that the job fair truly met their needs. Attendees expressed how grateful they were to have the opportunity to meet face-to-face with administrators.
In June the SJCSD hosted a job fair for support personnel at St. Augustine High School with over 80 attending. There were 42 registered and 43 walk-ins who came in to learn more about the support positions available in the school district. From bus drivers to mechanics, maintenance workers, custodians, food service, extended day and para professionals, interested attendees had the opportunity to speak to transportation, maintenance, and school-based personnel. One of the district's most critical need areas is in transportation, so reaching prospective bus drivers and qualified diesel mechanics was a priority. In addition, face-to-face screening interviews were conducted along with giving individuals time and assistance to complete their online application while in attendance. The job fair yielded some viable candidates for the positions that were open or would become open during the summer months. The job fair was well received and attendees appreciated hearing more about the positions available and receiving job descriptions.
In July, the Fullerwood Center was filled with associate teacher applicants as they attended the first St. Johns County School District Associate Teacher Expo. With over 132 registered attending, school administration teams took advantage of interviewing on the spot to fill current and upcoming associate teaching positions. The event allowed principals and administration teams to have face-to-face interviews with a rotating interview schedule using a ticket method. At the end, principals were able to make their recommendations and over 10 applicants were recommended for positions.
The fairs were overwhelmingly successful as they gave applicants the opportunity to meet face-to-face with school and department administrators and supervisors. The district's recruitment team will be debriefing on each of the fairs held and look forward to hosting future fairs this spring and summer to help fill vacancies in the school system. With the continuous growth the St. Johns County School District is experiencing, this is certainly one way to recruit the best teachers and support staff to work with our students, teachers and administrators.
Enrollment and Hiring
Did you know that the school district is the largest employer in St. Johns County?  This year the district's student population grew to over 38,000 students. The SJCSD currently employs 4,438 employees.  It has been a busy summer for Human Resources as the department worked with schools and departments to hire new teachers, support staff and administrators to meet the demands of the new growth. To date 372 teachers and 207 support personnel have been hired. These numbers include positions where teachers or support staff have retired or resigned.
New Employee Orientations
Each new employee has had the opportunity to attend an orientation session. The first session was held on August 2 at Pacetti Bay Middle School with over 160 attending.  All new employees were invited to attend to learn more about the school district, the curriculum, and receive training on teacher tools they would be utilizing on a day-to-day basis. On September 8, a second orientation was held for those who are new to the district but were hired after August 1, with 44 new hires in attendance. It was a wonderful experience for all new employees as they shared feedback including "Working at an amazing school with supportive staff in the top school district."; "Working with the students and inspiring them academically and personally."; "Growing and learning from great teachers within the SJCSD to improve student growth and achievement."
Employee Health Clinics
The St. Johns County School District has partnered with Marathon Health, Inc. to provide health and wellness services to our medical plan members.  These services are administered at three locations throughout the district, the O'Connell Wellness Center, the Nease Wellness Center and the Pedro Menendez Wellness Center.  The centers are staffed with three medical doctors, a nurse practitioner, two radiologic technicians and four medical assistants.  Marathon Health provides health management services including primary care, acute care, health assessments, lifestyle coaching, and chronic condition coaching.  The Marathon Health model provides participants with a different way to think about health by offering the tools and support to help members take more responsibility for their own wellbeing and healthcare.
On the Horizon
ASSIST Dinner
The Annual Aid and Support to Students in Sudden Transition (ASSIST) fundraising dinner and silent auction will be held Friday, October 14 from 6:30–9:30 p.m. at the Northeast Florida Regional Airport Conference Center to celebrate the perseverance of homeless students and families in St. Johns County schools. The Master of Ceremony will be Heather Crawford, First Coast News Anchor. A $25 donation is requested. To register please visit www.ink-stjohns.org/assist/. For more information call 547.7593 or email [email protected].
Storm Make-up Day
October 17 will be regular school day to make up the school cancellation on September 2. October 17 was originally scheduled as a student holiday and teacher planning day.
Status Report
The Classical Dance Alliance Visits Pedro Menendez High School (PMHS)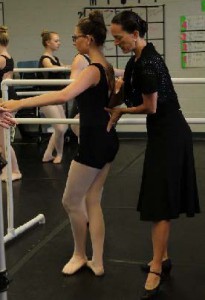 Nikki Angelo, a trained Classical Dance Alliance (CDA) representative, taught at PMHS for the first time earlier this month and will return once a month for the rest of the year. Since 2002, CDA has brought world-class experts directly to the ballet and dance community through teacher's courses, special events and festivals, working year round with many recognized world-renowned specialists in Ballet Pedagogy, Ballet Mastering and the Art of Choreography.  It was Agrippina Vaganova (1879 – 1951) who summed up the efforts of all of the teachers and ballet masters of her time when developing the "Teaching Method of Classical Dance" which most often today is called the "Vaganova Method" or "Vaganova's Teaching Method".  Vera S. Kostrovitskaya (1906 – 1979) was chosen by Vaganova to replace her and working with methods committees continued the classical ballet pedagogical tradition at the highest level. To emphasize and honor the significant contributions of the artists who helped to develop ballet as a fine art form, both before and after Vaganova and Kostrovitskaya, CDA chooses to use the term "Teaching Method of Classical Dance."
Did You Know…?
The Florida Department of Transportation (FDOT) is proud to announce a system-wide update to Florida's 511 Traveler Information System; with a new mobile app, website and phone system geared to enhance the user experience.Florida's 511, the state's official source for real-time traffic and travel information, has added state-of-the-art features across all of its platforms while continuing to provide incident, construction and congestion information on all of Florida's interstates and toll roads, and other major metropolitan roadways.The new, mobile-friendly website features driving directions, point-to-point travel times, and alternate routes, alongside the traffic information to which users are accustomed. FDOT is also introducing weather forecasts and severe weather alerts supplied by the National Oceanic and Atmospheric Administration (NOAA). The innovative new "My Cameras" feature allows registered users to store a list of traffic cameras that provide an important, live look into the conditions along their route.The new Florida 511 mobile app features turn-by-turn navigation, with real-time traffic updates, alternate routes, and improved travel times on roadways, along with all of the added features coming to the new site, while the updated phone system will provide more streamlined call navigation menus, getting you to the information you need more efficiently.Know before you go! Keep Florida moving with the new 511!
Ripley's Believe It or Not is offering all K-12 teachers and district staff free admission to their attractions from September 6-October 16. Participating attractions include Ripley's Believe It or Not! Odditorium, Red Train Tours, Bayfront Mini Golf and Ripley's Ghost Train Adventures. Bring a current pay stub and photo ID to receive free admission. Employee can bring up to five guests who will receive 50% discounts on their admission. 
Flagler College is now taking applications for the Public Administration Degree program. SJCSD employees have a unique opportunity to earn a bachelor's degree.  It is exceptionally affordable, high quality, and conveniently scheduled.  Due to the Florida Resident Access Grant, which you will qualify for by being a Florida resident, total out of pocket tuition for SJCSD employees is only $600 for the entire 2016-2017 academic year.  For students staring in January, it would be $300.  Flagler College offers this opportunity as a community service. Students can complete their bachelor's degrees in just five semesters. The college accepts working professionals from the public, private, and non-profit sectors who have their A.A. or A.S. degrees or who have 60 transferable college credit hours from a regionally accredited college or university. The Public Administration Degree program teaches the subjects and skills needed for success.  For information on our curriculum and faculty, please refer to the program's web page at www.flagler.edu/PAD.
"Win or lose, do it fairly."
~Knute Rockne