SR 9-14-16 Volume 6, Issue 3
The St. Johns County School District announces the schedule of 2017 graduation ceremonies for St. Johns County high schools, St. Johns Virtual School and First Coast Technical College (FCTC).
| | | |
| --- | --- | --- |
| Thursday, January 26 | | |
| 7 p.m. | First Coast Technical College | Bldg. C, FCTC Campus |
| Wednesday, May 17 | | |
| 7 p.m. | St. Johns Technical High School | St. Augustine High School Auditorium |
| Thursday, May 18 | | |
| 4:30 p.m. | St. Johns Virtual School | District Administrative Building Auditorium |
| Monday, May 22 | | |
| 7:30 p.m. | Pedro Menendez High School | St. Augustine Amphitheatre (SAA) |
| Tuesday, May 23 | | |
| 7 p.m. | First Coast Technical College | Bldg. C, FCTC Campus |
| 7:30 p.m. | St. Augustine High School | SAA |
| Wednesday, May 24 | | |
|  3 p.m. | Ponte Vedra High School | University of North Florida (UNF) |
|  7:30 p.m. | Allen D. Nease High School |  UNF |
| Thursday, May 25 | | |
| 3 p.m. | Bartram Trail High School | UNF |
| 7:30 p.m. | Creekside High School | UNF |
Cabinet Update
Operations
District-wide New Construction Projects
Construction of new elementary school "M" in World Golf Village has begun and will be completed for the opening of the 2017-2018 school year. The K-8 schools in Nocatee (KK) and Aberdeen (LL) are scheduled for construction to start this month with projected openings for the 2018-2019 school year. The major expansion project at Allen D. Nease High School is underway and on schedule. Site construction for the new bus loop and two-story building addition is in progress with projected completion for the 2017-2018 school year.
School Sites Running More Efficiently
Upgrades to existing utility management systems have been installed at Ketterlinus Elementary School and Liberty Pines Academy. The installation of these upgraded systems allows the school facilities to run more efficiently saving the district on utility costs. These systems are more cost-effective when powering all HVAC and lighting systems throughout the schools.
School Openings and Site Visits
The Maintenance Department assisted district maintenance managers with preparing their schools for reopening by completing many routine maintenance requests and repairs where necessary. The Preventive Maintenance (PM) teams began their annual two week visits to all sites, beginning with Ketterlinus and Timberlin Creek elementary schools and Landrum Middle School.  In addition to the PM site visits, the maintenance team Peer Review Committee began their site visits on August 24 at Patriot Oaks Academy.
Transportation 
The Transportation Department is currently operating 175 school buses to transport approximately 21,500 student riders each day. Recently the department added 16 new school buses to serve the children of St. Johns County.
Areas of safety with special emphasis for the department include safe bus stop procedures, seat belt use by student riders and increased awareness of young riders, notably kindergarten students. Transportation continues to recruit high quality personnel to serve as bus operators and attendants. Anyone interested in career opportunities with the Transportation Department should contact Mr. Bob Aponte at 547-8814.
On the Horizon
Community Education Classes
SJCSD evening Community Education courses provide convenient, affordable learning opportunities at school locations around the county. New courses are now posted and available at Patriot Oaks and Valley Ridge academies, Osceola and Mill Creek elementary schools, St. Augustine High School, the Lincolnville Excelsior Center and the Fullerwood Center.
Courses include Cooking: Make It and Take It; Microsoft Office; Microsoft Excel; Memory Improvement; Real Estate: For Sale by Owner; Conversational Spanish; All About France; Body Sculpting; Fundamentals of Drawing and Painting; Photography; Sewing; Ashtanga Yoga; Guitar; Clawhammer Banjo and Bluegrass String Band.
Classes begin soon and meet once or twice per week for 1-2 hours and run from 2-8 weeks. The cost is from $8-$10 per class hour. Funds generated by the program help support the host schools.
For information or registration, go to http://communityed.stjohns.k12.fl.us/ and click on courses or call 547-7565 or at 547-7510.
ASSIST Dinner
The Annual Aid and Support to Students in Sudden Transition (ASSIST) fundraising dinner and silent auction will be held Friday, October 14 from 6:30–9:30 p.m. at the Northeast Florida Regional Airport Conference Center to celebrate the perseverance of homeless students and families in St. Johns County schools. The Master of Ceremony will be Heather Crawford, First Coast News Anchor. A $25 donation is requested. To register please visit www.ink-stjohns.org/assist/. For more information call 547.7593 or email [email protected].
Storm Make-up Day
October 17 will be regular school day to make up the school cancellation on September 2. October 17 was originally scheduled as a student holiday and teacher planning day.
Status Report
College and Career Night 2016
The St. Johns County School District held its annual College and Career Night last week in the gymnasium at Pedro Menendez High School. The event offered information and opportunities from the nearly 100 college, career, trade and military recruiters who were present. Hundreds of students packed the gym to see what might spark their interest and start planning for the all important decision of life after high school.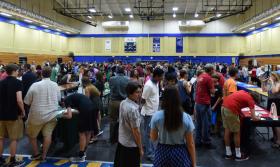 Photo credit: The St. Augustine Record
Arts in Education Week
September 11-17 is National Arts in Education Week. The arts are an essential part of a complete education, no matter if it happens in the home, school, or community. Students of all ages—from kindergarten to college—benefit from artistic learning, innovative thinking, and creativity. Celebrating National Arts in Education Week is a way to recognize this impact and share the message with friends, family, and communities. Proclamation was read at the School Board meeting Tuesday, September 13 in honor of National Arts in Education Week. Learn more at www.americansforthearts.org.
Did You Know…?
Ripley's Believe It or Not is offering all K-12 teachers and district staff free admission to their attractions from September 6-October 16. Participating attractions include Ripley's Believe It or Not! Odditorium, Red Train Tours, Bayfront Mini Golf and Ripley's Ghost Train Adventures. Bring a current pay stub and photo ID to receive free admission. Employee can bring up to five guests who will receive 50% discounts on their admission. 
Flagler College is now taking applications for the Public Administration Degree program. SJCSD employees have a unique opportunity to earn a bachelor's degree.  It is exceptionally affordable, high quality, and conveniently scheduled.  Due to the Florida Resident Access Grant, which you will qualify for by being a Florida resident, total out of pocket tuition for SJCSD employees is only $600 for the entire 2016-2017 academic year.  For students staring in January, it would be $300.  Flagler College offers this opportunity as a community service. Students can complete their bachelor's degrees in just five semesters. The college accepts working professionals from the public, private, and non-profit sectors who have their A.A. or A.S. degrees or who have 60 transferable college credit hours from a regionally accredited college or university. The Public Administration Degree program teaches the subjects and skills needed for success.  For information on our curriculum and faculty, please refer to the program's web page at www.flagler.edu/PAD.
"I speak to everyone in the same way, whether he is the garbage man or the president of the university."
~Albert Einstein