SR 5-2-16 Volume 5, Issue 18
The week of May 2-6 is Teacher Appreciation Week and it gives us the opportunity to thank all our teachers for the continual excellence they put into their craft every day.
Teachers have a special quality that compels them to unselfishly focus on the needs of others.  In doing so, they become true servant leaders.  This service to our children is born from an intrinsic motivation to help others succeed that is hard to explain to those who do not teach.
"Teachers who love teaching, teach children to love learning." ~Robert John Meehan
Inspiring good character and a passion for lifelong learning in all students, the heart of our mission statement, is the common thread I see while visiting schools…teachers shaping young minds and inspiring engaged learning in the children they teach.
To the teachers in our district, including substitute teachers, please know that you have my sincerest gratitude for the profession you have chosen, the work that you do each day and for the love, dedication and support you so selflessly give to our children.
For the rest of us, I ask each of you to take a moment to say thank you to teachers, past or present, who have had a positive impact on your life or a member of your family.
The state of Florida recognizes the month of May as Teacher Appreciation Month.  Schools throughout the county celebrate this observance during the month, with individual schools coordinating their own teacher recognition activities. A proclamation recognizing May 2-6, 2016, as Teacher and Substitute Teacher Appreciation Week will be read at the School Board meeting on Tuesday, May 10 at 9 a.m.
Department Update
Academic and Student Services
ACCOUNTABILITY AND INTERVENTION SERVICES
Exceptional Student Education
The Florida National Deaf Agenda Team has a sub-committee focusing on Transition 14+. The sub-committee is currently working on Transition Lessons Pilot Project and is comprised of program specialists and teachers from St. Johns, Broward and Duval County. It is the task of the committee to match expanded core curriculum skills with transition goals.  Materials from this project will be published as model lesson plans for teachers across the state of Florida and shared at the National Deaf Education Summit.
Michelle Downing, a teacher of the deaf and hard of hearing for the St. Johns County School District (SJCSD), was named the 2016 Florida Deaf and Hard of Hearing (DHH) Teacher of the Year last month by the Florida Educators of the Deaf and Hard of Hearing (FEDHH). The FEDHH is an association that provides a forum for the exchange of current information, teaching strategies and legislature related to working with students who are deaf or hard of hearing.
Michelle was selected from five semi-finalists statewide who were nominated by parents, peers and administrators. The Teacher of the Year was selected by the FEDHH Board of Directors, which is comprised of professionals from across the state in the field of deaf education.
Planning, Accountability and Assessment
FSA Testing
Students completed the writing portion of the Florida Standards Assessment last month. Florida Standards Assessment are currently being administered in reading and math to students in Grades 3 – 10. Testing began on April 11 and will continue until May 6. The computer-based has been going well and schools were able to complete all of the testing to date without any significant technology issues.
The Florida Standards Alternate Assessment, for students with disabilities who are exempt from the Florida Standards Assessment, began February 29 and completed on April 29. This assessment replaces the Florida Alternative Assessment.
This year the state implemented a new assessment for English Language Learners. The assessment is provided by the WIDA Consortium and is called ACCESS 2.0. This assessment replaces the Comprehensive English Language Learners Assessment (CELLA). This test is used to determine how well students who have arrived speaking a foreign language are learning English. The testing window began on February 8 and closed on March 25. Results to be expected to be reported by mid-May.
 The state End-of-Course (EOC) exams in Algebra I, Algebra 2, Biology, Civics, Geometry and US History began on April 18 and will continue until May 13.
The Planning, Accountability, and Assessment Department has been working with teachers from many different subject areas over the past few months. Item analysis reports from last year's tests were provided to teachers and they received training on using the data to make decisions about test items.  Teachers also spent time reviewing content to be used in future assessments. This collaborative process helps ensure that students are tested using the most valid, reliable, and relevant test items.
CURRICULUM AND INSTRUCTION
Instructional Resources and Media Services
"Shrimp Boat City"
The St. Augustine Lighthouse & Maritime Museum recently published the second edition of a book titled "Shrimp Boat City." The book focuses on the historic boat building and commercial shrimping industries here in St. Augustine. A tremendous thank you goes out to the St. Augustine Lighthouse and the Versaggi family for hosting many of the St. Johns County School District media specialists as well as several district office staff and school board members at the historic lighthouse on April 6.  The Versaggi family has generously donated a copy of "Shrimp Boat City" to each school.
Dual Enrollment
Dual enrollment courses allow students to earn college credit while still enrolled as high school students.  Spring courses will end soon and all materials are due back to the Fullerwood Center, located at 10 Hildreth Dr., by May 4 to avoid late fees.  Materials for summer courses will be available for check out beginning May 2. For more information on dual enrollment, please visit www.sjrstate.edu/dual.html.
Instructional Services
Resources for Secondary Students to Prepare for State EOC Assessments or District Final Exams
The district is in the window for state assessments in English language arts and math, eighth-grade science, and EOC exams which count for 30 percent of a student's final course grade (seventh-grade civics, Algebra I, Geometry, Algebra II, Biology and U.S. History).  For courses that do not have a state assessment, district final exams will be given during the last 10 days of school and those will be 5 percent of the second semester grade for middle school students and 10 percent of the second semester grade for high school students.
How can a student prepare?  Teachers will be the first source and guide for students and, in addition, the Secondary Instructional Services Department has year-at-a-glance resources for language arts, math, science, social studies and world languages, grades 6–12.  These pacing guides provide week-by-week topics and resources for parents, students and tutors, and are a great place to identify areas of strength and the possible need growth for students.  They are available at www.stjohns.k12.fl.us/year-at-a-glance/.
Below is a list of additional information on the district website at www.stjohns.k12.fl.us/isse/.
Guide to Algebra I EOC
Guide to Geometry EOC
Guide to Algebra II EOC
Guide to Biology EOC
Summer Algebra Camp
For all students, passing the Algebra I EOC is a graduation requirement.  If you child is enrolled in Algebra I and does not earn a passing score on the EOC this spring, help is available.  Each high school site will offer summer algebra camp to prepare students for a retake of the Algebra I EOC on July 14 and 15.  The program runs 8 a.m. – 12 p.m., Monday through Friday, June 27 – July 15, except July 4. Transportation is provided.  Students who complete the summer algebra camp earn a half credit elective and may qualify for grade forgiveness as well.  For more information, contact your school counselor or assistant principal.
Career and Technical Education
Career Academies
The Career Academies launched a new application system this year to address capacity and demand in the most effective way possible.  Over 2,200 students applied.  Of those, 2,031 students were placed in their first choice district-wide.  There are currently less than 1 percent of students on a waiting list for the programs for which they applied.
The Annual Academy Awards was held on April 14 from 5:00-6:30 at the Fullerwood Center.  Herff Jones was selected as the Business Partner of the Year.  St Johns County Mosquito Control was selected as the Rookie Business Partner of the Year.
Congratulations to Brian Radaker! Mr. Radaker, a teacher at Gamble Rogers Middle School, is the 2016 First Coast Manufacturing Association (FCMA) Teacher of the Year based on his work with Carlisle IT and robotics.
Professional Development
The Professional Development department is planning and preparing for learning and growth opportunities for teachers, administrators, new hires and non-instructional personnel this summer.  On May 31 and June 1, three teachers from each school will participate in a technology training that will cover topics such as Digital Citizenship, Blended Digital Learning, the Technology Integration Matrix (TIM) and Office 365.  Teachers will leave fully equipped to integrate technology into their lessons in order to maximize student engagement when school resumes in August.  The Florida Association of School Administrators (FASA) is partnering with the St. Johns County School District to provide a Leadership Development Day on June 9 for all school-based administrators.  In addition, plans are well under way for the New Employee Orientation on August 2 at Pacetti Bay Middle School where district leaders will welcome all new hires for the 2016-2017 school year as well as provide needed training for a great start.  August 3 is the first official day that instructional personnel will report to work and will kick the year off with a full day of professional development and collaboration. Training opportunities will be held across the district for teachers of all subjects and grade levels.
Educational Support Services
Leadership development and training continues to engage various groups in sessions relevant to the culture of SJCSD and to provide the knowledge and skills applicable to their assigned department within the district.  The 34 participants in the Phase I Leadership Academy recently completed reading "The Truth About Leadership" followed by a book discussion led by Ted Banton, Assistant Principal at Sebastian Middle School and Paula Steele.  In the Phase II, Year 2 Leadership Academy the Assistant Principals have been looking deeper into their understanding of the departments within the SJCSD.  They have also read and discussed "The Principal" by Michael Fullan.  The Phase III and Phase IV mentor/mentees have recently discussed using the book "Strengths Based Leadership" to establish leadership teams at their schools. Next month they will tackle the topic of change and discuss components required to successfully navigate through transitions.  The first year of Leadership [email protected] is coming to a close.  The participants in that group have been exposed to best leadership practices, facilitative behaviors, multi-generations in the workplace and collaboration and communication skills.
Investing in Kids (INK)
The Five Learning Years (FLY) program has completed services in the district's Title I schools impacting VPK and kindergarten students. Resource teachers delivered small group instruction to students in an effort to prepare them for kindergarten or to get them on level with their peers.  Test scores are being evaluated to determine student gains.  By the end of April, FLY will be providing the same instruction to approximately 10-15 children at the Woodlawn Terrace Apartments.  Parent outreach continues in partnership with the St. Johns County Library System.
The Take Stock in Children program recently held its annual Bright Beginnings ceremony.  The celebration was in honor of the eight high school seniors who are graduating with a two-year college tuition scholarship.  Additionally, 30 middle school students were inducted into the program.  Volunteer mentors are being recruited to help these students stay academically focused.
A total of 680 orders from Tools 4 Schools at the Bailey Group Resource Depot were filled and delivered to teachers across the district.  Many thanks to the Bailey Group, the Transitions School students at the Evelyn Hamblen Center, INK staff, and Dennis Cumisky who made this possible.  The site is currently closed for restocking and maintenance and will reopen Monday, August 29.  Eight schools are participating in cleaning out student lockers and donating new or gently used items into the Bailey Group Resource Depot.  A special thank you to Lisa Kunze at Switzerland Point for initiating the locker clean out.
Save the Date!  The annual Boot Scootin BBQ fundraiser is set for Saturday, October 1.  For additional information please contact Donna Lueders at (904) 547-7120 or [email protected].
STUDENT SUPPORT SERVICES
School Services

Hardship Out-of-Zone Transfer Applications

The School Services Department has been reviewing the Hardship Out-of-Zone Transfer Applications received to date.  The online and paper applications are available on the district website at www.stjohns.k12.fl.us/schoolservices/transfers and must be submitted annually.  Parents are encouraged to complete and submit the application as early as possible.  With an average of over 1,800 applications being processed each year, early submissions help to keep the process moving.
The Student Code of Conduct is being reviewed for updates and revisions for the 2016-17 school year.   Suggestions are gathered from district administrators, principals, assistant principals and deans of students, school SAC teams, and the district's legal counsel.
Athletics
The department is presenting programs at all middle and K-8 schools, showcasing interscholastic athletic opportunities for rising ninth-grade female students during April and May. Several of high schools finished up with exceptionally successful sports seasons recently.
Health Services
On March 18 Flagler Hospital hosted an all-day training event for district nurses.  Many topics were covered including asthma in pediatric patients, diabetes in the school setting, drug use in adolescents and youth mental health issues.  The Flagler Life Institute planned the event and awarded each nurse with six Continuing Education Units (CEUs) free of charge to the district.  Flagler Hospital continues to be a valuable partner to the SJCSD Health Services Program.
Student Services
ASSIST
Recently, two students in the Aid and Support for Students in Sudden Transition (ASSIST) program were awarded a $1,000 scholarship each through Somebody Cares at the Carefest fundraiser banquet. The Hilton St. Augustine Historic Bayfront will host the annual ASSIST senior dinner on May 25. Approximately 12 college-bound seniors will receive laptops with software programs donated by the Tesori Foundation.
Your participation will be appreciated at the Patricia Nash Memorial Hillbilly Golf Benefit at the St. Augustine Shores golf course on June 26, 2016. This is a fundraiser for the ASSIST program. Also, purchasing TPC tickets through the ASSIST program will contribute $25 from each ticket to the ASSIST fund. Purchase online at www.chipinforyouth.com/.
Mental Health
Sheriff David Shoar is requiring all St. Johns Sheriff's Office employees to attend a 40-hour Crisis Intervention Training (CIT) program. The Student Services mental health staff is providing the training for the juvenile mental health component. The mental health staff also conducted a training for district bus drivers regarding signs and symptoms of child abuse. Staff participated on the Child Welfare and Behavioral Health Integration team, the Human Trafficking Coalition and the Child Abuse Death Review (CADR) committee.
Our sincere appreciation and thanks goes to the many district employees who are mentoring our at-risk students! We have many more at-risk students in need of a mentor. Please consider mentoring a student and encourage coworkers to participate.
Guidance and Choice

St. Johns Virtual School

In accordance with F.S. 1003.498, F.S. 1001.42, 1002.37 and 1002.45, St. Johns Virtual School (SJVS) offers three full-time and part-time virtual instruction options to all St. Johns County students in grades K through 12 for the 2016-2017 school year.  The SJVS open enrollment period for full-time enrollment and part-time courses for the 2016-17 school year is April 12 to July 11, 2016. To achieve academic success, online students must be self-disciplined, self-motivated, responsible, and ready to accept the challenge of rigorous online course work. Parents must play an active role in monitoring their child's progress and make sure their child maintains a regimented work schedule. While virtual instruction does allow some daily flexibility, students must make progress in each course at an established weekly pace.
SJVS full-time is a program of choice, meaning that students must apply and be accepted for admission. Full-time students must complete a minimum of six courses per semester and comply with all state course standards and assessment requirements.  To learn more about your virtual options and apply to the program, please visit www-sjvs.stjohns.k12.fl.us/ or contact Mr. Michael Eisen at [email protected]

SJVS part-time enrollment options, both during and outside the regular school day are also available. As an additional reminder, all standard policies in the student progression plan, including school-based course request/registration and drop/add policies apply to virtual courses.  To meet learning needs, SJVS is expanding teacher access during the school day, offering greater flexibility including summer courses, and providing enhanced lessons and district  support to help keep students engaged and on track.
If you are considering having your student take a virtual course while enrolled at your current school, please complete the pre-registration survey on www-sjvs.stjohns.k12.fl.us/  and contact your school counselor for advisement and approval.
Student Leadership
Student leadership involvement continues to thrive in St. Johns County.  On April 1, 15 Link Crew student leaders from Allen D. Nease High School (NHS) hosted nine Where Everybody Belongs (WEB) student leaders from Pacetti Bay Middle School (PBMS) for activities and a question and answer session about what high school is really like.  The day concluded with all of the students having lunch together so the middle schoolers could experience a real high school lunch.  This day builds on a December event when WEB leaders from PBMS hosted fifth-grade students from Mill Creek Elementary School in a similar activity.
On April 13, 30 Link Crew leaders from St. Augustine High School (SAHS) and five from NHS joined together to help with the 2nd annual Elementary Olympics.  The SAHS students helped run the events while the NHS students kept the crowd pumped up with free t-shirt giveaways.  All of the students stayed after the event to help clean up the track, stadium and grounds. Thanks to these student leaders for helping to make a successful event.
On the Horizon
Kindergarten Pre-Registration
The upcoming pre-Registration date for the 2016-2017 school year is on Monday, May 9 from 1 – 5 p.m.
The list of required documents can be found on the school district website. Updates and changes have been made to the residency process and can be found at www.stjohns.k12.fl.us/student/residency/.
Elementary Science Technology Engineering and Mathematics Fair
The St. Johns County Elementary Science Technology Engineering and Mathematics (STEM) Fair will be held at Palencia Elementary School on Saturday May 14 from 8-11 a.m.  The purpose of this event is to encourage and celebrate student interest in STEM with the primary goal of promoting student use of STEM to solve real-world problems.  Student representation will be decided at the school level.  Teachers, parents, administrators, and community members are welcome to attend.
Status Report
Florida State Science Fair 
Florida's 61st State Science and Engineering Fair held in Lakeland March 29-31 included 14 projects by St. Johns County School District students. Each of these students, representing three middle and two high schools, took home awards, including categorical awards and special awards. These special awards included college scholarships, monetary incentives or unique opportunities to attend programs such as summer Science Technology Engineering and Mathematics (STEM) camps.
The journey to this highly regarded state event began in January at the St. Johns County Science Fair held on the campus of Sebastian Middle School. Open to all district public, private and home school students, the Science Fair is coordinated by Marna Fox, Secondary Science Program Specialist, and Brian Morgan, Elementary Science Program Specialist.
Elementary Olympics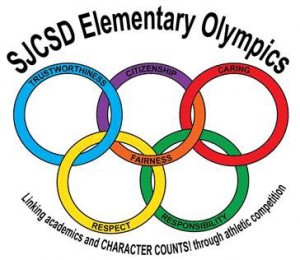 The Elementary Olympics links academics and character education through athletic competition.  Over 200 student athletes representing 20 elementary schools participated in the 2015 inaugural event last year and this year's event was even bigger.
The 2016 Elementary Olympics took place April 13 at St. Augustine High School.  Parents, teachers, administrators, school mascots and community members attended in support of the hard-working students. The "Character Cup" trophy was awarded to Hickory Creek Elementary School for display during the 2016-2017 school year.
 Did You Know…?
St. Johns Cultural Council is pleased to present the St. Augustine Camera Club's (SACC) Fifth Annual Juried Member Photography Show on display in the Rotunda Gallery in the St. Johns County Administration Building.  The exhibit will be on display from May 3 through June 8.  The Administrative Building is open to the public Monday through Friday from 8 am until 5 pm. The opening reception will be at 8:15 a.m. on May 3 prior to the Board of County Commission meeting.  The public is welcome to attend.
Cathedral Parish School is presenting a free community event. Author and speaker Dr. Michele Borba will be speaking on parenting, bullying and character on Tuesday, May 17 at 6:30 p.m.at the Flagler College Lewis Auditorium, 14 Granada St. in St. Augustine. To order free tickets or for more information, visit cpsmicheleborba.eventbrite.com or call (904) 669-4376.
"One of the basic causes for all the trouble in the world today is that people talk too much and think too little. They act impulsively without thinking. I always try to think before I talk."
~Margaret Chase Smith, politician (1897-1995)