SR 3-31-16 Volume 5, Issue 16
National Volunteer Week is April 10-16 and provides the perfect opportunity to thank all those who selflessly contribute their time, talents and skills to our district. During this important week, national, regional and local organizations applaud the efforts of volunteers as well as inspire and encourage people to seek out imaginative ways to engage in their communities. The St. Johns County School District is privileged to have more than 20,500 volunteers who gave nearly 300,000 hours of service last year to help our teachers and students. Our volunteers meet a diverse set of needs that include reading to children, serving as classroom aides, tutoring and mentoring students, chaperoning field trips along with various other activities such as participating in school support organizations. Our school district would not be as successful as it is today without them.
All of our Outstanding Volunteers of the Year will be recognized at a reception being held in their honor on Thursday, April 7 at 6 p.m. at First Coast Technical College. This year's theme is "Volunteers are Superheros!" and is a fitting tribute for the tireless work they perform all year long. Awards will be presented in the senior, adult and youth categories. My heartfelt gratitude to all of our volunteers who support us so fully, I look forward to recognizing your contributions at the reception.
Executive Cabinet Update
Human Resources
Wellness Centers Update
The Human Resources Department continues to work on the transition of the employee healthcare centers to Marathon Health, the new provider.  As the district works through this process, updates will be provided to employees through information on the benefits bulletin board at each school's location, home mailings, and emails from site wellness coordinators.  The locations of the centers will remain the same and scheduling will be more convenient when Marathon Health becomes the wellness center provider. The approach that Marathon Health brings is a focus on wellness and prevention by helping people become active in their own healthcare.  This strategy not only positively impacts medical claims as a whole, but more importantly, helps participants achieve their personal wellness goals.  For more information about Marathon Health and to read stories of people who use their services, please visit www.marathon-health.com/members.
Teacher Recruitment Fair
On Saturday, April 2, the St. Johns County School District is sponsoring a Teacher Recruitment Fair at St. Augustine High School from 10 a.m. to 1 p.m. The focus of the fair is to provide interested educators information on teaching in St. Johns County schools and the opportunity to speak with teachers, principals, and assistant principals from the district. Candidates will also be able to visit with the ESE department, professional development, benefits, certification, teacher evaluation and curriculum specialists.  Assistance with the online application process will also be available.  There are currently over 230 teachers registered for this event from as far away as Maryland, Pennsylvania, Virginia, and Wyoming, as well as Florida, Georgia and North Carolina.
On the Horizon
Kindergarten Pre-Registration
Pre-Registration dates for the 2016-2017 school year are scheduled as follows:   
| | |
| --- | --- |
| Friday, April 8   | 9 a.m. – 1 p.m. |
| Monday, May 9 | 1 – 5 p.m. |
The list of required documents can be found on the school district website. Updates and changes have been made to the residency process and can be found at www.stjohns.k12.fl.us/student/residency/.
Outstanding School Volunteer Reception
The annual reception to honor school volunteers and volunteer coordinators is Thursday, April 7 at 6 p.m. at First Coast Technical College, Bldg. C, located at 2980 Collins Ave. Please contact the Volunteer Services Department at 547-3945 for more information.
Status Report
Jeans Day Fundraiser
On January 26, the St. Johns County School District held its second annual "Love to the Rescue" jeans day. The day's efforts raised $1,825.25 donated to the Shriners Hospital for Children in Tampa.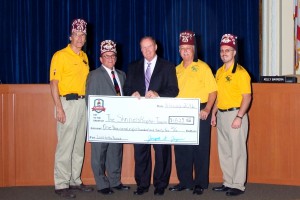 Shriners Hospitals for Children provides specialized care to children with orthopedic conditions, burns, spinal cord injuries, and cleft lip and palate, regardless of their financial situation. More information can be found on their website at www.shrinershospitalsforchildren.org.
School-Related Employee of the Year
Rick Testasecca, Exceptional Student Education (ESE) paraprofessional at St. Johns Technical High School (SJTHS), has been named the St. Johns County School District's School-Related Employee of the Year for 2015-2016. His selection was announced at a reception held last month at the World Golf Hall of Fame Museum. Rick Testasecca has been employed at SJTHS since 2014 where he works with students in grades 6-12. He holds a B.A. in history as well as B.A. in sociology from the University of North Florida and is currently enrolled in the master's program at Southern New Hampshire University. He goes above and beyond in professional development, taking advantage of almost every opportunity to attend trainings. Rick is an extraordinary paraprofessional and possesses a sincere willingness to help students, especially those with special needs. His dedication, caring nature and positive spirit have become evident in his two short years with the school. Not only is Rick vastly knowledgeable in his field, his rapport with teachers and his instant connection with the students he serves has made him an invaluable member of the SJTHS team. Rick's name has now been forwarded to the Florida DOE for consideration at the state level.
Did You Know…?
The St. Augustine Beach Police Department is hosting the first Bike Rodeo for kids 3-15 years of age on Saturday, April 9 from 10 a.m. – 2 p.m. at the St. Augustine Beach Police Department located at 2300 A1A South. Bring your bike, helmet and a parent or guardian for free bike inspections, rider safety introduction and an interactive obstacle and skills course. Goodie bags and free helmets for participants while supplies last.
"If you tell the truth, you don't have to remember anything."
~Mark Twain, American writer (1835-1910)