SR 2-11-16 Volume 5, Issue 13
It was my pleasure to announce Laurie Zentz, a band teacher at Switzerland Point Middle School (SPMS), as the St. Johns County School District Teacher of the Year during an awards banquet, produced by Investing in Kids! (INK), held last month at the Renaissance Resort World Golf Village.
Mrs. Zentz has taught within the district for 20 of her 29 years in the teaching profession. Her classroom management style mirrors her philosophy that "every student is someone's child…handle with care." While teaching band she relates real-world experiences which help her students grasp terms and concepts in a way that reinforces their learning.
Mrs. Zentz walked into the classroom at SPMS in 2011 to a group of 150 students. Over the last five years it has grown to over 400 students making it the largest band program in the county. She has created an environment which works in harmony with her strategies to develop strong fundamentals. She now offers four beginning band classes, four advanced band classes and two jazz ensemble classes.
It is an honor to have Mrs. Zentz representing St. Johns County as our Teacher of the Year. Her dedication is beyond reproach, and she is a model for exemplary teaching throughout the state of Florida.
Congratulations to Maegan Cassel, a third-grade teacher at Cunningham Creek Elementary, who was named the 2016 Rookie Teacher of the Year.
While only in her second year of teaching, Cunningham Creek is not new to her. It's where she went to elementary school and where she interned while studying at the University of North Florida. Her teaching philosophy is that comfort and trust lead to success, often requiring students to work with a partner or small group to work through questions.
"When they are randomly partnered, they are required to show respect by facing their partner, giving them eye contact, and speaking in complete sentences to create conversation, even when that wouldn't have been the partner of their choice," she wrote in her application. "The respect that each individual gives their partner allows them to feel more open to speaking about their ideas and personal connections." In her spare time, she volunteers for her church, where she has assisted in starting a Saturday evening service focusing on younger adults and families.
This is the ninth year of the rookie competition, in which eligible teachers must have taught fewer than three years.
The theme for this year's Teacher of the Year and Rookie Teacher of the Year celebration was "Teachers are out of this world: A Stellar Celebration." The guest speaker was former astronaut Jon McBride.
Executive Cabinet Update
Academic and Student Services Update
ACCOUNTABILITY AND INTERVENTION SERVICES
Exceptional Student Education
On December 16, teachers of the visually impaired hosted a roundtable discussion to address current events, issues and solutions.  The topics addressed included Unified English Braille, Goalball, Division of blind services (DBS), Vision Education and Rehabilitation Center at FCCJ (VERC), and Camp Abilities. In addition to St. Johns County, several other districts and service providers participated including Duval, Marion, Nassau, Flagler, Clay counties; The Florida School for the Deaf and the Blind; Vision Education and Rehabilitation Center; and the Division of Blind Services.
On December 17, teachers of the Deaf and Hard of Hearing (DHH) organized and hosted the Second Annual Northeast Itinerant Roundtable.  Teachers for the DHH came together to collaborate on innovative teaching strategies, challenges, technology and state mandates involving DHH students.  Participating districts and service providers included St. Johns, Duval, Marion, Nassau, Flagler, Putnam, Clay, Baker counties; Resource Materials and Technology Center: Deaf and Hard of Hearing Outreach Services for the Deaf and the Blind; and Florida Educators of the Deaf and Hard of Hearing.
The DHH program for St. Johns County is hosting the first "The Deafinition" vocabulary contest on May 5.  This contest is open to all middle and high school students who are deaf or hard of hearing in St. Johns County, surrounding counties and The Florida School for the Deaf and the Blind.  The competition is an excellent opportunity for the students to increase their knowledge of vocabulary words found in each subject area as well as in the community.  The students are already studying their word lists and are very excited to meet, interact and work with other students from various schools.
Planning, Accountability and Assessment
School Advisory Council Surveys
Each school in the district has a School Advisory Council (SAC). A SAC is a team of people representing various stakeholder groups who work together to improve the school. SAC team members are diverse including parents, teachers, students, administrators, support staff, and community members. SAC teams meet once per month to review the budget, discuss school updates and plan for the future.
SAC surveys are now posted for parent, students, and faculty/staff responses through March 31. SAC surveys contain 15 common district questions plus additional questions developed by the school's SAC. Survey data is valuable in steering the direction of the school and it is used to help develop each school's School Improvement Plan.
Please visit your school's SAC website or contact your school's SAC chairperson for more information about the SAC and the 2015-2016 SAC survey.
Early Warning Systems
Schools who serve students in grades 6-8 review student progress periodically and focus on assisting those who show early warning signs including an attendance rate of less than 90 percent; one or more suspensions; course failure in English Language Arts (ELA) or Math, and/or Level 1 score on the ELA or math statewide assessment. Parents of students who show two or more of these early warning signs are encouraged to talk to their school about developing a plan for assistance. Addressing and minimizing these risk factors increases the likelihood of on-time graduation and preparedness for the future.
The Assessment Department is currently preparing for the Infrastructure Trial on the AIR testing platform and getting an early look at the upgraded Pearson system, "Pearson Next", for the NGSSS testing.
The schools will be testing their first year English Language Learners next month using the WIDA ACCESS 2.0. This is a new assessment designed to tell us where a student is in the English learning process. WIDA ACCESS 2.0 replaces the Comprehensive English Language Learner Assessment used in the past. School testing coordinators have been training with the new assessment materials this month.
Discovery Education assessment window c opens next week for the optional progress monitoring of elementary and middle school students in reading and math.
Federal Programs
WIDA ELD Standards Framework and ACCESS for ELLs 2.0 test
The state of Florida adopted the World-Class Instructional Design and Assessment (WIDA) English Language Development (ELD) Standards Framework to help promote the social, instructional, and academic language English Language Learners (ELLs) need in order to be successful in engaging with peers, educators and the curriculum.
To assess students' growth within the four domains of language (listening, reading, speaking, and writing), ACCESS for ELLs 2.0 and Alternate ACCESS for ELLs, which aligns with the WIDA ELD Standards, will be administered to students February 8 – March 18.
Shameka Gilyard, Program Specialist, and David Burns, ESOL teacher, have been providing training of the standards district-wide and providing support to school staff and teachers of ELL students. Mr. Burns continues to provide dynamic language acquisition lessons through the content areas using the WIDA ELD Standards Framework to promote the social, instructional, and academic language of ELL students.
CURRICULUM AND INSTRUCTION
Instructional Services Elementary and Secondary Education
Elementary
Planning for the district Summer Reading Program is currently taking place. The program will be available to students in kindergarten through third grade who meet the requirements.
The dates and times of the program are:
June 6-July 8, 8 a.m.-noon, Monday-Friday; closed on July 4.
Additional information, including locations and job postings, will be shared as soon as possible.
Secondary
Students enrolled in Algebra I will take the Florida Standards End-of-Course (EOC) assessment this spring.  Earning a passing score on the EOC is a graduation requirement.  Students who do not earn a passing score are encouraged to attend the Summer Algebra Program, offered at each high school, June 27 – July 15 (except July 4).  Students will attend 8 a.m. to noon and transportation will be provided.
Career and Technical Education
February is National Career and Technical Education Month.  The High School Showcase held January 21 hosted 3,000 parents and students who were exploring their options for high school.
Instructional Resources and Media Services
Media Services is proud to announce that Kate Neff, Media Specialist at Pedro Menendez High School, was recently awarded the Florida Power Library Award at FAME.  Lorraine Cosgrove, Media Program Specialist, received the Florida Association of District Instructional Materials Administrator's Outstanding Leadership Award. Please join us in congratulating these staff members on their accomplishments.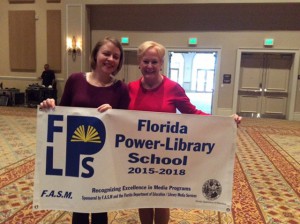 The School Board has approved the instructional materials for the 2016 adoption cycle.  The list of materials is now available on the district website at www.stjohns.k12.fl.us/media/textbooks/adoption/.  Parents of currently enrolled students are encouraged to review the materials being recommended by the adoption committees. The Instructional Resources and Media Services Department can be reached at (904) 547-3947.
Professional Development
The Professional Development department coordinated a district in-service day on February 5 with over 170 training and learning opportunities offered. All teachers and many staff members participated in professional development designed to positively impact student achievement and character development.  Using teacher collaboration, as well as experts in the field of education, and highly skilled local educators as facilitators, the in-service allowed educators the opportunity to engage in meaningful learning that enhances professional growth and provides the tools to meet the continually changing needs of students.
EDUCATIONAL SUPPORT SERVICES
Strategic Planning
The St. Johns County School District's current Strategic Plan is being revised and updated for 2016-2021.  On January 11, the Strategic Planning Team met to begin the formation of the new Strategic Plan.  Much of the discussion was based around questions for a survey that was launched on Tuesday, January 26 to students, teachers, administrators, parents, community members and focus groups.  The survey ended on February 2, and the responses returned will provide excellent feedback on the direction and path of the 2016-2021 Strategic Plan.
Leadership Academies
Each of the district's Leadership Academies leadership groups (Phase I, Phase II, Phase III, Phase IV and Leadership [email protected]) have been engaged in learning more about the SJCSD, completing self-assessments, applying effective communication skills in tabletop activities, and reading and discussing leadership books.  An integral part of the sessions has been presentations by key department leaders.  The associate superintendents along with staff members have helped the participants understand more deeply the functions of the department they represent.
In Leadership [email protected], the department leaders have led sessions on communication skills, leadership and management characteristics, ethics in the workplace, and facilitative behaviors.  Participants meet fellow staff members who they may not interact with on a daily basis.  In Phase III and IV, the mentees and mentors have participated in focused discussions on creating strong leadership teams at their schools.  Ideas have been shared and content related to the Deliberate Practice was chosen for the administrators.
All of the leadership learning sessions provide an opportunity to build connections among people within the district that will continue to foster the SJCSD culture.
STUDENT SUPPORT SERVICES
School Services
Hardship Out of Zone Transfers
Principals will be distributing a letter to parents regarding the 2016-2017 Out-of-Zone Hardship Transfer Process.  The Hardship Out-of-Zone Transfer Application for 2016-2017 will go live in mid-February on the School District website at www.stjohns.k12.fl.us/depts/schoolserv/transfers.  There are no changes for the attendance zones for the upcoming school year.
School Safety
Annually, schools review and update emergency operations plans and hold meetings of safety team committees.  Schools practice with lockdown drills and each school reviews its evacuation procedures.  The district continues to work closely with local law enforcement to improve emergency preparedness, communication and enhancing safety for all students and staff.
Athletics Department
Congratulations to all of our fall and winter sports teams for successful seasons.  At the end of the fall season, state championship titles were earned by the Bartram Trail High School Girls Swim Team, Creekside High Boys Cross Country and Boys Swim teams, and the Ponte Vedra High Boys Golf Team.
The spring sports season will soon be underway at the high schools.  Look for spring schedules for baseball, tennis, lacrosse, track/field, softball and weightlifting on each high school's website.
Health Services

Flagler Hospital's Life Institute is planning an upcoming in-service day for school nurses which will cover everything from immunization requirements to school emergency response.  The training will be a full day and the nurses will receive continuing education credit at no cost to the district.
Student Services

Due to agreements with multiple mental health providers, the district is currently providing school-based mental health therapy to over 75 students. This collaborative effort with community providers has allowed the district to assist students with coping mechanisms, anger management skills, and other challenges that often interfere with a student's ability to learn.
Over the holiday season, 65 food baskets were distributed to families in need. There were 195 at-risk families, including 542 children, able to enjoy holiday gifts due to the district's partnership with Firefighters for Families. Additionally, 42 families (128 children) received gifts due to assistance from school district employees, SJEA, Board of Realtors, Pirates of St. Augustine, Coldwell Banker Premier Properties, the Hilton Hotel, and many other local individuals. Our sincere gratitude is extended to all who assisted our families!
College tours are scheduled in February and March for high school seniors who qualify for the ASSIST program. These students will visit St. Johns River College, First Coast Technical Institute, Jacksonville University, and the University of North Florida.
Guidance and Choice

St. Johns Virtual School (SJVS)
In an effort to meet the growing demand for virtual courses, SJVS has developed an online virtual course request for all students who want to take courses this summer or beginning next school year. Completing the pre-registration allows the SJVS team to ensure that students can have their virtual course approved by their school counselor and have an instructor ready from the first day of school.   Enrollment information and links to the request form can be found at www-sjvs.stjohns.k12.fl.us/register/.
St Johns Virtual School, in partnership with St Johns Technical High School, has established a new National Honor Society chapter. This program provides an additional opportunity to encourage academic achievement and service while developing leadership skills in students.  Currently, there are eight students from St. Johns Technical High School and nine students from St. Johns Virtual School in the membership.
Student Leadership

Character Education
The Community Relations department presented CHARACTER COUNTS! (CC!) at a PACT "Lunch n' Learn" last month.  The presentation detailed the importance of the CC! initiative in our community and how this program is relevant for students of all ages as well as businesses and organizations.  More CC! presentations have been scheduled throughout the community and at the Florida School Health Association Conference.
Switzerland Point Middle School (SPMS) is starting a B6 Club under the leadership of teacher Sheri Worth. The B6 Club is a review the Six Pillars of Character and how they can be applied in middle school.  The students take ideas and create school-based activities as well as community projects.  SPMS joins Fruit Cove Middle School and St. Johns Technical High School as schools hosting B6 Clubs.
The department is close to completing work on a "Link Crew/WEB" video highlighting these student-to-student mentoring programs at the district's middle and high schools.
WEB students at Pacetti Bay Middle School hosted fifth-grade students from Mill Creek Elementary for a day of discussion and activities about middle school.  The fifth graders are part of the Mill Creek "LEADS" program where students work on the daily news program and mentor other students.  The WEB students answered questions, played games and generally served to demystify middle school and help the elementary students understand that the same good habits that led them to success in elementary school will continue to serve them in middle school.
Finally, the Pillar Patrol and CC! the Pillar have recently visited Valley Ridge Academy and R.B. Hunt Elementary School.
On the Horizon
History Fair
The History Fair is an excellent and exciting academic competition that enhances the teaching and learning of history in the secondary schools.  Students who participate develop intellectual, personal and practical skills that will serve them throughout life.
This year's theme is "Exploration, Encounter, Exchange in History."  Students in grades 6 – 12 conduct research using primary and secondary sources on topics related to the theme and present their findings in a historical paper, exhibit, documentary, performance or website.
The District History Fair will be held at First Coast Technical College on Tuesday, February 23 from 8 a.m.-12:30 p.m. First- and second-place district winners in each category and division have the opportunity to advance to the state contest in Tallahassee in May. Similarly, first- and second-place state winners in each category and division earn the right to represent Florida at the National History Day competition in College Park, Maryland in June.
Kindergarten Pre-Registration
Pre-Registration dates for the 2016-2017 school year are scheduled as follows:   
| | |
| --- | --- |
| Thursday, March 10 | 1 – 5 p.m. |
| Friday, April 8   | 9 a.m. – 1 p.m. |
| Monday, May 9 | 1 – 5 p.m. |
The list of required documents can be found on the school district website. Updates and changes have been made to the residency process and can be found at www.stjohns.k12.fl.us/student/residency/.
Status Report
Science Fair Winners
The 2015-2016 St. Johns County Science Fair was held at Sebastian Middle School on January 20.  Top honors for best overall in the Senior Division went to Brighton Ancelin, Creekside High School, for his project "Logical Levitation: Achieving Magnetic Levitation via Computational Feedback Loop" and Adam Snowden of Ponte Vedra High School for "Producing a Modified, Capacity-efficient Adeno-associated Virus Vector Using a Surface Bonded Green Florescent Protein to Visualize Infection in Multiple Cell Types."
Taylor "TJ" Kaminsky of Alice B. Landrum Middle School won top honors for best overall in the Junior Division.  TJ's project was titled "The Realignment of Circadian to Ultradian Rhythms in Arabidopsis Thaliana: An Investigation into Monophasic vs. Polyphasic Photoperiods."
Approximately 100 science projects represented by 125 participants were showcased at the St. Johns County Science Fair. This annual academic competition is designed to challenge students to meticulously apply science process skills and content knowledge in order to investigate scientific questions of their own choosing. Participants also experience the importance of practicing science ethics and responsibility on a personal level.
Fifteen students representing five St. Johns County schools will attend the Florida State Science and Engineering Fair in Lakeland, March 29-31. The participants are TJ Kaminsky, Landrum Middle School; Madison Toonder, Ponte Vedra High School (PVHS); Cassia Wang, PVHS; Brighton Ancelin, Creekside High School; Adam Snowden, PVHS; Joseph Parimucha, Pacetti Bay Middle School; Miuru Warusawithana, Patriot Oaks Academy, Rishabh Singh POA; Yooree Ha, PVHS; Abhimanyu Ahuja, PVHS; Gabriela Ramirez, PVHS; Ariana Genovese, PVHS; Chase Lendry, PVHS; John Molm, PVHS; Cullen Smith, PVHS.
Brighton Ancelin and Adam Snowden will represent St. Johns County Schools at the International Science and Engineering Fair in Phoenix, Arizona in May.
The Science Fair winners will be recognized at the School Board meeting on Tuesday, March 8 at 9 a.m.
Did You Know…?
St. Johns County School District employees have a unique opportunity to earn a bachelor's degree through the Public Administration Program at Flagler College.  It is exceptionally affordable, high quality, and conveniently scheduled.  Thanks to the Florida Resident Access Grant (FRAG), which all Florida residents qualify for, the total out-of-pocket tuition for the 2015-2016 academic year was only $550.  Tuition is expected to be similar for the 2016-2017 academic year.  Flagler College offers this opportunity as a community service, and it allows students to complete their bachelor's degree in just five semesters. The college accepts working professionals from the public, private, and non-profit sectors who have an A.A. or A.S. degree, or who have 60 transferable college credit hours from a regionally accredited college or university. For information on the curriculum and faculty, or to register, please visit www.flagler.edu/PAD.
"Nice words are free, so choose ones that please another's ears."
~Vietnamese proverb