SR 4-6-15 Volume 4, Issue 18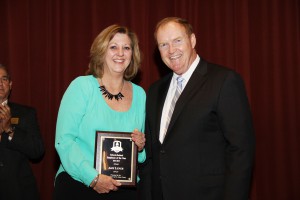 Congratulations to Amy Lynch, school nurse at Liberty Pines Academy (LPA), who was named St. Johns County School District's 2014-2015 School-Related Employee of the Year. Her selection was announced at a reception held last month at the World Golf Hall of Fame Museum.
Ms. Lynch was selected from 42 nominees for her exemplary job performance, dedication, interpersonal skills, leadership ability and training to upgrade skills as well as her contributions to individual schools and the district office.
She has been employed as the school nurse at LPA for four years and possesses a sincere willingness to help students and staff. Attention to detail and maintaining proper information is paramount to Ms. Lynch so that she is able to provide the students she serves with the appropriate care. She recently researched and developed stock epinephrine guidelines for the treatment of life threatening allergies which is now under consideration by the School Board. She is an advocate for healthy living and helped to develop new initiatives at LPA as well as educate parents, students and staff on these.
I would like to extend my congratulations to all of the 2014-2015 School-Related Employees of the Year who were selected from each of the district's 36 schools, along with five district representatives and one charter school. School-related employees enhance the educational experience for the children whose lives they touch, and they are essential to the successful operation of a school or school district office.
These nominees were chosen for the significant contributions they have made in their schools and community, and to the school district as a whole. Criteria for the award includes exemplary job performance, dedication on the job, interpersonal skills, leadership ability, in-service/training to enhance skills and contributions to the school and school district environment.
Thank you all for your dedication and service to our students, administrators, parents and communities; you are truly one of our district's greatest assets.
To see a list of all of the nominees, please visit www.stjohns.k12.fl.us/press/2015/03/09/2014-2015-school-related-employees-of-the-year/.
Executive Cabinet Update
Information Technology
Lync Collaboration Suite
Availability:  Sometimes referred to as presence, enables users to easily find and chat with staff anywhere and anytime, with less interruption to their ongoing tasks or surroundings.
Easy file sharing:  Aside from instant messaging, Lync can send documents and pictures back and forth with users in an instant messaging session.
Desktop sharing:  Lync allows staff to share their Windows desktop, images, videos, websites, and documents; enhancing collaboration on any project and improving efficiency. Users can also control whiteboard documents, graphical annotations, illustrations, and PowerPoint presentations in real-time.
Video conferencing:  Lync provides staff with the option to quickly create face-to-face meetings, much like its counterpart Skype.
More information about Office 365, Lync and OneDrive can be found on the district's Office 365 website at http://www.stjohns.k12.fl.us/office365/. Tutorials and documentation for Lync and OneDrive are available at the top right corner of the website.
New District Website
The new district website was launched on March 31.  New features include:
Home Page Slideshow: Important news and events will now be highlighted in a slideshow on the home page and updated on a regular basis.
New Navigation Menus: The top navigation bars have been revised based upon a year of website traffic statistics to ensure that visitors can easily access the most often viewed content.
Mobile-friendly Design: The new site has been built with a responsive site design which will automatically reformat itself to look nice on variety of devices including desktop computers, tablets and smartphones.
1:1 Digital Pilot Update
Phase 2 of the 1:1 Digital Pilot is planned for next year.  This phase includes adding more grades to the pilot schools. This project entails the acquisition, configuration and installation of approximately 600-650 student computers.   The primary student laptop model being used is the Lenovo 11e that has been designed for education.  The Digital 1:1 Pilot is proving to fulfill the program vision which is to provide students with opportunities to be engaged in a technology-rich environment that enhances teaching, fosters learning and develops essential life skills for all students.
On the Horizon 
Outstanding School Volunteer Reception
The Outstanding School Volunteer and Volunteer Coordinator Reception will be held on Thursday, April 9 at First Coast Technical College. This event honors the more the 10,000 outstanding volunteers who contribute over 200,000 hours of volunteer service each year. Volunteer activities include mentoring, tutoring chaperoning, fund raising and much more. The district Outstanding Volunteers in three categories — Youth, Adult and Senior — will be announced at the reception along with the school Parent Involvement Awards.
American Youth Character Awards Banquet
The annual American Youth Character Awards Banquet will be held on Thursday, April 30 at 6 p.m. at Anastasia Baptist Church. This event recognizes high school juniors and seniors throughout the county who have been nominated by their schools for displaying the Six Pillars of Character — Citizenship, Responsibility, Fairness, Caring, Trustworthiness and Respect — in their daily lives. Also, two students will be awarded special scholarships, the David Macaulay Mathis Memorial Pursuing Victory with Honor Award for displaying character on the athletic field and the Tucker McCarty Memorial Scholarship for exuding good character in an effort to make the world a better place.
Status Reports
2015-2016 Instructional Materials Adoption
The St. Johns County School District (SJCSD) will hold a parent review on Thursday, April 16 in the auditorium of the Fullerwood Center located at 10 Hildreth Drive, St. Augustine, from 1-6 p.m. for the consideration of adopting textbooks on certain subjects. The student editions will be on site to examine, and cards may be filled out by parents with questions and feedback on the materials. SJCSD staff will be available from 1-5 p.m. and the content area specialists will be available from 5-6 p.m.
For additional information, please visit the website at http://blogs.stjohns.k12.fl.us/media/textbooks/instructional-materials-adoption-page/.
Did You Know…?
The St. Augustine Barnes & Noble Booksellers Educator Discount Days are April 11-19.  Come in with your Educator Discount Card and save 25 percent off classroom and personal items.  To obtain the discount card, please bring in your current school ID or paycheck stub and valid driver's license.
"It is your response to winning and losing that makes you a winner or a loser."
~Harry Sheehy, athletic director