SR 3-9-15 Volume 4, Issue 16
March is Arts in Education month, a time to recognize the outstanding music, theater and art programs within our schools. Many schools will be participating in district and state visual and performing arts activities, so be sure to check with your school regarding upcoming arts celebrations and events.
The St. Augustine Art Association is presenting the 10th annual All-County High School Art Show March 6-29. Art teachers in all district high schools selected a combined total of 150 student works of art for the exhibit. The materials range from experimental digital media and graphite studies to abstract pottery and sculptural assemblages. Installed by teacher Rebecca Williams and coordinated by St. Johns County Fine Arts Program Specialist Tommy Bledsoe, the exhibition is being judged by Cable Spence, an artist, musician and Advisory Board member of the St. Augustine Art Association. The student winners will be recognized at the April 14 School Board meeting.
Our thanks to the St. Augustine Art Association, who is the partner and co-sponsor of this event as well as for the upcoming All-County Middle School Art show in April. Congratulations to all the dedicated teachers and students who participate in these incredible displays showcasing the many talents of our students.
Please be reminded that the St. Johns County School District is holding early registration for children entering kindergarten and students new to St. Johns County and/or public schools on the following dates:
Thursday, March 12 from 1-5 p.m.
Wednesday, April 15 from 9 a.m.-1 p.m.
Friday, May 8 from 1-5 p.m.
To be eligible for public kindergarten in St. Johns County, children must be 5 years old on or before September 1 and must reside in St. Johns County. To register for first grade, children must be 6 years old on or before September 1 and have documentation of successful completion of kindergarten.
Parents must register children at the school where they are zoned for the 2015-2016 school year. Three proofs of residency must be provided such as a current mortgage statement, lease or rent agreement and two other forms of residency documentation such as a current electric bill, car registration and/or driver's license. Additional information on residency and guardianship as well as a link to the Attendance Zone Locator can be found on the website at www.stjohns.k12.fl.us under "Featured Links."
Florida law requires any student entering a Florida school for the first time to show proof of required immunizations documented on the HRS Form 680. Proof of a physical examination that has been obtained within one year prior to enrollment in school is also required. Physical examinations can be performed by either a private physician or by the county health department.
Voluntary Pre-kindergarten (VPK) early registration will also take place at select schools on the above dates and times. The St. Johns County School District VPK offers a high-quality early childhood education program with small class sizes and degreed teachers with certification in disabilities.
Children applying for the VPK program must be 4 years old on or before September 1. The SJCSD offers full-day VPK at the following locations: The Webster School, John A. Crookshank, Cunningham Creek, Ketterlinus, Otis Mason, Mill Creek, Ocean Palms, Osceola, PVPV/Rawlings, South Woods, Timberlin Creek and Wards Creek elementary schools. Osceola and Crookshank elementary schools as well as The Webster School are expanding their VPK programs to include more students. For additional information on VPK, please contact Early Childhood Services at 547-4897.
Students can be registered during the spring and summer for the 2015-2016 school year, however; parents are encouraged to register during the designated dates above so that schools can adequately prepare for the new school year. Additional information regarding registration and school attendance zones may be obtained from the Student Services Office at 547-7598.
Executive Cabinet Update
Business and Fiscal Services
Accounting and Payroll
The payroll department is in the process of offering substitute teachers and substitute bus drivers enrollment in direct deposit through Employee Online. Currently, these employees are paid by a check that is mailed to them on payday. Substitutes who choose direct deposit will receive their pay electronically in their bank account on payday and can also view their direct deposit information online in SunGard. We anticipate providing this service within the next several months.
In addition, the payroll department is working on processing absences from the district's substitute tracking system (SmartFind) to Timecard Online in SunGard. This will assist teachers with their time card online submission in the upcoming school year.
Budget
Budget Department staff is now working on the new school year by preparing school staffing worksheets to be sent out to principals. The department is also formulating budget documents for all district departments. All school and department budget meetings are scheduled to begin on April 13 and conclude on May 14.
Food and Nutrition Services
It is just past the mid-point of the Healthy, Hunger-Free Kids Act and the Smart Snacks Rule implementation. This rule affects all foods sold in schools. Students who purchase school meals are consuming less sodium and less fat while enjoying more whole grains, fruits and vegetables. Training, reorganization, field support and monitoring students' preferences have been key factors in meeting goals so far this year. Although the district has experienced a philosophical shift in its Food and Nutrition services, it continues to maintain financial stability. The entire food service staff has worked very hard to continue providing quality service for its customers. In light of these efforts, the Food and Nutrition Services Department is very proud to have four School-Related Employees of the Year representing food service.
Purchasing
The Purchasing Department recently released a Request for Proposal (RFP) for an exclusive beverage provider. Results will assist the district in providing a wide variety of flavored and non-flavored waters, fruit juices and carbonated beverages, all within the USDA's Smart Snacks in School nutritional standards, to students and staff. Members of the purchasing, food service, accounting and budget departments as well as a school principal will participate in the evaluation process.
On the Horizon
School-Related Employee of the Year
The 2014-2015 School-Related Employees of the Year have been selected from each of the district's 36 schools, along with five district representatives and one charter school. School-related employees enhance the educational experience for the children whose lives they touch, and they are essential to the successful operation of a school or school district office. A district-wide screening committee has reviewed all of the candidates and the winner of the St. Johns County School-Related Employee of the Year will be announced at a reception to honor all of the nominees on March 26 at the World Golf Hall of Fame Museum. The St. Johns County nominee's name will then be submitted to compete at the state level.
Status Reports
Shriners Hospital Jeans Day
St. Johns County School District teachers and staff recently participated in a Jeans Day to benefit Shriners Hospitals for Children and raised over $1,600! Shriners Hospital is helping district employee Miriam Testasecca with treatment for her granddaughter, Lyla, for infantile scoliosis.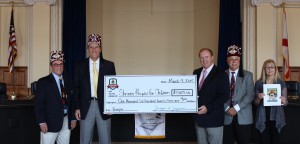 The first Shriners Hospitals for Children opened in the 1920s and were established primarily to care for children who had contracted polio and have helped nearly 1 million children since. Today, there are 22 Shriners Hospitals for Children in the U.S., Canada and Mexico providing care for children with orthopaedic conditions including clubfoot, hip disorders, limb deficiencies and deformities, scoliosis, and orthopaedic difficulties related to cerebral palsy and other neuromuscular conditions as well as burns, spinal cord injuries, and cleft lip and palate. Admission is based solely on medical need. All children under the age of 18 are eligible for care if there is a reasonable possibility they could benefit from the specialized services available. All services are provided regardless of a patient's ability to pay.
Did You Know…?
The Durbin Creek PTO recently hosted "Space Night." It was truly a memorable event for all attendees. Families enjoyed an evening that included a laser light show, "space" themed crafts, bounce houses, the book fair, and a special science show with Ms. McMandon as the assistant! Thank you to everyone who supported the PTO and attended this event.

NSJC Young Life invites you to join us for the 5th Annual Young Life* Race for Kids 5k Glow Run at 7p.m. on Friday, March 27 at 895 Palm Valley Road, Ponte Vedra Beach. This fun walk/run will bring families and the entire community together to support teenagers in the local area by helping fund Young Life's weekly club meetings, sending kids to camp and other special events. Register for the 5k Glow Run for $35 by visiting http://northstjohnscounty.younglife.org. Sponsorship and in-kind donations are still welcome but call quickly for business and sponsor recognition. Please join us for the post-race celebration with food trucks, movie on the lawn and fun for everyone! *Young Life is a non-denominational scripture based mission of Christ centered people committed to reaching adolescents in our community with the Gospel of Jesus Christ. Visit www.younglife.org for more information.
"A lie has speed, but truth has endurance."

~Edgar J. Mohn, author