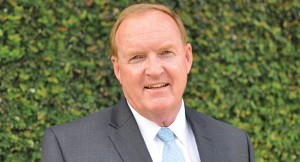 Dr. Joseph G. Joyner has been Superintendent of Schools for the St. Johns County School District (SJCSD) since July 1, 2003. He is the third appointed superintendent of the most rapidly growing school district in the state.
The St. Johns County School District is one of only five school districts in the state to earn an "A" for more than 10 consecutive years. High school graduates rank well above the state average in readiness for college and the district's most recent school accountability scores were the highest in the state. For the last six years, the school district has also been the highest performing in the state based on FCAT scores.
Under Dr. Joyner's leadership, the SJCSD has continually ranked among the top districts in the state in the percentage of money spent on the classroom and has several nationally recognized model high school academies. He also initiated the first Pursuing Victory with Honor program in the state which incorporates character education into athletic programs.
Dr. Joyner is an advocate for academic achievement and believes that in order to accomplish this, the focus must remain on the individual needs of every student. He remains very active in legislation impacting education and has served on numerous committees to promote change. In 2007-08, he served as President of the Florida Association of District School Superintendents (FADSS) and continues to serve on their board. In 2009, he was selected as the Florida Superintendent of the Year by FADSS.
Dr. Joyner is very involved in the community and received the 2009 Gus Craig Award from the Salvation Army in recognition of his community service. He serves on the boards of the PACT Prevention Coalition, the St. Johns County Education Foundation, St. Francis House and United Way and was recently appointed to the Flagler College Board of Trustees. He is also an active member of the Rotary Club of Historic St. Augustine.
Dr. Joyner attended Florida State University on a football scholarship and holds masters and doctoral degrees from the University of Central Florida (UCF). He was selected as a UCF Outstanding Alumnus for 2005 and as an Alumnus of the Decade in 2007.
His wife, Susan, is a third-grade teacher at W.D. Hartley Elementary School. She has been teaching for 38 years and was named Teacher of the Year for Orange County in 1989. The Joyners have been married for 39 years and have two daughters, both teachers, and three grandchildren.