New Principal Selection for Julington Creek Elementary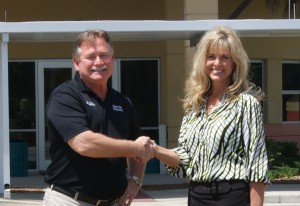 Allison Olson, principal of Bear Canyon Elementary in Highlands Ranch, CO, has been selected by Superintendent Dr. Joseph Joyner to be the principal of Julington Creek Elementary (JCE).  Her nomination was presented to the St. Johns County School Board at their May 12 meeting.
Olson will replace Michael Story, who is retiring at the end of this school year after 10 years with the St. Johns County School District.
"Ms. Olson is a strong instructional leader who is focused on building relationships with the staff and community," said Superintendent Dr. Joseph Joyner.  "After carefully reviewing the profile developed by the Julington Creek family, it was very clear to me that she is a perfect match for the school."
Olson has more than 27 years in education in Salt Lake City, UT; Spring Valley, CA Stafford, VA; and several areas in CO. Throughout her career she has served as a teacher at both the elementary and middle school levels; an assistant principal and a principal. Under her leadership at Bear Canyon Elementary the school was the recipient of the John Irwin Award for Academic Excellence and the Governor's Distinguished Award for Student Growth, both for three consecutive years.
"I am honored and excited to be joining the St. Johns County School District family and to serve at Julington Creek Elementary as its next principal," said Allison Olson. "JCE has awesome kids, a strong faculty and a supportive community. I look forward to continuing the goal of excellence that has been so well established, go Jaguars!"
With a bachelor's degree from Brigham Young University, Olson also holds a master's degree from the University of Phoenix.
###