St. Johns County School District Career Academies
Career & Technical Education Programs
Military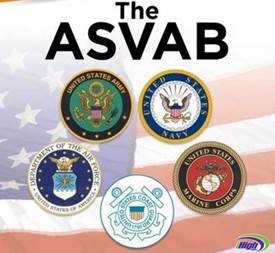 The Armed Services Vocational Aptitude Battery (ASVAB) test is a required test administered to anyone interested in enlisting in any of the US Armed Service branches.  Minimum scores must be met in order to be able to enlist as well as to qualify for certain jobs within the service.
Click here to learn about different types of military service.
Active Duty (Full Time)
Air Force
Army
Marines
Navy
Coast Guard
National Guard & Reserves (Part-Time)
For information on Military Academies, please see our College Readiness page.
Apprenticeship Programs
Click here for more information on this flyer
Internship Programs
Internships.com Search here for high school internships